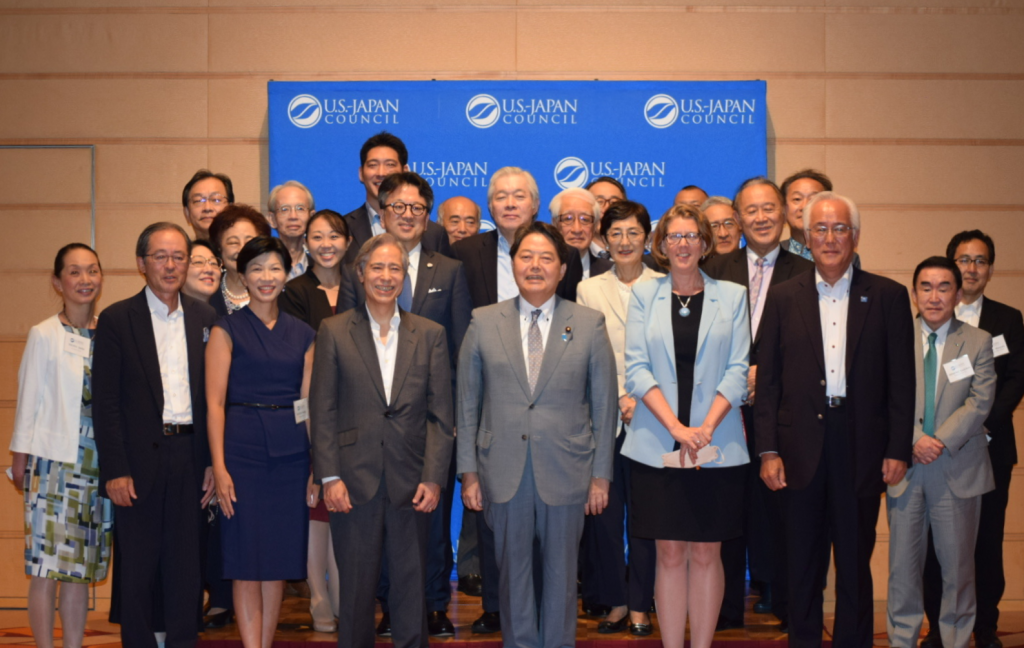 On August 31, 2022, U.S. Japan Council Board of Councilors' reception with Foreign Minister Yoshimasa HAYASHI was held at Tokyo American Club. Twenty-five USJC Board of Councilors Members participated in the event.
The event started with a welcome speech delivered by Ernest HIGA, Chair of the USJC Board of Councilors. Suzanne BASALLA, USJC president & CEO, followed Mr. Higa's remarks by giving an update on USJC and TOMODACHI activities. Suzanne expressed deep appreciation to Minister Hayashi for coming to the event. She shared past encounters with Minster HAYASHI and other USJC board members and stressed that ongoing people-to-people connections make up a stronger union between the two countries despite a rapidly changing and challenging world.In the keynote speech, Minister HAYASHI mentioned that former Secretary of Transportation and Vice Chairman of the U.S.-Japan Council, Norman Mineta made outstanding contributions to Japan-U.S. relations. Minister HAYASHI also mentioned the Japanese American National Museum and one of its key founders, the late Senator Daniel K. Inouye. Minister HAYASHI went on to mention the crucial foundation of the robust Japan-U.S. Alliance and the work USJC founder the late Irene Hirano Inouye had done to lay the foundation for the work Japanese Americans have done to strengthen people-to-people exchanges between our two countries.
Minister HAYASHI touched on the current state of the world and the Indo-Pacific region as well as the three challenges in the Indo-Pacific region, one of which was strengthening people-to-people relations between Japan and the United States in order to continue a long and sustained Alliance.Referring to his personal experience working as an intern at the offices of then Representative Stephen L. Neal of North Carolina and the late Senator William Roth of Delaware and the Mansfield Fellowship Program, which promotes people-to-people exchanges in various fields between Japan and the U.S., Minister HAYASHI emphasized that strengthening people-to-people relationships between Japan and the U.S. has become an essential element of his life's work. He concluded that we must further deepen these exchanges for the next generation and continue to ensure that our people-to-people exchange programs, such as the TOMODACHI Initiative, keep pace with the challenging times.
The event continued with a buffet-style networking reception, and board members and Minister HAYASHI enjoyed in-person conversations.