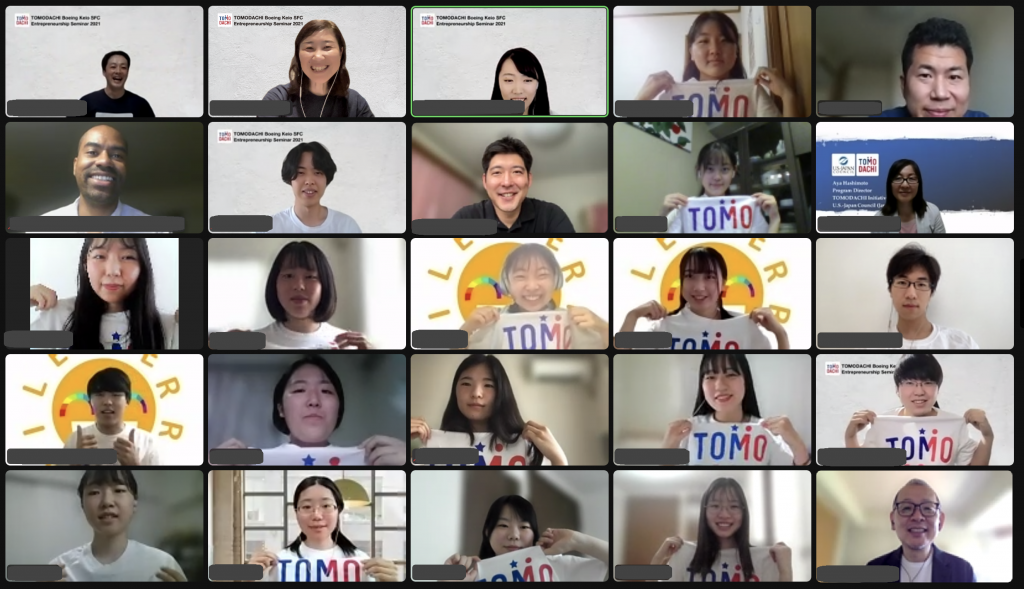 On July 24 the TOMODACHI Boeing Keio SFC Entrepreneurship Seminar 2021 concluded with the participants' final presentations.
23 high school and university students across Japan participated in the program, which began in December 2021. Throughout the program, the participants developed the skills they need to lead projects and solve social issues via workshops and seminars. The students, who were split into five groups, developed final group projects that were aimed at solving social issues they were most passionate about. Students addressed issues such as suicide prevention, tackling economic disparity and finding space for teenagers to meet and interact with others in their age group during the age of COVID-19.
Joshua Gonzalez, Assistant Cultural Affairs Officer, Public Affairs Section from the U.S. Embassy Tokyo joined the final event on July 24 and delivered warm opening remarks. All five groups conducted seven-minute presentations as a means of sharing their progress with the other program participants and supporters. Following the students' presentations, U.S.-Japan Council Board Member and Director of Marketing & Global Strategy from Matchbox Technologies Steve Sakanashi and Professor at Keio University Dr. Takashi Maeno, Ph.D. offered them feedback.
Four students will be selected from this program to participate in the U.S. Study Tour in August 2022; those selected students are expected to deepen their understanding of the concepts covered during this program by meeting with entrepreneurs and visiting academic institutions in Hawaii.