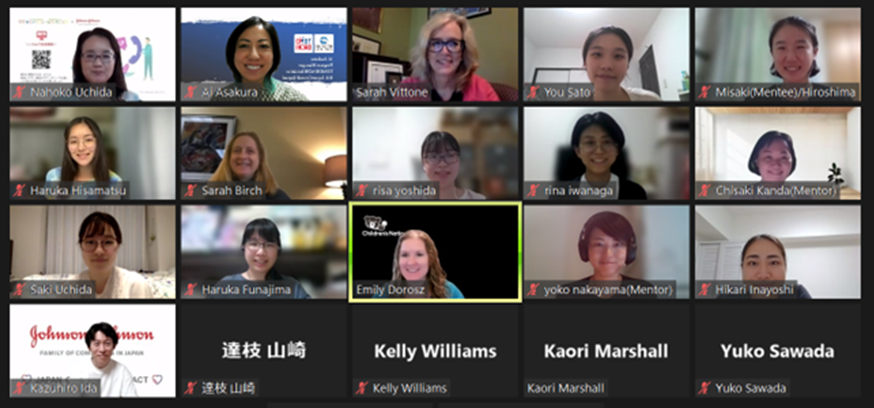 On August 18, the TOMODACHI J&J Disaster Nursing Training Program cohort completed their U.S. virtual study tour. 
Nine nursing students and two mentors across Japan are participating in the 2022 program, which began in June 2022. The participants completed the pre-trip seminars in Sendai and in Tokyo prior to the U.S. study tour to gain more knowledge about disaster nursing, and to prepare for the U.S. study tour.
The nine-day U.S. study tour took place starting on August 8 and ran until August 18. The cohort welcomed speakers from various areas in disaster nursing on each respective day of the tour. This year's study tour also included clinical simulations using a digital mannequin on an interactive application and a triage allocation activity based on a true disaster story. The U.S. study tour is designed for students to learn about the roles of health care workers in the U.S. in disaster nursing, community nursing, and mental healthcare, and how healthcare workers fulfill those roles.
Program participants Rina Iwanaga and Mihoko Fujii were selected to deliver speeches on the final day that detailed what they had learned because of this program. Ms. Iwanaga shared that the concept of prioritizing your individual safety and the safety of your family was new to her, especially since the opposite is true in Japanese culture. Additionally, she shared that she learned that prioritizing individual and family safety applies not only to physical safety, but also mental safety.
Ms. Fujii shared that the program taught her the importance of the preparation phase of disaster nursing, the Disaster Management Cycle and the importance of considering what we can do on a daily basis to prepare for a disaster.
Students will be attending a post-trip seminar in Hyogo in September, and presenting at the National Conference on Promotion for Disaster Prevention in October to share their takeaways from the program with the community. Students will also present their findings during a final reporting session in December to conclude the program.