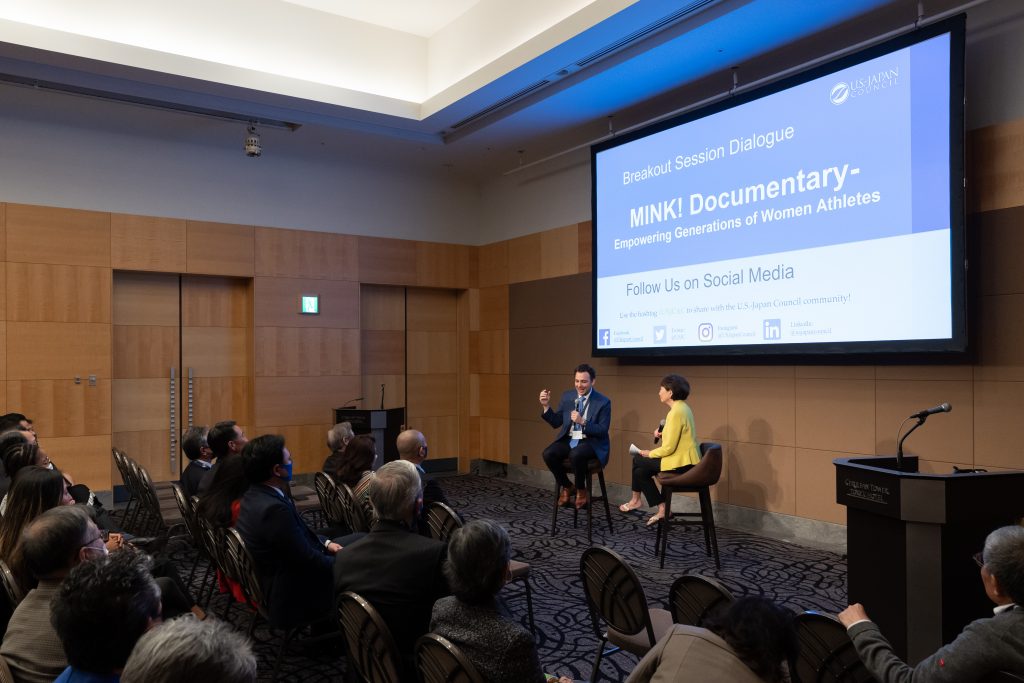 On October 28, Founder and CEO of Breakwater Studios Ben Proudfoot screened the short documentary MINK! as one of the breakout sessions during the U.S.-Japan Council's 2022 Annual Conference. The documentary, which was executive produced by four-time Grand Slam tennis champion Naomi Osaka and her production company Hana Kuma, details the story of Congresswoman Patsy Takemoto Mink's fight for Title IX as told by her daughter Wendy Mink.
The screening was preceded by a short pre recorded interview with Naomi Osaka conducted by USJC Program Development Committee Chair and JALD '04 alum, Dr. Curtiss Takada Rooks (Assistant Professor, Department of Asian and Asian American Studies and former Associate Dean of Bellarmine College of Liberal Arts at Loyola Marymount University).
"Being an athlete and learning a lot about Title IX and seeing how much Patsy fought for all of our rights and how she was striving…how she was the first Asian American, woman of color in Congress…it's amazing to hear that story," Naomi Osaka stated.
The film was concluded by a short Q&A session with the director of MINK! Mr. Ben Proudfoot moderated by USJC Council Leader Jan Yanehiro (President of Jan Yanehiro Media).
"We were honored to screen MINK! at the U.S.-Japan Council's Annual Conference 2022. As was evidenced on the panel that day, the impact of Patsy's story lives on through people like Olympic Gold Medalist, Carissa Moore, whose words about the need for women to live fiercely and stand up for what they believe in so perfectly encapsulates what Patsy stood for and the inspiration her legacy still offers to generations of women and girls today." Mr. Proudfoot stated.
We at the Council thank Mr. Proudfoot, Naomi and their teams for being a part of the 2022 Annual Conference.
More photos can be found here.