2015 USJC Annual Conference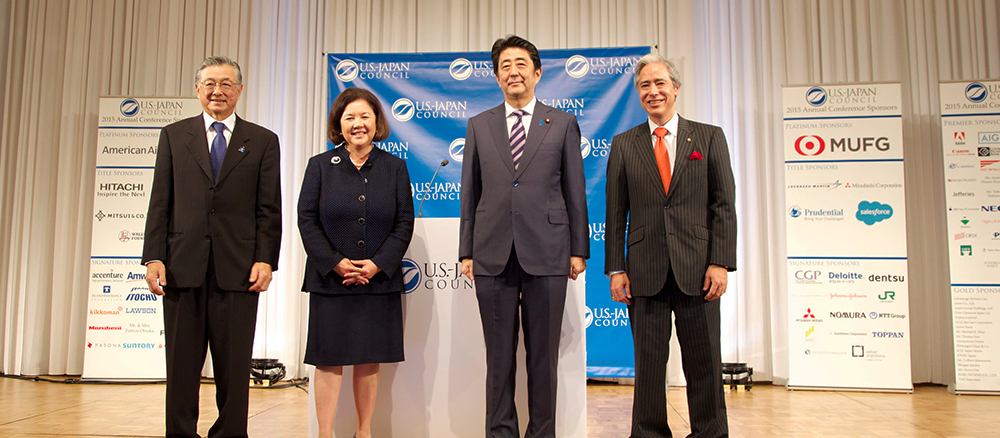 Thank you to everyone who attended the 2015 USJC Annual Conference!
Beyond 2020 Vision: Going Global with the U.S.-Japan Partnership
November 9-10, 2015
Cerulean Tower Tokyu Hotel
B2F Cerulean Tower Ballroom
26-1 Sakuragaokacho, Shibuya-ku
Tokyo 150-8512, Japan
(Nov. 8 and Nov. 11 featured additional programming with the TOMODACHI Initiative and JALD. Please see the detailed schedule for more information)
The U.S.-Japan Council Annual Conference is a forward-thinking public event that takes place each fall. Leading professionals and members of the U.S.-Japan community convene to explore cutting-edge topics that provide opportunities for future growth and cooperation between the United States and Japan.
On November 9 and 10, the U.S.-Japan Council (USJC) hosted its sixth Annual Conference, themed "Beyond 2020 Vision: Going Global with the U.S.-Japan Partnership." Approximately 850 American and Japanese leaders from all sectors convened in Tokyo, Japan to discuss the value of working across sectors and generations to envision, promote and develop a more vibrant and dynamic U.S.-Japan relationship. This was USJC's first Annual Conference in Japan, and its biggest yet, with speakers bringing their expertise in business, government, civil society, art and more to discuss innovative ways the two nations can collaborate.
Keynote Speakers
November 9
November 10
Other Highlights
Other highlights of the Conference included:
Conference Print Program
To see the print program of the Conference, which includes the bios of speakers, click here.
Photos
To see more photos from the 2015 Annual Conference, click here.
Videos
For more videos, see the 2015 Annual Conference playlist on our YouTube channel.
Social Media
Check out the Day I and Day II social media recaps to see how the speakers and audience enjoyed the Conference activities!
Sponsors
Platinum
Title
Signature
Premier
Gold