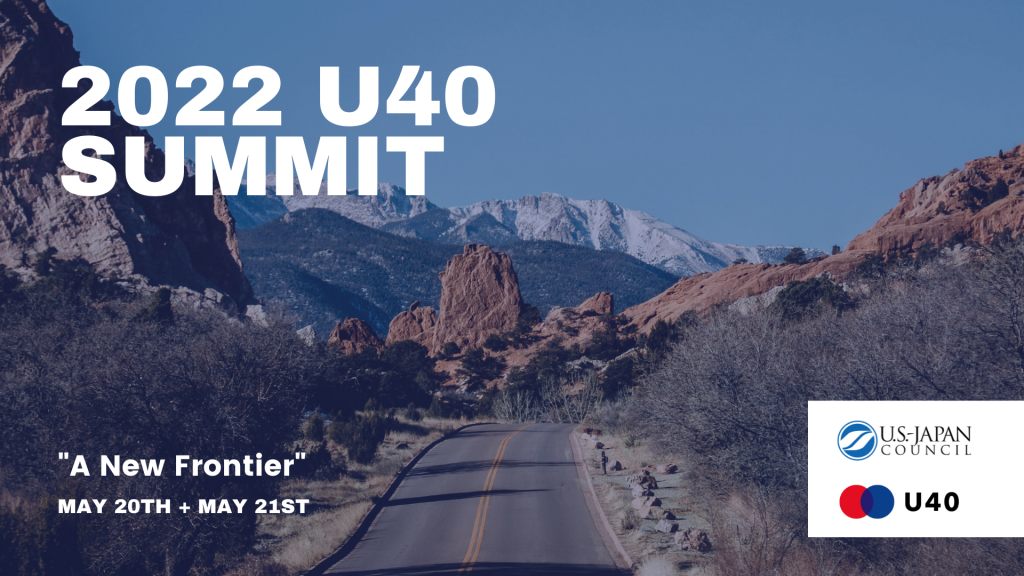 Hello from the Rocky Mountains!
You are warmly invited to join us at the 2022 U40 Summit in Denver, Colorado from May 20th – 21st, 2022.
About
The U.S.-Japan Council Mountain Region is excited to welcome under-40 leaders and professionals in business, arts, government, technology and civil sectors from across the country and globe to a conference in Denver that will leverage the diverse experiences of every participant, foster individual and collective growth, and encourage greater engagement within our USJC community.
Reflecting the spirit of Colorado's history, we will challenge the attendees to explore the new frontier as individuals, community members, and as a group that will shape the next stage of U.S.-Japan relations. Our aim is to discuss a myriad of topics while learning about and paying homage to the communities that helped build what we know as Colorado today. For more information, please click here.
Please note that this invitation is non-transferable. There are a very limited number of registrations available for prospective members, so if you would like to suggest a U40 leader to be invited, please email [email protected].
Cost
Registration fee: $200 (non-refundable)
First come, first served. Space is limited. We expect to sell out quickly so register early to reserve your spot.
Deadline to register is April 8th, 2022 (or when space is filled).
Payment of the $200 fee will be required for registration.
Schedule*
The first event will be Friday, May 20th around 10:30 am, so we suggest arriving by Thursday evening. The last official summit event will be late Saturday evening. Thursday and Sunday there will be optional activities.
Thursday, May 19, 2022
Optional Dinner and Meet & Greet for summit participants
Friday, May 20th, 2022
Morning Session: Exploring Self, Purpose, and Identity through the Arts 
Fireside chat with Admiral Harry Harris, Consul General Mikami and Suzanne Basalla. Moderated by Derek Kenmotsu
Technology & Fields Driving the Next U.S. Japan Relations
Dinner at Consul General of Japan in Denver's Residence
Saturday, May 21st, 2022
Morning Session: Social Justice & Equity – Real Talk
Downtown Denver Japanese History-Present Day
– Audio Immersive Tour & Community Leaders Discussion
Dinner with Keynote Speaker Paul Yonamine and Performing Arts Program for U40 Summit participants + USJC Community
Sunday, May 22nd, 2022
ELP Steering Committee meeting (limited to ELP Steering Committee)
Optional Daytime Activities
*Schedule and times subject to change
Travel & Accommodations
Participants will be responsible for their own transportation to Denver, Colorado, as well as their own accommodations. We've been able to set aside a small block of discounted rooms for U40 Summit participants at the primely located Hilton Garden Inn Union Station in Denver. Rooms are available on a first come first serve basis, so please don't wait to make arrangements. A shuttle bus will be available for pick-up and drop-off to and from the hotel and U40 Conference venues. Even if you are local, you are welcome to stay at the hotel with everyone too!
Please use the link and code below to secure your room.
Booking link:
Click here to access the booking page
Contact
Questions? Please contact ELP Steering Committee Member and U40 Summit Chair Courtney Ozaki at [email protected].
***If you are a part of the ELP class of 2020 or 2021, please contact Erika Ninoyu at [email protected] about special programming happening on May 19th in Denver.***
Registration