FOR IMMEDIATE RELEASE
March 17, 2023
Japanese American Leadership Delegation Cultivates People-to-People Connections between Prominent Japanese and Japanese American Leaders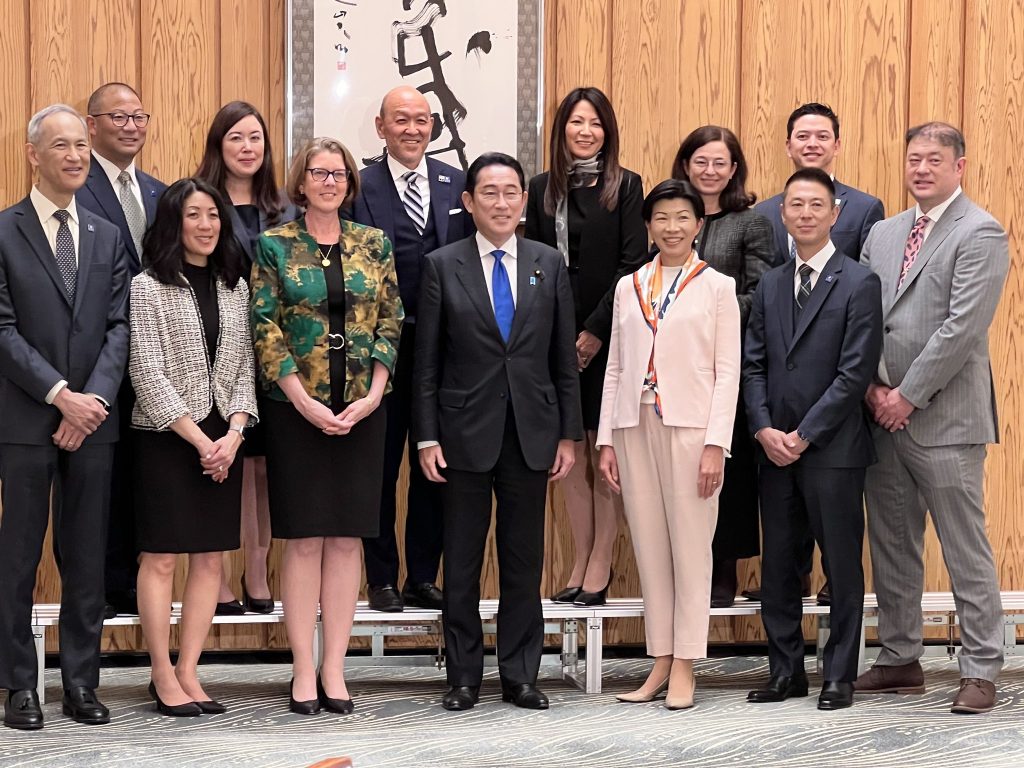 WASHINGTON, DC – Ten Japanese American leaders traveled to Japan from March 3 to 11 for the 2023 Japanese American Leadership Delegation (JALD) program. Organized by the U.S.-Japan Council and sponsored by Japan's Ministry of Foreign Affairs, the JALD program aims to strengthen the U.S.-Japan relationship by facilitating people-to-people connections between prominent Japanese American and Japanese leaders.
This year's trip, which marked the 20th delegation since the program's inception in 2000, brought delegates to Tokyo and Shizuoka to meet with top government, business, non-profit and other notable Japanese leaders.
Delegates met with Japan's Prime Minister KISHIDA Fumio, Foreign Minister HAYASHI Yoshimasa, and Minister of Digital Affairs KONO Taro, as well as U.S. Ambassador to Japan Rahm Emanuel. The delegation also met with KEIDANREN (the Japan Business Federation) and Keizai Doyukai (the Japan Association of Corporate Executives).
Several delegates participated in a panel titled "Reflections from Japanese Americans On Today's Drive For Diversity and Inclusion." Loyola Marymount University Assistant Professor Curtiss Takada Rooks (JALD '04) offered remarks on solidarity between Japanese Americans and other minority communities and their roles. A subsequent panel discussion complimented Rooks' presentation as delegates talked about their personal experiences as Japanese Americans that made them strong advocates for diversity and inclusion.
The 2023 delegates were accompanied by U.S.-Japan Council President & CEO Suzanne Basalla and included:
Frederick H. Katayama (New York, NY), Executive Vice President, U.S.-Japan Council
George Kobayashi (Chicago, IL), President, Masuda, Funai, Eifert & Mitchell, Ltd.
Jeffrey Maloney (Alhambra, CA), Chief Counsel, Santa Monica Mountains Conservancy
Kara Miyagishima (Denver, CO), Acting Superintendent, Amache National Historic Site, National Park Service
Mark Okada (Dallas, TX), Co-Founder & Managing Partner, Sycamore Tree Capital Partners L.P.
Christine Pilcavage (Cambridge, MA), Managing Director, MIT Japan Program, MIT International Science & Technology Initiative, Massachusetts Institute of Technology
Calvin Terada (Seattle, WA), Director-Superfund and Emergency Management Division, U.S. Environmental Protection Agency-Region 10
Lori Teranishi (Honolulu, HI), Founder and CEO, iQ 360
Kenta Washington (Great Falls, VA), Program Manager, Boeing Company
Audrey Yamamoto (San Francisco, CA), Chief Operating Officer, The Asian American Foundation
For more information regarding the program or to read the full biographies of the ten delegates, please click here.
About the U.S.-Japan Council (USJC)
The U.S.-Japan Council develops and connects global leaders to create a stronger U.S.-Japan relationship. It is an organization whose members believe people-to-people relationships are a powerful way to bring together leaders in the U.S. and Japan to address and create solutions to mutual concerns. The Council is a 501(c) 3 nonprofit educational organization that was founded by a group of Japanese American leaders in 2008, and in 2012, the U.S.-Japan Council (Japan) was created and in 2013, it became a Public Interest Corporation (koeki zaidan hojin).
Washington, DC Headquarters
Alison Aadland
Senior Communications Manager
[email protected]
202-223-6843
Japan Office
Chieko Tashiro
Marketing Communications Manager, U.S.-Japan Council (Japan)
[email protected]
+81-3-4510-3401