FOR IMMEDIATE RELEASE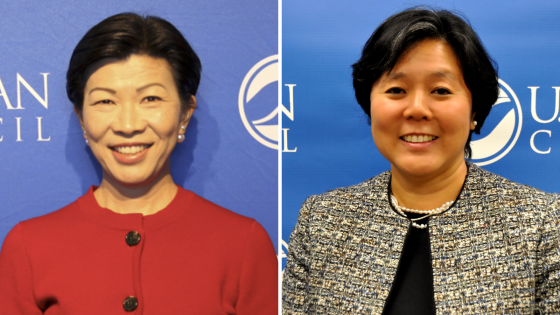 WASHINGTON, DC – The U.S.-Japan Council (USJC) is pleased to welcome new leadership to the Board of Directors, with Kathy Matsui and Susan Morita as Board co-Chairs. These positions are effective January 1, 2023.
Ms. Matsui is a General Partner at MPower Partners and former Vice Chair, Co-head of Macro Research in Asia and Chief Japan Strategist at Goldman Sachs Japan Co., Ltd. As a writer and economist, she is recognized for her research of "Womenomics" in Japan. Among her many accolades, she serves as an external board director of Fast Retailing Inc., adjunct professor at Kyoto University's Graduate School of Management, board member of the Asian University for Women (AUW) Support Foundation, and director of the Fast Retailing Foundation. In 2020, she published a best-selling Japanese book titled "How to Nurture Female Employees."
"USJC was the first and only organization as a Nikkei-jin that I really identified with," says Ms. Matsui. "It wasn't [about] political advocacy; USJC is really about forging people-to-people relationships across the Pacific, the micro-level ties across generations that are necessary to make this bilateral relationship thrive."
Ms. Morita has had a distinguished career spanning more than 30 years as an attorney with the law firm of Arnold & Porter, where her practice focused on cross-border business transactions, including strategic acquisitions and investments, divestitures, and complex joint ventures.  Ms. Morita's represented domestic and international clients, including Japanese corporations, in a wide range of industries. Ms. Morita recently retired from her position as Partner at Arnold & Porter.  Ms. Morita serves on the Board of Trustees of the Japanese American National Museum. 
On why she values the Council, Ms. Morita says: "I view my involvement at USJC to be in part a tribute to my issei grandparents and their legacy and the cultural heritage that they so loved and passed on to me.  USJC provides a very personally meaningful opportunity to help build bridges between the country of my birth and that of my grandparents."
USJC bid farewell to previous Board Chair Mr. Paul Yonamine, who is based in Honolulu and is the former Chairman and CEO of Central Pacific Financial Corp. and Executive Chairman of Central Pacific Bank. Mr. Yonamine had also previously served as the Chair of the USJC Board of Councilors.
A full list of the USJC Board of Directors, along with their biographies, can be found here.
About the U.S.-Japan Council (USJC)
The U.S.-Japan Council develops and connects global leaders to create a stronger U.S.-Japan relationship. It is an organization whose members believe people-to-people relationships are a powerful way to bring together leaders in the U.S. and Japan to address and create solutions to mutual concerns. The Council is a 501(c) 3 nonprofit educational organization that was founded in 2008 and is headquartered in Washington, DC with staff in California, Hawaii and Tokyo. In 2012, the U.S.-Japan Council (Japan) was created and in 2013, it became a Public Interest Corporation (koeki zaidan hojin). The U.S.-Japan Council (Japan) maintains an office in Tokyo, Japan.
Contact
Alison Aadland, Senior Communications Manager
[email protected]
202-223-6843