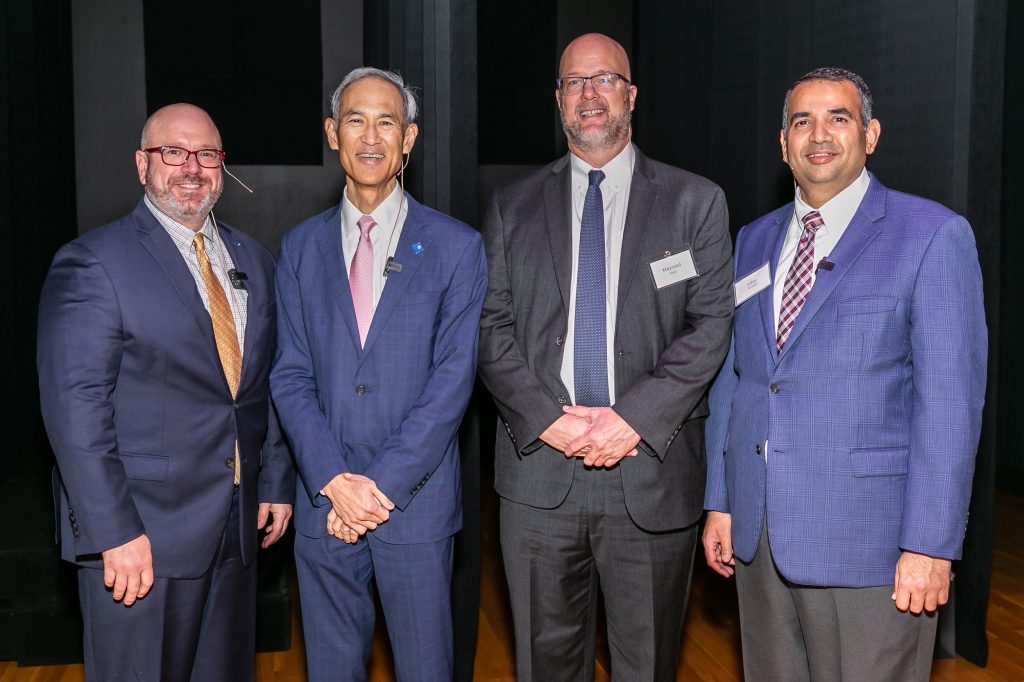 Following the recent sustainability seminar in Houston on November 3, 2022, USJC worked with local partners to organize the second event in the series on December 7. This event, hosted at Asia Society Texas Center and organized by Legacy Council Member Donna Fujimoto Cole (JALD '06) and Council Leader Ginger Vaughn (Rice University), brought the community together to focus on sustainable energy and climate solutions. The evening began with a screening of the documentary "Beyond Zero," which chronicles the transformation of a carpet tile manufacturer from an environmentally unfriendly to a sustainable enterprise.
Attendees then enjoyed a reception to network and discuss the documentary, which was followed by a panel discussion to close out the evening. The panel was moderated by USJC's Executive Vice President, Frederick H. Katayama (JALD '20), and featured senior vice president of Daikin Comfort Technologies' environmental business, Nathan Walker, and energy consultants Uday Turaga and Maynard Holt. They discussed advances in technology to reduce carbon footprinting, the importance of intentional leadership, steps taken to convert to a circular economy, what individuals can do to make the planet greener, and more.
This event was part of the USJC Climate and Sustainability Initiative supported by the initiative's Founding Strategic Partner, Amazon. This event was also presented in collaboration with the City of Houston, Asia Society Texas, Greater Houston Partnership, Ally, and Cole Chemical. To watch the full event, click here.