Japan-Houston-Texas Climate and Environmental Initiatives: Sharing Best Practices
Date: November 3, 2022
Time: 1:00 pm – 2:30 pm
Cost: Free
Location: Greater Houston Partnership, 701 Avenida de las Americas, Houston, TX 77010, 9th Floor.
Registration: Click here
We invite all interested members of the public to join us on November 3, 2022 at the Greater Houston Partnership, for a special program focused on sustainability issues of importance to Houston, Texas and the broader U.S.-Japan relationship. This program highlights key insights learned during Mayor Sylvester Turner's just completed Japan Investment and Trade Mission.
Speakers
Suzanne Basalla
President & CEO, U.S.-Japan Council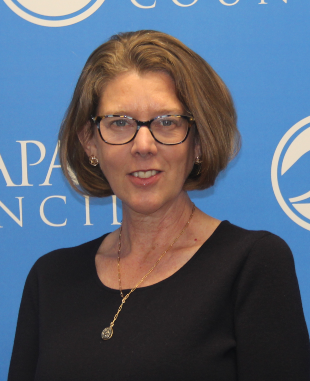 Suzanne Basalla is the President and Chief Executive Officer of the U.S.-Japan Council (USJC).

Suzanne is also a member of the Japan Society of Northern California Board of Directors and Special Advisor to Career Girls. She rejoined USJC from her role as Chief of Staff at the Toyota Research Institute (TRI), a Silicon Valley-headquartered subsidiary of Toyota Motor Corporation that develops automated driving, robotics, and other human amplification technology for Toyota.

Prior to TRI, Suzanne had served from 2012-2017 under USJC's Founder, Irene Hirano Inouye, as Executive Vice President and Chief Operating Officer. She helped lead USJC through people-to-people connections, with a focus on investing in next-generation leaders through the public-private TOMODACHI Initiative, which was established in the aftermath of the Great East Japan Earthquake.

Suzanne is a former officer of the U.S. Navy and her assignments included duty in Japan, the Pentagon, and Diego Garcia. Following her naval career, she was Director for Japan in the Office of the Secretary of Defense in Washington, DC. She subsequently was appointed Senior Advisor to John Roos, U.S. Ambassador to Japan, working at the U.S. Embassy in Tokyo from 2010-2012. In that capacity, she supported Ambassador Roos on the full portfolio of security, economic, political and cultural issues in the U.S.-Japan relationship. Suzanne graduated from the University of Virginia and received a master's degree in Asian Studies from George Washington University. She spent two years at Keio University as an Olmsted Scholar. In 2008, she received the inaugural Ryozo Kato Award for service to the U.S.-Japan Alliance. In 2021 she received the Nakasone Yasuhiro Award of Excellence.
Christine Harada
Executive Director of the Federal Permitting Improvement Steering Council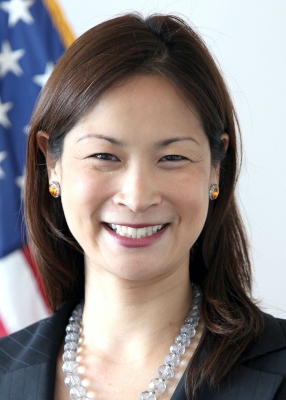 Biden-Harris Administration Presidential appointee Christine Harada serves as the Executive Director of the Permitting Council. As Executive Director, Harada assists Permitting Council member agencies in managing a portfolio of nearly $100 billion in large-scale infrastructure projects—most of which are renewable energy, coastal restoration, and electricity transmission projects. She assists Federal agencies in developingand implementing comprehensive, project-specific timetables for all required infrastructure permitting reviews and authorizations for FAST-41 covered infrastructure projects, advancing the administration's infrastructure agenda to rebuild the economy.
Harada brings more than 25 years of leadership experience in the public and private sectors to the Permitting Council. Harada was most recently the Vice President for Government Affairs at Heliogen, a California-based renewable energy technology company. Previously, she served as the President of i(x) investments, a company focused on impact-driven investments in critical areas such as renewable energy, green real estate development, and accessible smart and sustainable housing. She was a Partner with Ridge-Lane Limited Partners, an advisory firm of experts in private sector innovation, investment capital, and government policy that works with companies pursuing social and environmental impact, along with financial performance.
As the former Federal Chief Sustainability Officer under President Barack Obama, Harada oversaw all federal sustainability-related initiatives in energy, vehicle fleets, and acquisitions. She also served as the Acting Chief of Staff, the Associate Administrator of Government-wide Policy, and Chief Acquisition Officer at the U.S. General Services Administration.
Harada has worked as a Senior Systems Engineer at Lockheed Martin and as a consultant at the Boston Consulting Group and Booz Allen Hamilton. She holds a master's degree in international studies from the University of Pennsylvania (Penn) and an MBA in finance from the Wharton School at Penn. Additionally, she has a master's degree from Stanford University and a bachelor's degree from the Massachusetts Institute of Technology in aeronautics and astronautics.
Hirofumi Murabayashi
Consul General of Japan in Houston
Christopher Olson
Director for Trade and International Affairs for the City of Houston