2017 USJC Annual Conference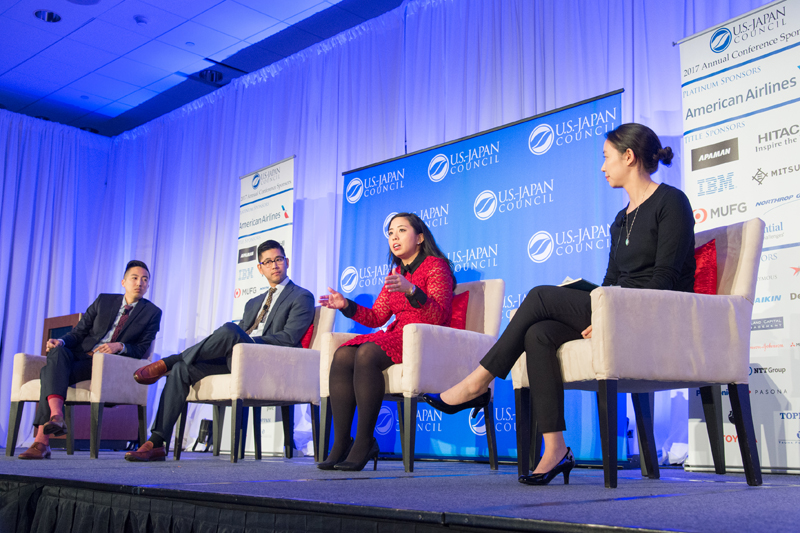 Thank you to everyone who attended the 2017 Annual Conference!!
The 2017 Annual Conference, held in Washington, DC from November 13 to 14, 2017, was the eighth USJC Annual Conference.‡
Conference Overview
The U.S.-Japan Council Annual Conference is a forward-thinking public event that takes place each fall. Leading professionals and members of the U.S.-Japan community convene to explore cutting-edge topics that provide opportunities for future growth and cooperation between the United States and Japan.
This year, we returned to our nation's capital to discuss changes under a new administration. Following an election that divided the nation, we discussed how to respect differences of opinion and find common ground as we work together toward mutually beneficial goals. At the same time, we showcased and examined how global perspectives and diversity empower both the United States and Japan. We exchanged views on how international businesses and organizations can continue to expand in a changing political environment, and get work done to strengthen the U.S.-Japan relationship. We also provided opportunities to network with stakeholders in the new administration and on Capitol Hill, and provided insight into the political and diplomatic arenas.
‡There were also TOMODACHI Emerging Leaders programming on November 11 and USJC members programming on November 12.
Conference Summary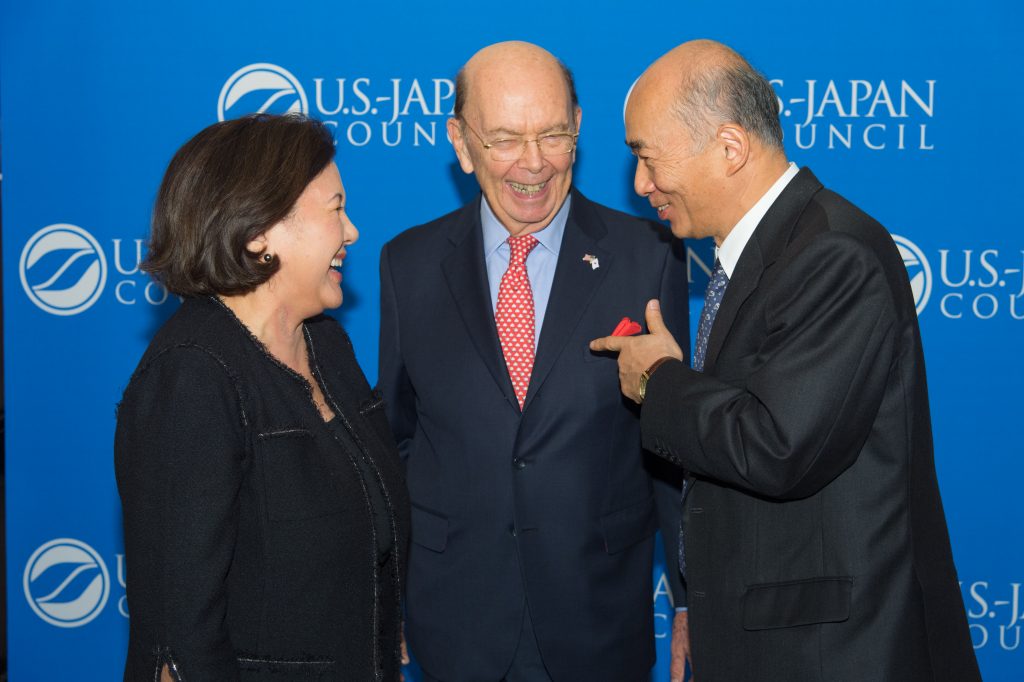 More than 700 leaders from Japan and the United States attended the conference, which was themed "Unity in Diversity: Shaping the Future Together." Issues they discussed included how to continue to empower the many leaders in the U.S.-Japan arena, including Japanese Americans and other Asian Americans, millennials, and women; and strengthening economic ties between the United States and Japan.
Top corporate and government leaders from both countries—Wes Bush, Chairman, CEO and President, Northrop Grumman Corporation; Nobuchika Mori, Commissioner, Financial Services Agency, Government of Japan; Elaine L. Chao, U.S. Secretary of Transportation; Wilbur L. Ross, Jr., U.S. Secretary of Commerce; Kazuhiko Toyama, Managing Partner, Industrial Growth Platform, Inc.; and Masayoshi Yoshino, Minister for Reconstruction, Government of Japan—delivered keynote speeches, discussing further opportunities for collaboration between the United States and Japan, especially in terms of economic relations. Matthew Goodman, William E. Simon Chair in Political Economy & Senior Adviser for Asian Economics at the Center for Strategic and International Studies (CSIS); Kenichiro Sasae, Ambassador of Japan to the United States; Tom Schieffer, Former U.S. Ambassador to Japan and CEO of Envoy International; and Haruno Yoshida, Vice Chair of the Board of Councillors at Keidanren (Japan Business Federation) discussed trade relations as well as the important role states, prefectures, corporations and communities have in fostering regional partnerships between the two countries. Think tank experts, including Michael J. Green, Senior Vice President for Asia & Japan Chair at CSIS, analyzed current political issues between the United States and Japan in the areas of security and economics.
The Conference also celebrated the diversity of U.S.-Japan leaders in many ways. Asian American state legislators from six states shared their personal and political journeys, including their visit to Japan on the Asian American Leadership Delegation Program and their careers in law and medicine. In another panel discussion, seven distinguished women, including Kathy Matsui, Vice-Chair, Goldman Sachs Japan Co., Ltd., shared their experiences as female leaders serving on the boards of global companies and organizations. An annual discussion led by Jan Yanehiro, President, Jan Yanehiro, Inc., featured Japanese American leaders from a wide range of industries: Sarah LaFleur, CEO of MM.LaFleur, a fashion e-tailer for busy professional women; Judy Sakaki, the first Japanese American woman president of a four-year university (Sonoma State University); Adam Yamaguchi, the world-traveling Executive Producer and Correspondent of CBS News; and Roy Yamaguchi (no relation to Adam), Chef and Restaurateur of Roy's Restaurants.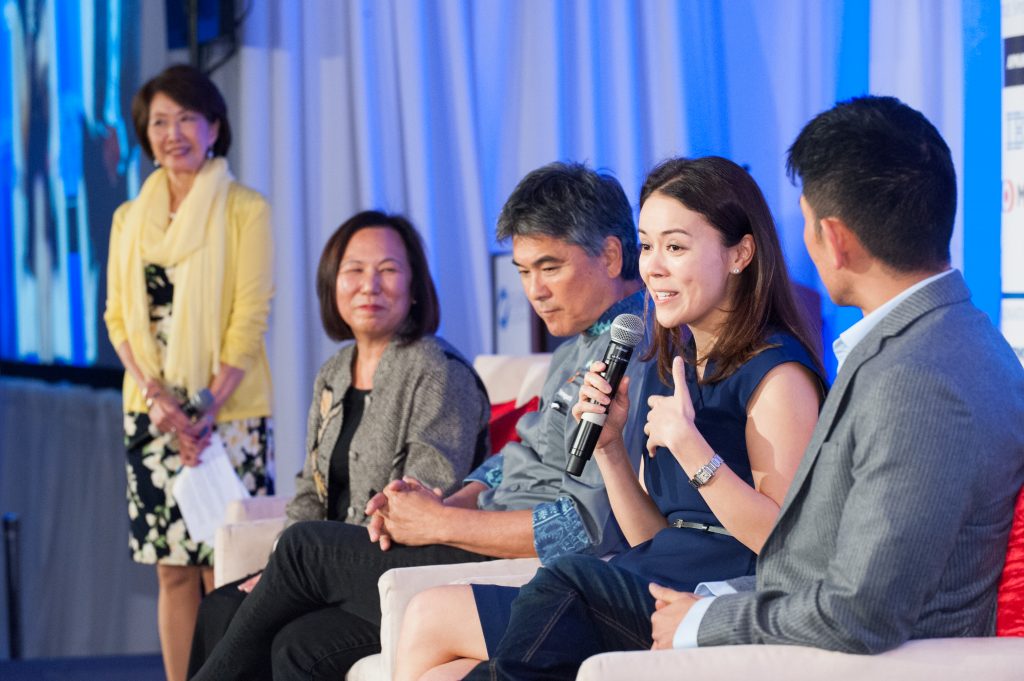 The Conference also featured several next-generation leaders. Students who participated in exchange programs of the TOMODACHI Initiative — a public-private partnership led by USJC and the U.S. Embassy, with strong support by the Government of Japan—shared how their time abroad transformed their lives. Japanese American millennial leaders who are alumni of the TOMODACHI Emerging Leaders Program shared testimonials of their success in business, academia, politics and the community, and detailed the instrumental role Japanese American values like ikigai (reason for being) and kansha (gratitude) have played along the way. In another panel discussion, speakers including Charles F. Bolden, Jr., President of the Bolden Consulting Group and the 12th NASA Administrator, shared their insight on skills that future leaders need to thrive in a global environment.
Other panel discussions, workshops and interactive fora centered on topics such as the importance and rewards of working in public service; innovation hubs in Silicon Valley, Tokyo and Boston; and discussions on the latest developments in energy, healthcare and education. TED-style talks by various industry leaders also analyzed U.S.-Japan relations through fields like medicine and public diplomacy.
Conference Print Program
To see the print program of the Conference, which includes the bios of speakers, click here.
Photos
Click here to see more photos from the Conference.
Videos
Click here to see the 2017 Annual Conference playlist on our YouTube channel.
Social Media
Click here for the social media recap to see how the speakers and audience enjoyed the Conference activities!
Keynote Speakers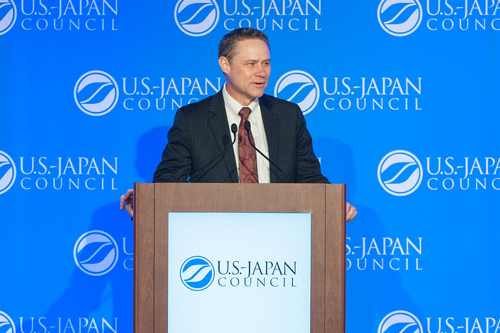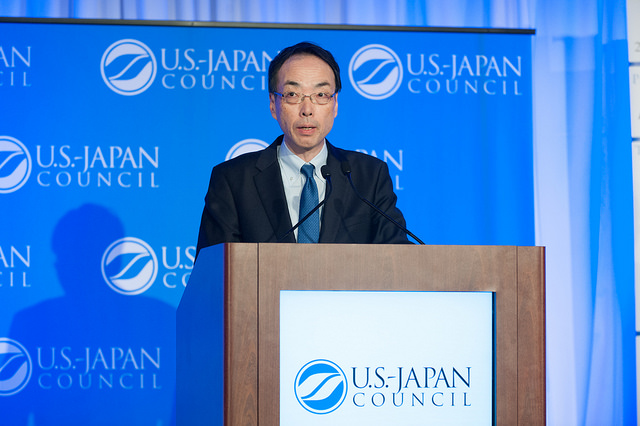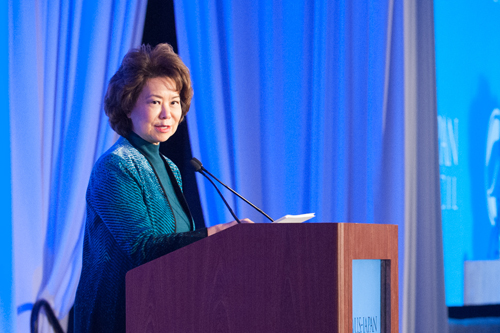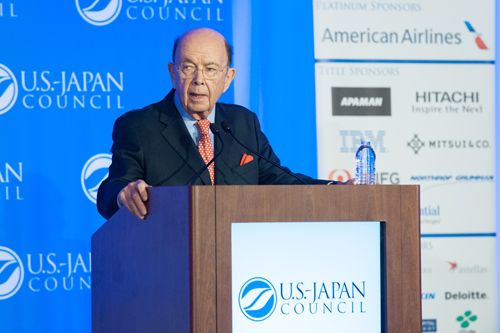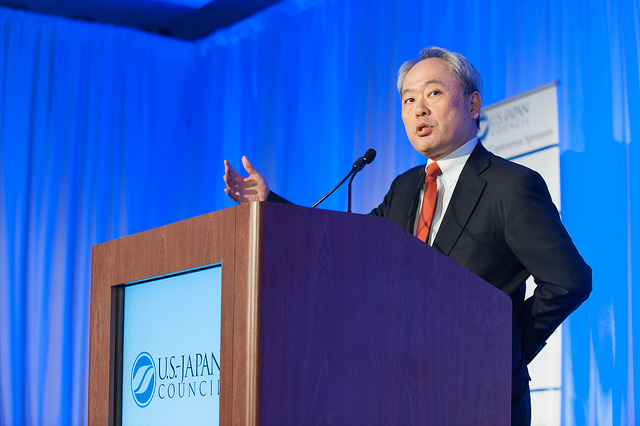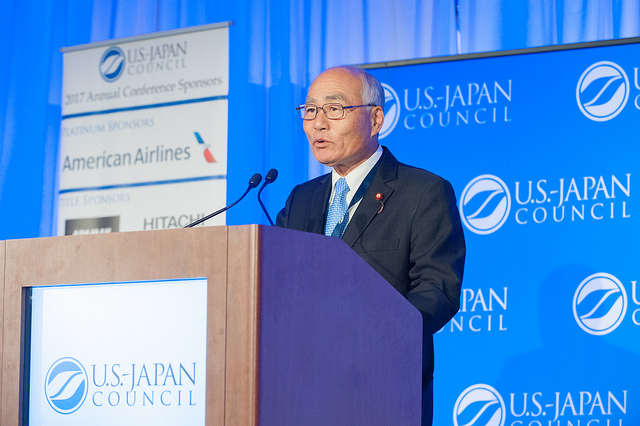 Other Highlighted Speakers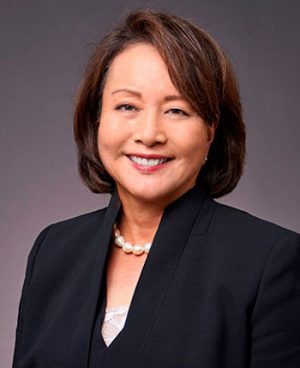 Phyllis Campbell
Chairman,
Pacific Northwest Region, JPMorgan Chase & Co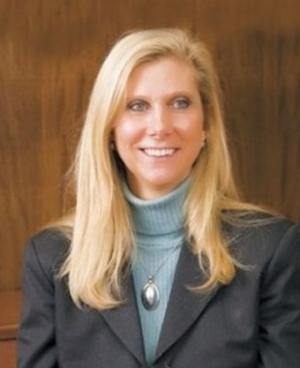 Margot Carringto
Minister Counselor for Public Affairs, U.S. Embassy in Tokyo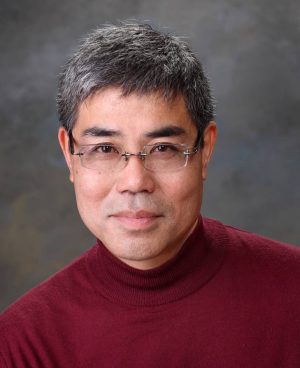 James Higa
Executive Director, Philanthropic Ventures Foundation; Mentor in Residence, Index Ventures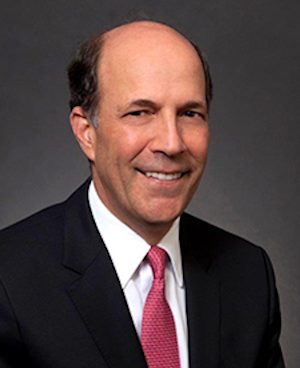 John V. Roos
Partner, Geodesic Capital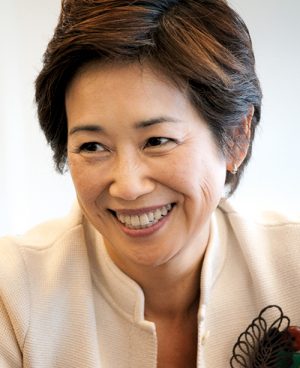 Izumi Kobayashi
Director,
ANA Holdings, Inc.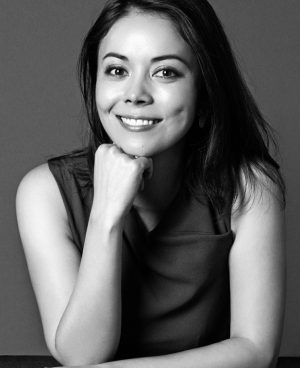 Sarah LaFleur
CEO,
MM.LaFleur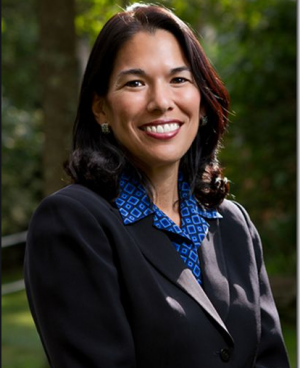 Keiko Orrall
State Representative,
MA Legislature; National
Committeewoman, Republican National Committee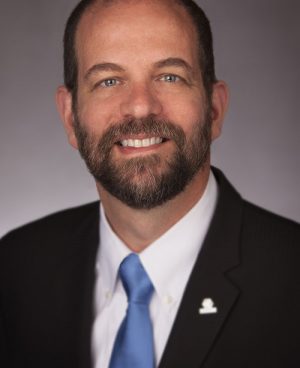 Gill Pratt
CEO, Toyota Research Institute
Tim Rowe
Founder & CEO,
CIC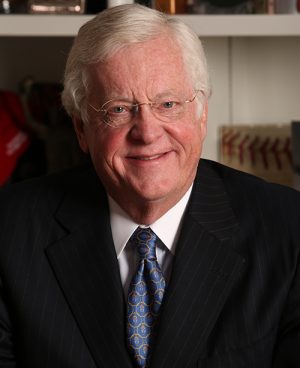 J. Thomas Schieffer
President and CEO,
Envoy International LLC;
Former U.S. Ambassador to Japan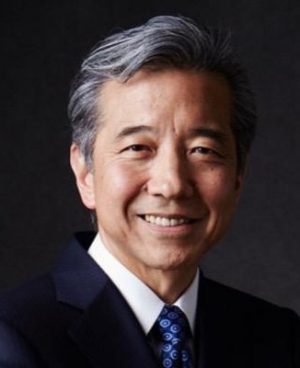 Paul Yonamine
Chairman and
Executive Officer,
GCA Corporation Japan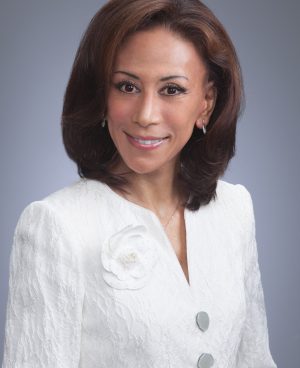 Haruno Yoshida
President & Representative
Director, BT Japan
Corporation; Vice Chair,
Board of Councilors,
Keidanren
Conference Topics
Answering the Call to Public Service
Regional Relations Beyond Washington and Tokyo
Corporate Japan & the World Economy
Workforce Readiness
Women's Leadership & Success on Corporate Boards
Innovation Hubs: Kendall Square, Silicon Valley & Tokyo
Developing Leaders for Tomorrow's Challenges
…and more!
Conference Schedule
Saturday, November 11
9:00am – 5:00pm – 2017 TOMODACHI Emerging Leaders & Alumni Programming
6:00pm – onward – Japanese American Leadership Delegation (JALD) Alumni Reunion
Sunday, November 12
10:00am – 4:00pm – Members Day
6:00pm – onward – Networking Dinners
Monday, November 13
9:30am – 7:30pm – Full-Day Public Symposium & Conference Congressional Reception
7:30pm – 9:00pm – Sponsors Dinner
Tuesday, November 14
9:30am – 12:00pm – Half-Day Public Symposium & Offsite Visits
Offsite visits scheduled throughout the day
Venue:
JW MARRIOTT, 1331 PENNSYLVANIA AVE., WASHINGTON, DC
Attire: Business
Host Committee Co-chairs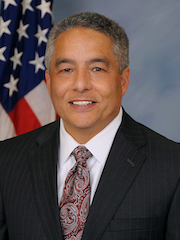 Bruce Hollywood
Co-Chair,
WDC Host Committee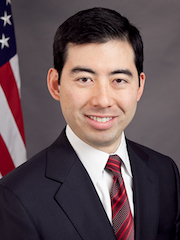 Mark Uyeda
Co-Chair,
WDC Host Committee
Sponsors
Platinum
Title
Signature
Premier
Gold
Advantage Partners
Anonymous Donor
Aoyama Zaisan Networks Co., Ltd.
Apple, Inc.
John & Suzanne Basalla
Dow Chemical Japan Ltd.
First Rate, Inc.
FUJITSU LIMITED
Higa Industries Co., Ltd.
Hitachi High-Technologies Corporation
Mr. Thomas Iino
Japan Airlines Co, Ltd.
JAPAN HOUSE Los Angeles
JC Comsa Corporation
JPMorgan Chase & Co.
JTB USA, Inc.
Keiro
Konica Minolta, Inc.
KPMG Japan
KTA Super Stores
Mr. Colbert Matsumoto
MinebeaMitsumi Inc.
Mitsui Fudosan Co., Ltd.
The Okada Family Foundation
The ORIX Americas
Miyauchi Charitable Foundation
Palo Alto Networks K.K.
Robbins, Geller, Rudman & Dowd
ROKI GROUP CO., LTD.
Sun Noodle
TMI Associates
TOKYU HOTELS CO., LTD.
USJC ELP Class of 2015