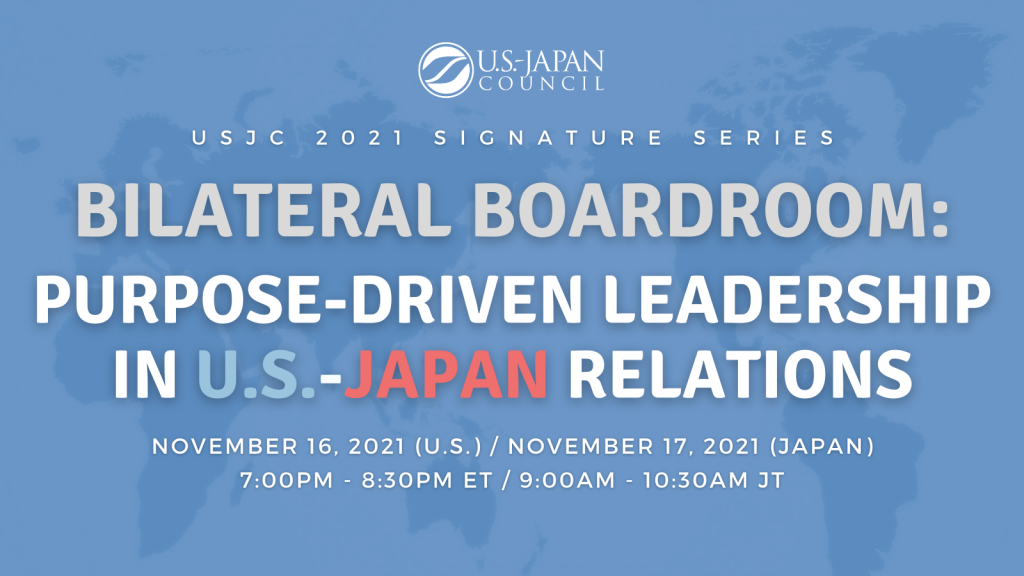 Bilateral Boardroom: Purpose-Driven Leadership in U.S.-Japan Relations
Date: November 16, 2021 (U.S.) / November 17, 2021 (Japan)
Time: 7:00pm – 8:30pm ET / 9:00am – 10:30am JT
Registration: Click here
Language: English (Simultaneous Japanese interpretation will be available)
Please join us for the second event in the U.S.-Japan Council's 2021 Bilateral Boardroom series, titled "Purpose-Driven Leadership in U.S.-Japan Relations." This series convenes key decision-makers from business, government and the civil sector in the United States and Japan for critical conversations in the bilateral relationship, with this year offering a stage for discussions on a range of new and existing challenges related to environmental, social and governance issues.
Taking place on November 16 (U.S.) and November 17 (Japan), this event will welcome Larry Fink, Founder, Chairman and Chief Executive Officer, BlackRock, Inc., and Toshiaki Higashihara, Representative Executive Officer, Executive Chairman & CEO and Director at Hitachi, Ltd., as featured speakers. They will share their thoughts on finding purpose and how to translate that into results-oriented calls-to-action for the greater good of both nations and societies across the globe.
Susan Wagner, Former Vice Chairman of BlackRock, will lead the conversation with Mr. Fink. Chair of the USJC Board of Directors Paul Yonamine, Executive Chairman, Central Pacific Bank; Chairman and Chief Executive Officer at Central Pacific Financial Corp., will lead the conversation with Mr. Higashihara.
This event follows our first 2021 Bilateral Boardroom, a climate crisis dialogue in August between U.S. Special Presidential Envoy for Climate John Kerry and Japan's Minister of the Environment KOIZUMI Shinjiro. Click here to read more or watch the recording.
Click here for more information on the upcoming Bilateral Boardroom.