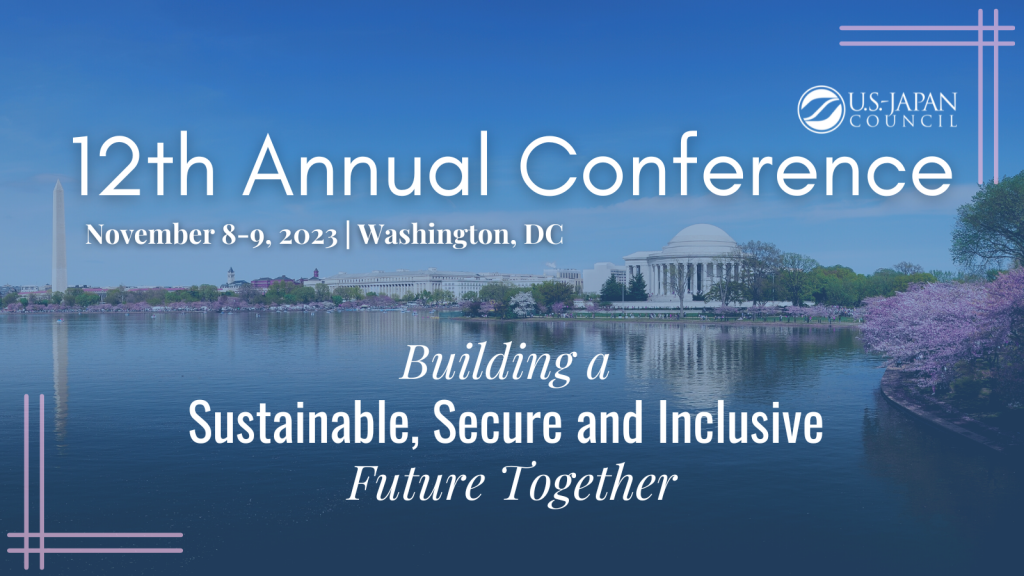 2023 Annual Conference: Building a Sustainable, Secure and Inclusive Future Together
Public Symposium: November 8-9, 2023
Members Forum: November 10, 2023
Location: Washington, DC
In a world facing numerous challenges, charting the course between the United States and Japan is more important than ever. The January 2023 Biden-Kishida joint statement emphasized the need for timely action to address a myriad of issues in the Asia-Pacific region. This year also sees Japan and the United States hosting important high-level multilateral meetings: the G7 Summit in Hiroshima, Japan (May) and the APEC CEO Summit in San Francisco, CA (November). Both events will look at security, economics, health and other key issues and will prioritize the need for sustainability, security and inclusivity. The USJC 2023 Annual Conference will convene leaders in Washington, DC to discuss these issues and priorities, collaboratively set the agenda and fortify the networks needed for mutual prosperity.
We look forward to bringing together our members, sponsors, program alumni and other supporters of the bilateral relationship as we build coalitions through engaged networking and discuss a wide range of topics between our two countries. Both days will have scheduled activities and dialogues open to all attendees, including our popular networking dinners and local offsite visits. Special sessions will be held for our various stakeholders.
Members Forum
The Members Forum will take place on November 10 to reflect on the conference experience and connect with others as we strengthen the bilateral relationship between the United States and Japan relations through people-to-people ties. The Members Forum is for members only or by invitation.
Location
The conference will be held at the Renaissance Washington, DC Downtown Hotel. Registration will open in the coming months and will include a dedicated sleeping room block at the hotel with discounted nightly rates.
Please save the dates and look forward to more information coming soon.
Request for Proposals
Would you like to organize a session?
USJC is looking for interested individuals to help us co-create the conference this year! We will be accepting proposals to organize public sessions. A Request for Proposals (RFP) is currently open. Please follow the link below for more information on themes, content and deadlines.
If you have any questions, please feel free to reach out to us at [email protected].
2022 Annual Conference Recap
We thank each of you who attended our conference in Tokyo and made it such a huge success.
Over 700 people attended, including 400 individuals from the United States; the conference was a wonderful demonstration of the commitment to our mission of strengthening people-to-people ties. Our conference recap videos and summaries can be found on our website here. If you were not able to join us in Tokyo in 2022, then we hope you will join us in Washington, DC in 2023!
The U.S.-Japan Council Annual Conference is a yearly event that brings together regional, national and international leaders from the government, business, academia and nonprofit sectors to discuss the current status and future outlook of the U.S.-Japan partnership across a range of timely and relevant topics. Each year we look forward to seeing our Council members, program alumni, sponsors, and friends across diverse backgrounds, sectors and generations, and uncovering new avenues of cooperation between our two countries through informed discourse, leadership development and people-to-people connections at all levels.