EX Speaker Series & Startup Showcase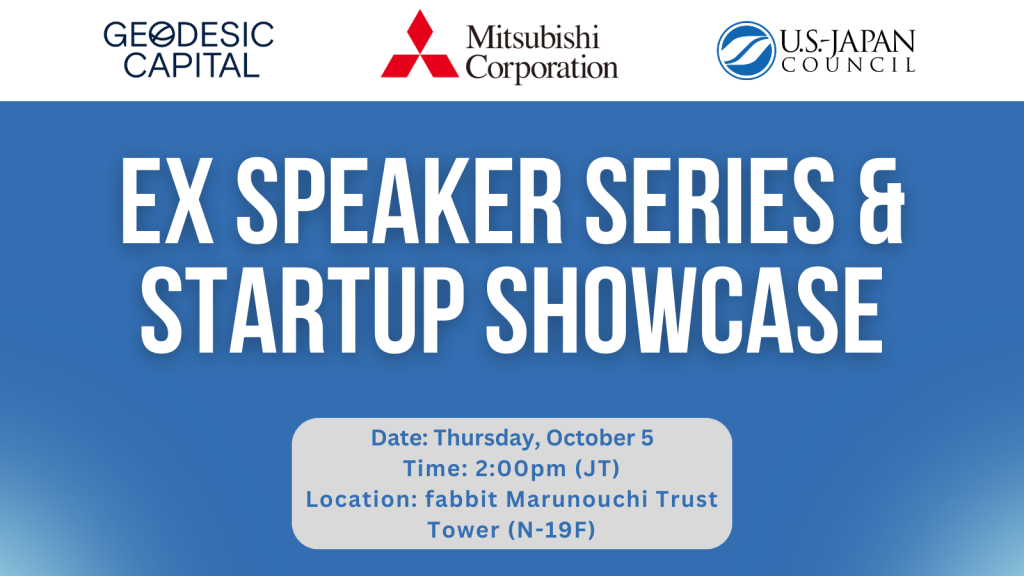 Date: October 4, 2023
Time: 2:00 pm (JT)
Location: fabbit Marunouchi Trust Tower (N-19F)
Registration: Please click here.
Note: The deadline to register is Saturday, September 30
Event Description
Geodesic Capital, in collaboration with Mitsubishi Corporation and U.S.-Japan Council, is hosting the "Energy Transformation (EX) Trek" in Tokyo. This Trek is designed to connect leading North American companies that provide zero-emission energy systems and technology solutions with Japanese companies that are interested in the latest trends and technologies and creating new business in the EX/Climate tech space. The event agenda includes keynote speeches by representatives from Japanese companies that are making significant contributions to climate change mitigation and sustainable society, a pitch session featuring innovative climate tech startups from the U.S. and a networking reception.
For any inquires regarding this event, please contact Geodesic Capital through the registration site here.
About Geodesic Capital
In 2015, former U.S. Ambassador to Japan John Roos created Geodesic Capital to leverage the connections between Silicon Valley and Japan. After a career working with disruptive and innovative technology companies in Silicon Valley and his service in Tokyo where he built close relationships with the leaders of corporate Japan, he launched Geodesic, the powerful culmination of both worlds – a bridge between Silicon Valley and Japan.