Silicon Valley Japan Platform Benkyokai Webinar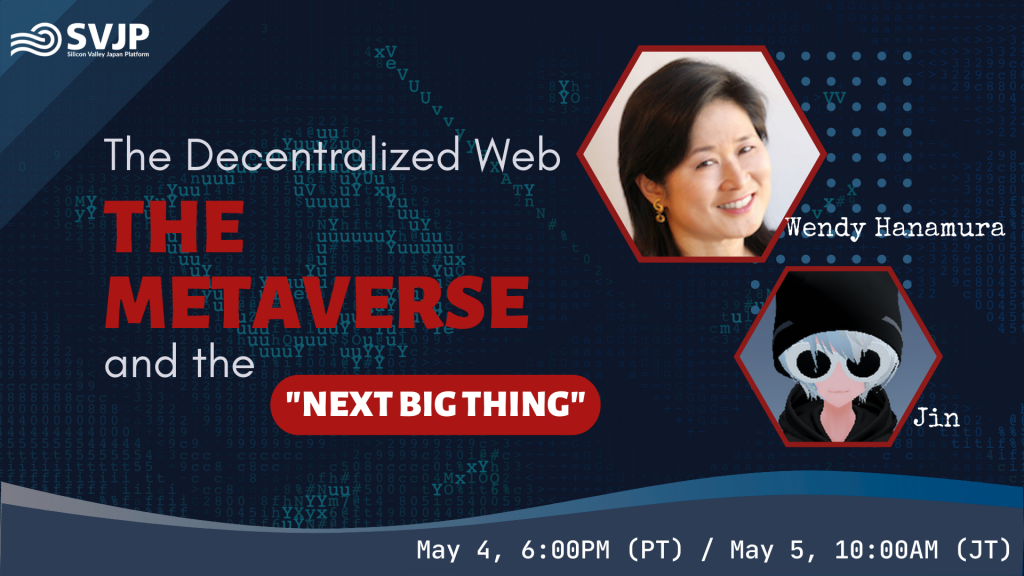 Silicon Valley Japan Platform Benkyokai Webinar
Date: May 4, 2022 (U.S.) / May 5, 2022 (Japan)
Time: 6:00pm-7:30pm (PT) 9pm-11:30pm (ET) / 10:00am-11:30am (JT)
Location: Virtual Event
Why did Facebook rename itself for the Metaverse? What is the metaverse & how are people experiencing it? Why are artists, nonprofits, even the NBA racking up seven-figure payouts for otherwise mundane pieces of media called NFTs (non-fungible tokens)?

Underlying this boom is a growing movement building the Decentralized Web, a web that is more private, secure and open, built upon P-2-P (peer-to-peer) technologies. Since 2016, our speaker, Wendy Hanamura, has been convening the major builders of these technologies for the Internet Archive, at the Decentralized Web Summit and DWeb Camp.

The Silicon Valley Japan Platform invites you to join our upcoming Benkyokai webinar on May 4, 6pm PT // May 5, 10am JT. Wendy will provide an introduction to the Decentralized Web, explaining how it differs from "Web 3" and why it is important. Included in the discussion will be a demo by an artist, Jin, who is working, trading & creating NFTs in the metaverse.
This is a private event. If you are interested in joining, please contact [email protected] for registration details.