Silicon Valley Japan Platform Benkyokai Webinar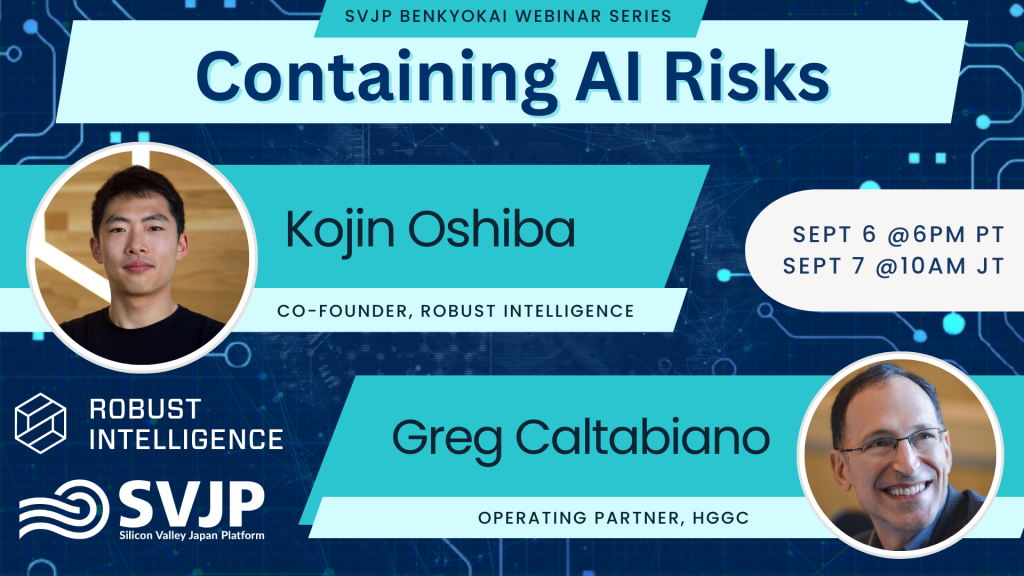 Date: September 6, 2023 (U.S.) / September 7, 2023 (Japan)
Time: 6:00pm (PT) / 10:00am (JT)
Location: Virtual Event
Registration: This is a private event. Please contact Alison Harsch [email protected] if you are interested in attending.
Within the first 5 days of launching, ChatGPT accumulated over 1 million users- only to explode into 100 million users in the first two months. This record-breaking growth showed the public's intense interest in Open AI's multi-functional tool, and it has continued to draw attention as more and more come to rely on the efficiency of generative AI-based services. While AI models are extremely helpful, they are far from flawless.
In the September SVJP Benkyokai, we will examine two of the main categories of risks associated with Artificial Intelligence (AI) usage. The first category includes problems with the current AI model, such as hallucinations- confident statements by an AI that are inaccurate despite their training data. The second category refers to the application of AI for harmful purposes, such as the creation of deep fake images.
To define and explore how to contain these risks, the SVJP has the pleasure of featuring Kojin Oshiba, co-founder of AI model testing platform Robust Intelligence. Kojin will illustrate the ways in which Robust tackles AI risks, explaining the steps of detecting anomalies, identifying why it is happening, and most importantly, determining how to implement a solution. Joining the conversation as moderator will be SVJP Executive Committee Member Greg Caltabiano (HGGC).