Strengthening Mental Wellness through Cross-Cultural U.S.-Japan Insights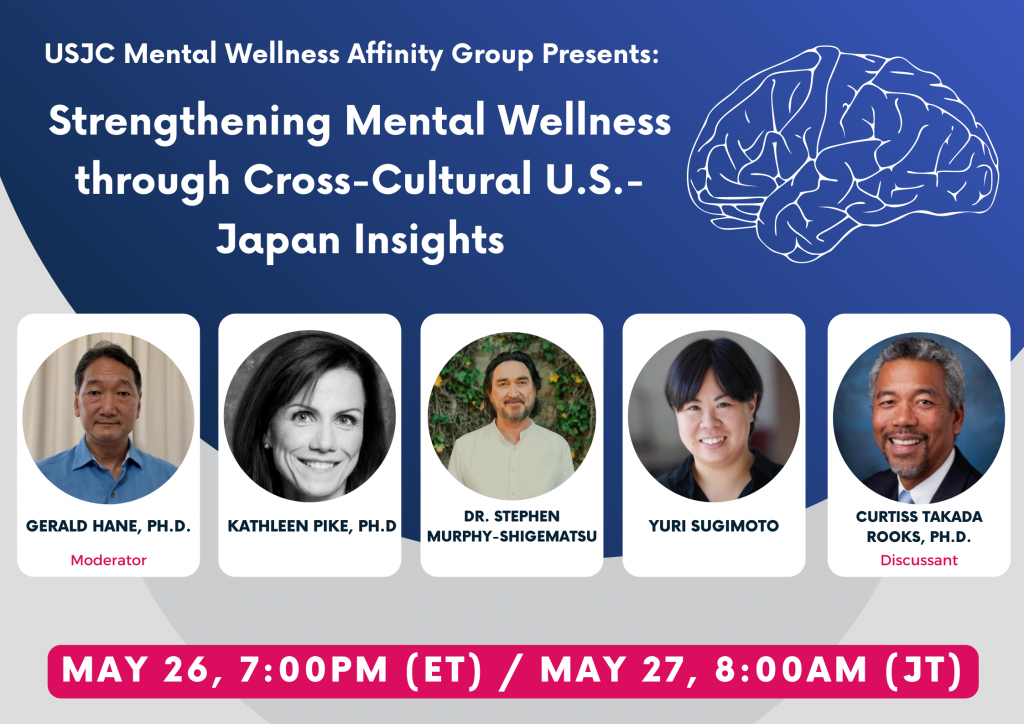 Strengthening Mental Wellness through Cross-Cultural U.S.-Japan Insights
Date: May 26, 2022 (U.S.) / May 27,2022 (Japan)
Time: 7:00pm (ET) / 8:00am (JT)
Location: Virtual Event
Registration: Click here
Please join the U.S.-Japan Council (USJC) as we commemorate Mental Health Awareness Month with an exploration of key issues related to mental health in both the United States and Japan. Our speakers will offer distinct perspectives, allowing a conversation around the cross-cultural aspects of mental wellness. The speakers will also address mental health and the workforce in this era of COVID, and empowering youth with mental health challenges. This event is open to all.
Please note that this event will be recorded and be made available on YouTube following the event. If you have any questions, please email [email protected].
Speakers
Gerald Hane, Ph.D. (Moderator)
Gerald Hane is a U.S.-Japan Council Leader and Research Fellow at Health and Global Policy Institute and Senior Executive for APAC at Hitachi Asia. For more information about Mr. Hane, please click here.
Dr. Stephen Murphy-Shigematsu
Dr. Murphy-Shigematsu is Head of Heartfulness Lab and Consulting Professor at Stanford University. For more information about Dr. Murphy-Shigematsu, click here.
Kathleen Pike, Ph.D.
Dr. Kathleen Pike is a USJC Council Leader and Professor of Psychology and Director of Columbia-WHO Center for Global Mental Health at Columbia University Department of Psychiatry and New York State Psychiatric Institute. To learn more about Dr. Pike, click here.
Yuri Sugimoto
Yuri Sugimoto is the Global Communications Officer at the Public Relations Division at Kyoto University. She is also a 2021 TOMODACHI Story Jam for Youth and Disabilities participant.

Curtiss Takada Rooks, Ph.D. (Discussant)
Dr. Curtiss Takada Rooks (JALD '04) is a current Member of the USJC Board of Directors and Associate Dean of Bellarmine College of Liberal Arts at Loyola Marymount University. Additionally, Dr. Rooks serves as the Program Development Committee Chair of USJC. To learn more about Dr. Rooks, click here.