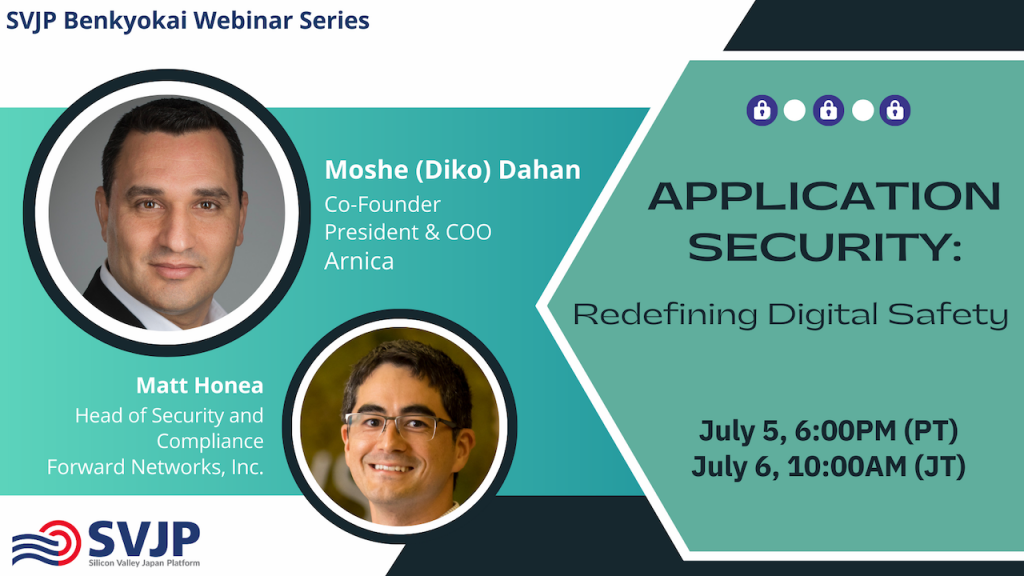 Date: July 5, 2023 (U.S.) / July 6, 2023 (Japan)
Time: 6:00pm (PT) / 9:00pm (ET) / 10:00am (JT)
Location: Virtual event
Registration: This is a private event. If you are interested in joining, please contact [email protected] for registration details.
In the current digital age, it is nearly impossible to go through daily life without entrusting personal information to digital services. Data collection has become a norm and threats of cybertheft a generally accepted risk. But when large scaled attacks are discovered which permeate multiple U.S. government agencies such as the SolarWinds breach in 2020, it gives reason to question how vulnerable our data truly is. 
Join SVJP as they host the Co-founder and President of Arnica Moshe "Diko" Dahan. Mr. Dahan will illustrate the development of cybersecurity practices and the growing importance of application security. The July Benkyokai will examine how software supply chains have become the new target for hackers and the measures cybersecurity experts have developed to oppose them. The session will be moderated by Matt Honea, Head of Security and Compliance at Forward Networks, Inc.