The 31st U.S.-Japan Council Business Advisory Board Meeting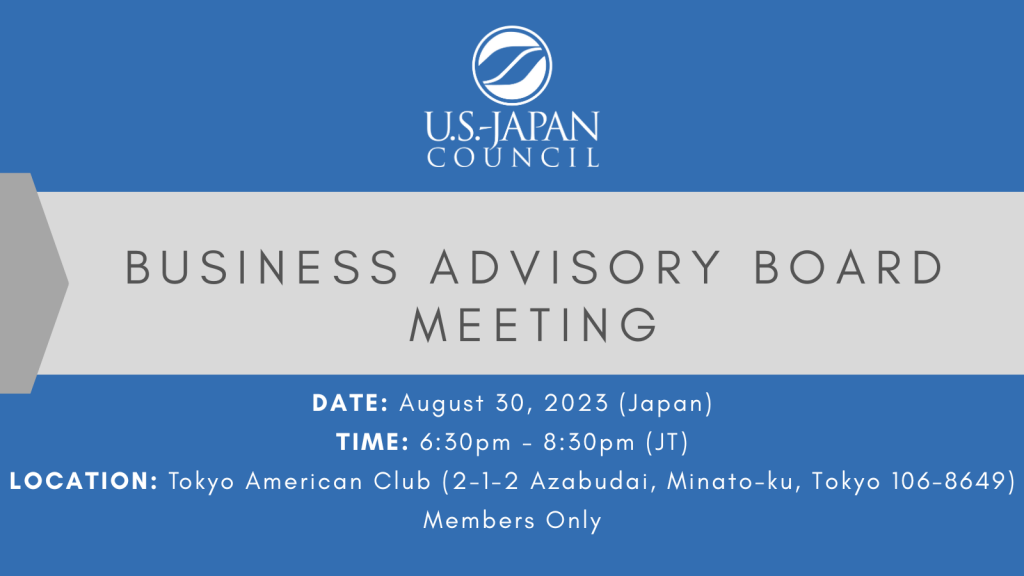 Date: August 30, 2023 (Japan)
Time: 6:30pm – 8:30pm (JT)
Location: Tokyo American Club (2-1-2 Azabudai, Minato-ku, Tokyo 106-8649)
Cost: 10,000 JPY*
Registration: Please note that this is a private event. USJC Members and Members of the Business Advisory Board are allowed to attend. For more information, please contact: [email protected].
* Fees will be collected online in advance.
The Business Advisory Board (BAB) provides a platform based in Japan to integrate business leaders from diverse fields including government, academic and non-profit sectors to expand people-to-people connections to strengthen ties between the United States and Japan.
This event will include a keynote speech from Mr. Shigeru Ariizumi and a networking dinner. Mr. Ariizumi's speech will focus on Japan's economic future from the financial sector's perspective. He will discuss the Japan Financial Services Agency (JFSA)'s plans to further promote initiatives such as corporate governance reforms and sustainable finance, as well as a fundamental reform of the asset management sector with the aim of establishing Japan as a global center of asset management. He will also offer reflections on Prime Minister Kishida's Spetember 2022 statement in New York and Japan's intention to promote investing in people, innovation and companies to revive Japan's international financial market.
Featured Speaker
ARIIZUMI Shigeru
Vice Minister for International Affairs, Financial Services Agency, Government of Japan (JFSA)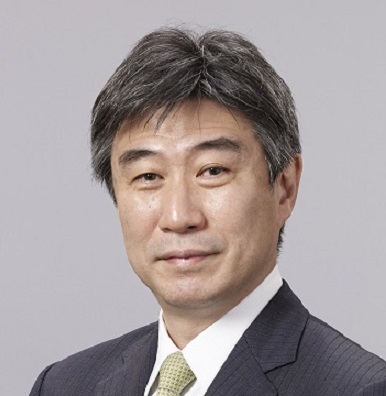 ARIIZUMI Shigeru has extensive experience working on financial sector issues, representing the JFSA in various international fora. Mr. Ariizumi is a member of the Financial Supervisory Board (FSB) and regularly represents the JFSA in its meetings. He is also the Japanese representative at FSB's Resolution Steering Group (ReSG.) On securities issues, he is the Vice Chair of the Board of International Organization of Securities Commissions (IOSCO) as well as the Chair of the Asia-Pacific Regional Committee. Turning to the insurance sector, he serves as Vice Chair of the Executive Committee of the International Association of Insurance Supervisors (IAIS).
Before assuming his current position in July 2023, Mr. Ariizumi held various key positions at the JFSA. During Japan's G20 Presidency in 2019, he served as Deputy Commissioner for International Affairs and led the JFSA team on formulating the agenda and delivering tangible results on issues related to the financial sector. On the supervisory front, he worked as Director of Banks Division I and Director of Securities Division during 2011-2013, and was the leading official in charge of supervising Japanese megabanks and investment banks as well as foreign financial institutions' branches and subsidiaries in Japan. He also served as Deputy Director of the Financial Markets Division and led work on securities regulations and securities markets reform during 2001-2003.
Entering the Japanese Ministry of Finance (JMOF) in 1988, he also worked on a wide range of policy-related issues at JMOF, particularly on international finance. During 2020-2021, he was Senior Deputy Director General of the International Bureau and was Japan's G7 and G20 Finance Deputy's Deputy, where he supported the Minister and Vice Minister and worked on pressing global issues, including the global economy, debt, pandemic response and preparedness, financial sector issues, digital transformation and climate change. As Deputy Director General, he also oversaw Japan's relationship with the International Monetary Fund (IMF) and Multilateral Development Banks (MDBs), including the World Bank Group, Asian Development Bank and African Development Bank. He also has ample experience in the market, as he worked as Director of the Foreign Exchange Markets Division during 2015-2016 and Director of the Foreign Exchange Reserve Management Office during 2008-2009, managing over 1 trillion dollars (USD) in assets.
He holds a bachelor's degree in law from the University of Tokyo and a master's degree from Harvard Law School. He has passed the Bar examination in Japan as well as in the State of New York.