Thirteenth Business Advisory Board Welcomes Ambassador William Hagerty
On March 14, the thirteenth U.S.-Japan Council Business Advisory Board (BAB) was held at the Tokyo American Club, welcoming Ambassador William "Bill" Hagerty as the featured speaker.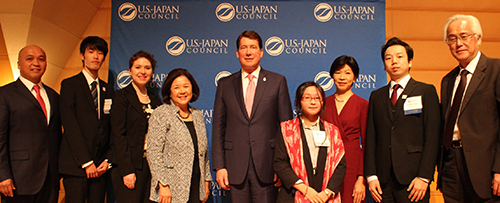 The meeting opened with remarks from Scott Sato, Member of the USJC Board of Directors, and Masaaki Tanaka, Chairman of the Business Advisory Board. USJC President Irene Hirano Inouye shared updates on USJC's activities, including the 2018 Japanese American Leadership Delegation that visited Japan in early March, the Japan-Texas Economic Summit to be held in Houston in May, and the 2018 USJC Annual Conference to be held in Tokyo in November.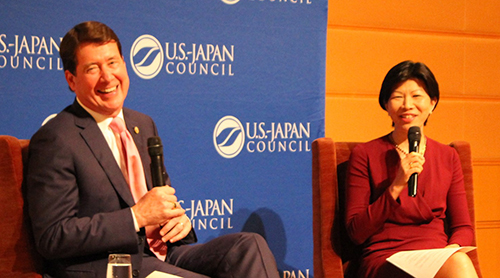 The talk with Ambassador Hagerty was moderated by Kathy Matsui, Chair of the USJC (Japan) Board of Councilors. They discussed the importance of U.S.-Japan relations and the significant role USJC plays in developing people-to-people relations and future leaders. The Ambassador then discussed current issues, including the nomination of the new U.S. Secretary of State, the status of the Trans-Pacific Partnership and U.S.-Japan trade relations.
Ambassador Hagerty also discussed the importance of promoting study abroad as a means to improve people-to-people relations. He applauded the TOMODACHI Initiative's efforts in supporting exchange students. He also praised USJC's work in empowering women and promoting gender equality.
During the Q&A session following the talk, the Ambassador discussed topics that include the need to bring more FDI to Japan and the United States, strengthen company-to-company relationships, and further involve governors in both countries. The evening concluded with networking by all attendees, including TOMODACHI alumni.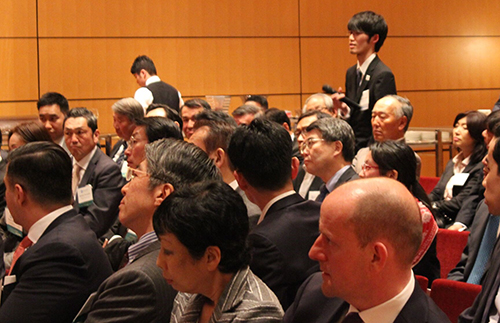 Click here to see more photos from the event.