USJC Hawaii Region Giving Back Lo'i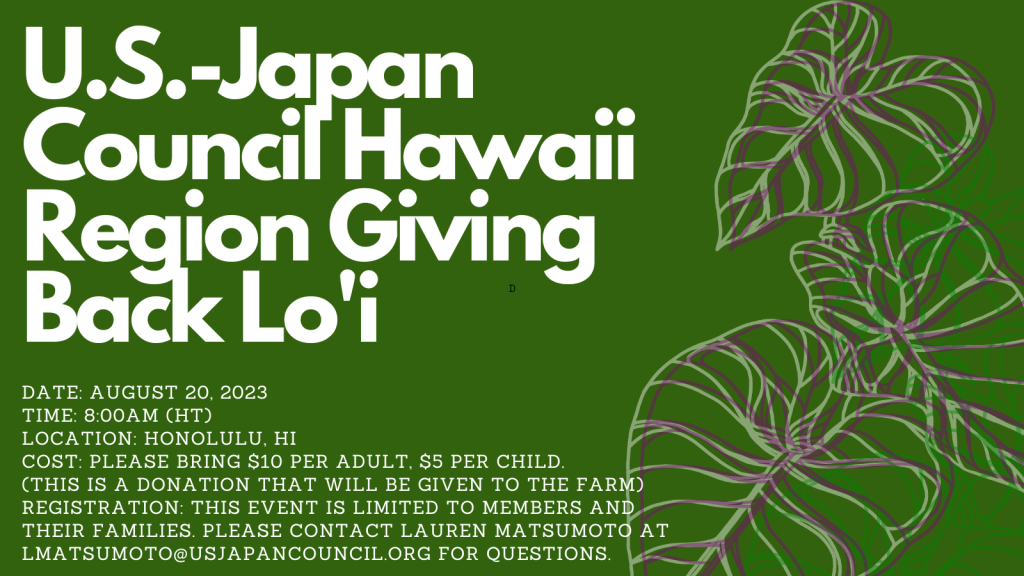 Date: August 20, 2023
Time: 8:00am (HT)
Location: Honolulu, HI
Cost: Please bring $10 per adult, $5 per child as a donation to the farm.
Registration: This event is limited to members and their family members. If you have any questions about the event or would like to attend, please contact Lauren Matsumoto at [email protected]. Please note that this event will be capped once we reach capacity (40 individuals).
What better way to spend time with the U.S.-Japan Council (USJC) Hawaii region ohana then giving back to the community? Please join the Hawaii region and their families as they volunteer our time to the lands of Hawaii. The Hawaii region will learn about the lo'i and the hard work that goes into taking care of the taro patch.
USJC Council Leader Nate Gyotoku (Japanese Cultural Center of Hawaii) will share how Japanese plantation workers immigrated from Japan to Hawaii and worked as contract laborers on both sugarcane and pineapple plantations. Lunch will be served by Chef Mark Noguchi (Chef Hui).