USJC New York Region 2023 TOMODACHI J&J Disaster Nursing Training Program Participants Welcome Potluck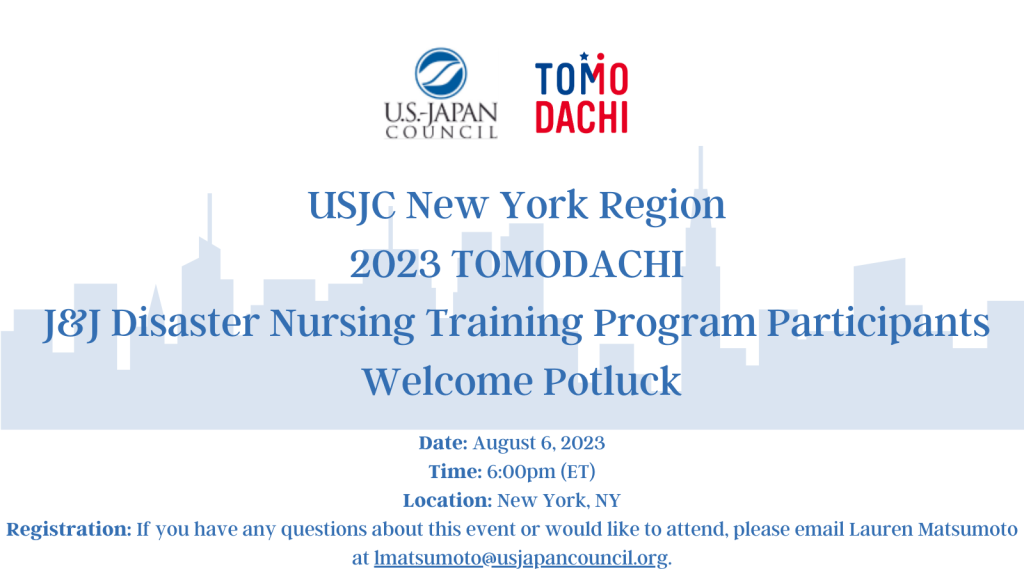 Date: August 6, 2023
Time: 6:00pm (ET)
Location: New York, NY (Exact details will be provided after you register)
Registration: If you have any questions about this event or would like to attend, please email Lauren Matsumoto at [email protected].
The New York region will host a potluck to welcome the participants from the 2023 TOMODACHI J&J Disaster Nursing Training Program.
The goal of the program is to bolster the next generation leaders in disaster nursing in Japan. As part of this mission, participants will have the opportunity to explore specialized facilities and organizations dedicated to disaster medicine and nursing in both New York, New Jersey, and Washington, DC. This year's participants represent a diverse group hailing from various regions of Japan, including Tohoku, Kanto, Kansai, and Shikoku.
In response to the COVID-19 pandemic, the program had to be conducted online, but we are thrilled to announce its return after four years of online programming, providing participants with an opportunity to travel to the United States for their training.