Women's Leadership Conference in Oakland County, MI
When
–
Where
Oakland County Conference Center


About 80 participants attended the Women's Leadership Conference in Oakland, Michigan on September 26. USJC held this event in collaboration with Oakland County through the invitation of Council Leader Laurie Van Pelt (JALD '18), who is the county's Director of Management and Budget.
USJC President Irene Hirano Inouye gave the keynote speech that discussed the importance of people-to-people relations in advancing women's leadership. This includes mentorships, peer networks like TOMODACHI alumni groups, male champions at work and at home, and relationships built during events like RWL.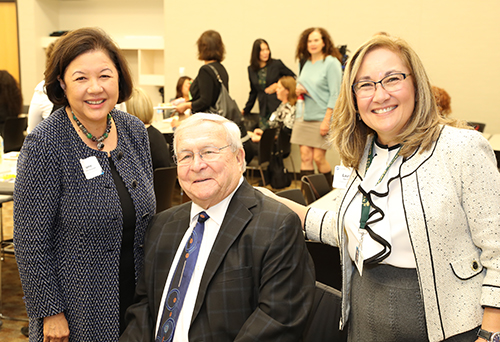 Oakland County Executive L. Brooks Patterson gave opening remarks. Ms. Van Pelt, Irene Spanos (Director, Economic Development & Community Affairs) and other women executives in the county discussed women's leadership in government. Deputy Consul General Yuki Sakai, who traveled from the Consulate-General of Japan in Detroit, discussed the Government of Japan's work in Womenomics. Mary Kamidoi, Treasurer of the Japanese American Citizens League Detroit Chapter, discussed her experience being incarcerated during the War, and her work in advancing civil rights since then. Other local Japanese American leaders, including a top interpreter, a professor of Japanese and an ice skating coach, discussed their career paths and showcased the many ways women achieve leadership.

Three JALD alumni attended the event, each traveling from out of town: Toshiki Masaki (JALD '15) from Detroit; and Lisa Sakai (JALD '18) and Marion Friebus-Flaman (JALD '13) from Chicago.
We thank Ms. Van Pelt, Ms. Spanos and Oakland County for organizing this event; MOFA for the generous funding; and Mr. Masaki for the photos.
For more information, please see the print program here. Click here to see more photos.