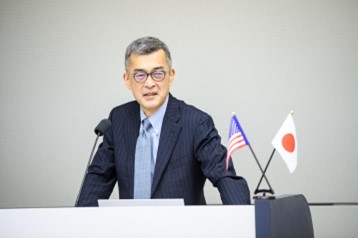 USJC is pleased to announce that Mr. Mark Ikeno will join the Council on May 1 as the Tokyo-based Executive Director, succeeding Ms. Junko Tsuda upon her retirement.
Mark will join us upon stepping down as President and CEO of NEC Corporation of America, an industry-leading provider of digital transformation and communications technology and integrator of IT solutions. In this role, Mark has been responsible for the vision, business strategy, operations and leadership of the company. Mark is a seasoned executive with more than 35 years of extensive sales, marketing, business development and management experience with NEC businesses, primarily in information technology and computing, including leading NEC Europe from London.
Mark brings to the Council direct experience as a Japanese corporate leader whose business is deeply embedded in the U.S. market and society. As President and a Director of NEC Foundation of America, he focused on advancing community development and education. Under his leadership, the NEC Foundation developed meaningful partnerships and initiatives that positively impact the community.
Mark also served as a member of the Board of Directors of the Dallas Regional Chamber and was Co-Chairperson of the International Task Force since 2021. In 2020, Mark was awarded the "Mayor's Award of Excellence" for community involvement in the City of Irving and the region.
USJC has previously benefited from Mark's passion for leadership development (he's a certified coach) and next generation support. During the October 2022 ELP50 Tokyo Program, Mark arranged for NEC to host the 50 participants at NEC's Tokyo HQ, and he personally welcomed the ELP alumni and engaged in dialogue with them about how to leverage global talent in international businesses.
Mark is looking forward to returning to Japan after almost a decade overseas.
Junko will depart following a successful tenure in the role since joining in 2016. We will reflect more on her transformational leadership and impact on the Council in a future newsletter. She will step down as Executive Director on May 1 and will continue to support Mark's onboarding for a transition period.