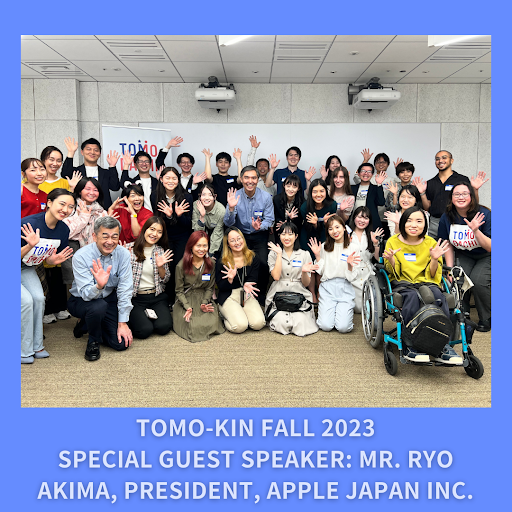 On October 5, the TOMO-KIN Career Talks, a pivotal part of the TOMODACHI Alumni Leadership Program, lit up WeWork Hibiya Fort Tower with the energy and aspirations of its attendees. Supported generously by Prudential, the event turned out to be an enlightening experience, particularly due to our esteemed guest speaker, Mr. Ryo Akima, President of Apple Japan Inc.
As the doors opened, the room quickly filled with anticipation. The event kicked off with warm welcomes and insightful opening remarks by USJC (Japan)'s Executive Director Mark Ikeno, setting the stage for Mr. Akima.
Mr. Akima, who has been at the heart of Apple Japan for 21 years, shared his journey and the transformative products he helped introduce to the Japanese market. Yet, it was his inspirational words that left an indelible mark on everyone present.
Speaking on the essence of teamwork and connection, Mr. Akima emphasized, "We shouldn't solve problems and challenges on our own. It's much more fun and interesting to do it together with a team you trust." His message resonated profoundly, echoing the principles upheld by USJC and TOMODACHI in fostering connections.
The Q&A session was abuzz with queries from alumni, many of whom are at crossroads in their professional lives. Mr. Akima, patient and insightful, advised, "You don't have to plan the next five years; just focus on what interests and motivates you now." These words, emphasizing the present moment, were empowering for many, as nods of agreement rippled through the room.
The evening continued with speed networking, followed by the delightful 'Omusubi Time', allowing for more personal interactions. Closing remarks by Masaaki Kataoka of Prudential Holdings of Japan, Inc. wrapped up the evening, echoing everyone's desire for more time to network and connect with one another. This event is part of the TOMODACHI Alumni Leadership Program that has been generously supported by Prudential since 2014.
At the end, a group photo captured the sense of unity and inspiration, as alumni left feeling heartened and motivated. Mr. Akima's impactful words, underscoring the importance of pursuing passion and collaborative problem-solving, will undoubtedly linger in the minds of the TOMODACHI alumni as they navigate their career paths.