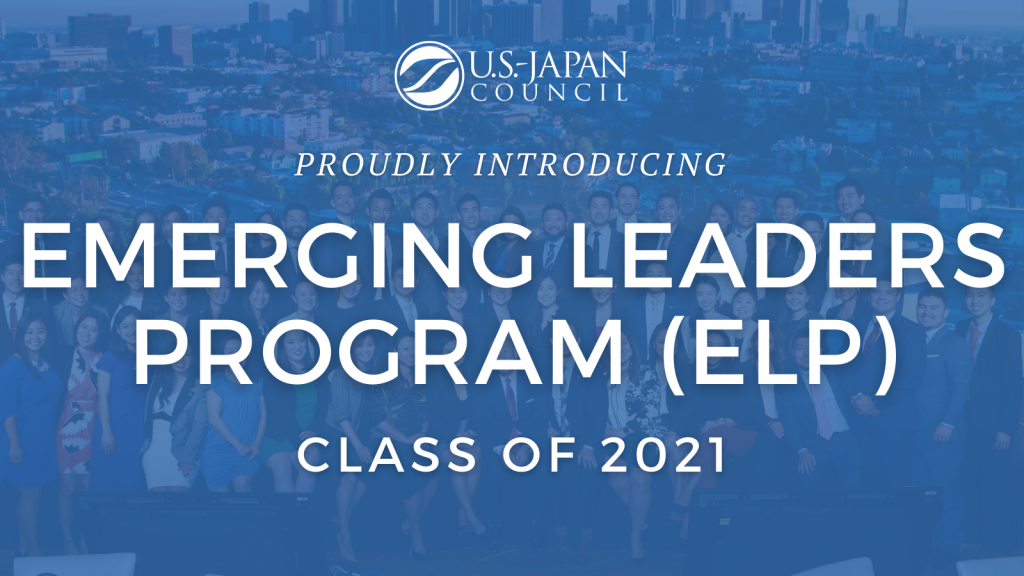 USJC is proud to announce the members of the 2021 Emerging Leaders Program (ELP). ELP identifies, cultivates and empowers a new generation of Japanese American leaders.
In its 12th year, the program will engage participants through a series of virtual events, hosted in lieu of a traditional in-person conference. The class will participate in leadership training, engage with program alumni and network with Council members.
Please join us in welcoming:
Jeffrey Fujimoto (Los Angeles, CA)
Clinical Instructor, Quality Champion, UCLA Health

Tyler Fujita (Honolulu, HI)
Study Tours & Global Engagement Director, Pacific & Asian Affairs Council

Mari Iwahara (New York, NY)
Brand Lead, Google Jigsaw

Jenny Kai (Arlington, VA)
Senior Program Officer, Asia Society Policy Institute

Jessy LeClair (Cambridge, MA)
Japan Desk Manager, Cambridge Innovation Center

Zane Miyamoto (Los Angeles, CA)
Director, Business Development & Product Partnerships, Vimeo

Brent Sabati (Colorado Springs, CO)
Digital Curriculum Coordinator, Ent Credit Union

Jacob Saiki (Portland, OR)
Chief of Staff, MilkRun

Andy Shartzer (New York, NY)
Business Development Representative, Japan External Trade Organization

Aki Shibuya (Seattle, WA)
Operations & Technology Manager, Washington Women's Foundation

Blair Suzuki (Honolulu, HI)
General Manager, Otis Elevator Company

Chris Takeuchi (Mountain View, CA)
Principal, Slalom Consulting

Riki Yoshinaga (Tokyo, Japan)
Managing Partner, BlackShip Inc.