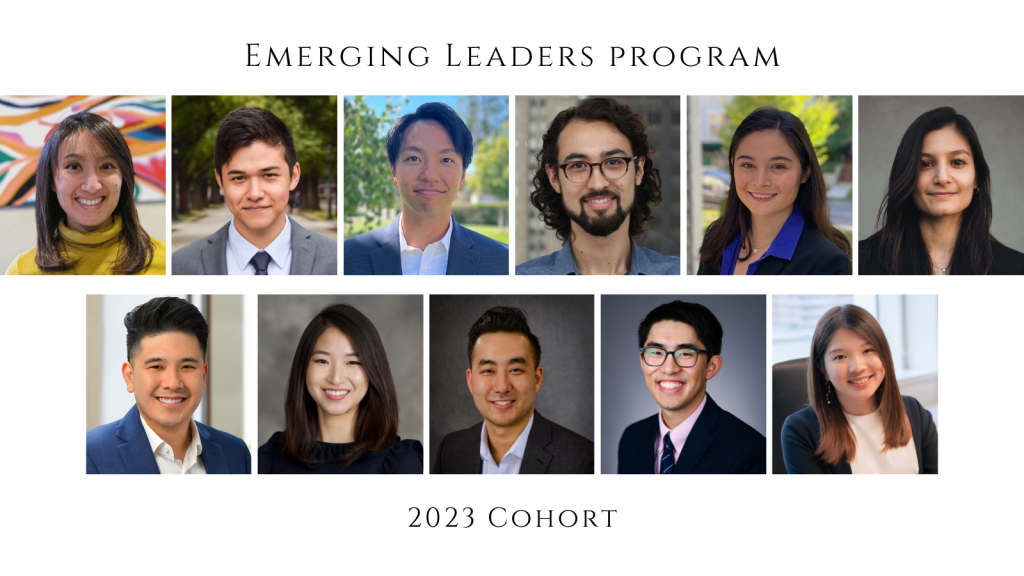 USJC is proud to announce the members of the 2023 Emerging Leaders Program (ELP). ELP identifies, cultivates and empowers a new generation of Japanese American leaders.
In its 13th year, the program allows participants to network with U.S.-Japan Council leaders through a variety of activities and events. This particular cohort will have the opportunity to join the upcoming Annual Conference, scheduled to take place in Washington, DC in November.
Please join us in welcoming:
Yumi Araki (Washington, DC)
Managing Producer of Podcasts, America's Test Kitchen
Rei Kataoka Coleman (Tokyo, Japan)
Government Affairs & Public Policy Manager, Japan and Korea, Salesforce Japan
Ryu Fukuyama (San Francisco, CA)
Associate, Kilpatrick Townsend & Stockton LLP
Joe Galligan (Chicago, IL)
Outreach Coordinator, Consulate-General of Japan in Chicago
Aila Gomi (Columbus, OH)
Manager Materials Science, Advanced Drainage Systems
Sonja Khan (New York, NY)
Engineering Manager, Patreon
Darien Moriguchi (Honolulu, HI)
Chief Financial Officer, Ocean Investments
Jacquelyn Morikubo (Honolulu, HI)
Director, Global Marketing Channels, Meta
Kevin Onishi (Los Angeles, CA)
Chief Operating Officer, Keiro
Hiroyuki Wakabayashi (Arlington, VA)
Autonomous Systems Regulatory Affairs Engineer, The Boeing Company
Melynie Yoneda (Tokyo, Japan)
Account Director, Japan Team Lead, Reuters News and Media Japan K.K.
Click here to read more about the 2023 cohort!