Environmental Sustainability, Technology, and Diverse Leadership
at the Forefront of Forward-Focused Bilateral Dialogues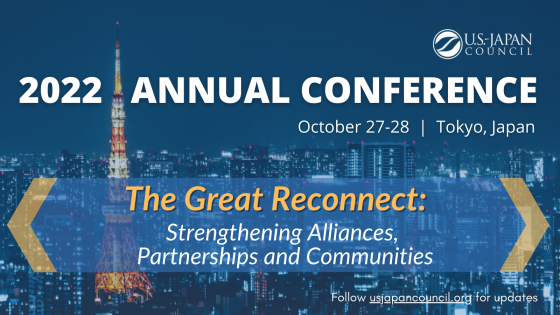 The U.S.-Japan Council, together with the U.S.-Japan Council (Japan), is pleased to present its 2022 Annual Conference from October 27-28 at the Cerulean Tower Tokyu Hotel in Tokyo. As the first in-person conference since 2019 and the onset of the global COVID-19 pandemic, this year's theme "The Great Reconnect: Strengthening Alliances, Partnerships and Communities" brings together regional, national and international leaders of diverse geographic and professional backgrounds to share insights and forward-focused ideas for a fast-changing world. With conversations centered around climate and sustainability, technology and innovation, and diversity and next generation leadership, all friends of the U.S.-Japan partnership are invited to convene for this important bilateral dialogue featuring a lineup of prominent and diverse speakers including:
Jasper Cheung, President, Amazon Japan
Rahm Emanuel, U.S. Ambassador to Japan
Robert Feldman, Senior Advisor, Morgan Stanley MUFG Securities
David Ige, Governor of Hawaii
KAMEZAWA Hironori, President & Group CEO of Mitsubishi UFJ Financial Group, Inc.
KOIKE Yuriko, Governor of Tokyo
Katrina Lake, Founder and former CEO, Stitch Fix
MAKIHARA Hideki, Member, House of Representatives, Diet of Japan
Carissa Moore, Olympic Gold Medalist in Short Board Surfing
NAGANO Tsuyoshi, Chairman, Tokio Marine
Gill Pratt, Chief Scientist, Toyota Motor Corporation and CEO, Toyota Research Institute
SAWADA Jun, Chairman, NTT Corporation
Sputniko! (Hiro Ozaki)
Sylvester Turner, Mayor of Houston, TX
The many dimensions of the U.S.-Japan relationship will be reflected in the Annual Conference's plenary and breakout sessions on topics that include:
Leveraging Subnational Action to Solve Global Problems: Governors and a mayor representing the United States and Japan will explore the potential for national and international impact of regional action.
The Science and Practices of Sustainability: A fireside chat featuring scientists and corporate sustainability leaders looks at corporate efforts to achieve environmentally sustainable practices.
Leadership and Mental Wellness: A roundtable discussion featuring mental health experts and government leaders will explore strategies and goals for implementing systems for supporting mental wellness.
Great Expectations: Leadership for These Times: Unique obstacles of the 2020s have confounded the challenge of leading global companies. Senior Executives will comment on corporate leadership through the pandemic, civil rights concerns and climate responsibilities.
Women's Leadership – Journeys & Lessons A panel will offer an exchange of insights, ideas and experiences of diverse female leaders.
Web 3.0 and NFT Generative Fine Art: A presentation by Sputniko! on the new intersection of technology and art.
The USJC Annual Conference will also honor the Council's late founding president, Irene Hirano Inouye, by featuring next generation voices in a special tribute and by engaging student and young professional leaders throughout the program. The Council will also launch a special ELP 50 program featuring business exchanges and networking opportunities for alumni of the Emerging Leaders Program prior to the conference. The full agenda, including a list of speakers, can be found here.
Media Information
Date: October 27 (Members Day events), October 28 (Public Day)
Time: 9 am – 7 pm
Location: Cerulean Tower Tokyu Hotel 26-1 Sakuragaokacho, Shibuya-ku Tokyo, Japan 150-8512
Press Registration: Press registration is complimentary. Click here to register.
Conference attendees can click here to register online by October 23. When capacity is reached, registration will close early.
About the U.S.-Japan Council (USJC)
The U.S.-Japan Council develops and connects global leaders to create a stronger U.S.-Japan relationship. It is an organization whose members believe people-to-people relationships are a powerful way to bring together leaders in the United States and Japan to address and create solutions to mutual concerns. The Council is a 501(c) 3 nonprofit educational organization that was founded by a group of Japanese American leaders in 2008 and is headquartered in Washington, DC with staff in California, Hawaii and Tokyo. In 2012, the U.S.-Japan Council (Japan) was created and in 2013, it became a Public Interest Corporation (koeki zaidan hojin). The U.S.-Japan Council (Japan) maintains an office in Tokyo, Japan.
Contact
General contact: [email protected]
English inquiries (U.S. Office):
Alison Aadland, Senior Communications Manager
[email protected]
+1-202-223-6843
Japanese inquiries (Tokyo Office):
Chieko Tashiro, Marketing Communications Manager
[email protected]
+81-3-4510-3404