FOR IMMEDIATE RELEASE
February 8, 2022
Reuters News Anchor Fred Katayama to Join USJC as Executive Vice President
WASHINGTON DC – The U.S.-Japan Council (USJC) is thrilled to announce that Frederick Katayama, renowned news anchor and award-winning journalist, will be joining the Council's staff as Executive Vice President, effective February 14, 2022.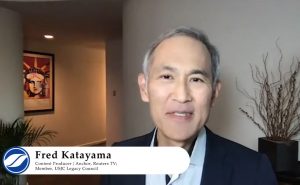 A Japanese American journalist from California, Mr. Katayama is a Founding Board Member of the U.S.-Japan Council, first serving on the Council's board upon its inception in 2008. Headquartered in Washington, DC, with staff in California, Hawaii and Japan, USJC's mission is to develop and connect diverse leaders to strengthen the U.S.-Japan relationship, and empower Japanese American communities through global networking and leadership development opportunities. As Executive Vice President, Mr. Katayama will lead the Council's development activities and plan strategic initiatives to further the organization's mission. He will work alongside USJC's President and CEO Suzanne Basalla and Board Chair Paul Yonamine.
"I listened to my heart. I'm ecstatic that I'll be joining a nonprofit I'm so passionate about," he said. "I'm just thrilled that I'll be working with someone I truly respect and have known for over a decade, Suzanne Basalla, her team, boards of directors and counselors, sponsors and devoted members. I'm inspired to this day by USJC's co-founders, the late Sen. Daniel Inouye and Irene Hirano Inouye."
Mr. Katayama has worked at Reuters as an anchor and producer since 2005. He was an anchor and correspondent at CNN from 1994 to 2004, and prior to that, worked as a reporter for KIRO-TV, NHK (Japan Broadcasting Corp), Fortune magazine, and the Associated Press. He earned his MS in journalism from Columbia University's Graduate School of Journalism and his BA in East Asian Languages and Cultures also from Columbia.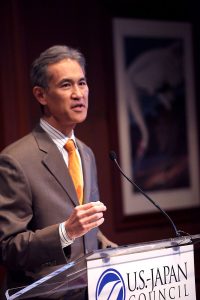 He has been a long-time advocate and volunteer on behalf of Japanese and other Asian American communities. In addition to his position as a Legacy Council Member of the U.S.-Japan Council, he was also selected as delegate for the U.S.-Japan Council's Japanese American Leadership Delegation (2020). He serves on the board of the Japan Society and is Vice President at the Center for International Exchange. Among a number of awards and nominations to his name he is a three-time winner of the National Journalism Award from the Asian American Journalists Association. In 2016, the Japanese Overseas Migration Museum in Yokohama featured him along with USJC founders Senator Daniel Inouye and founding President Irene Hirano Inouye as examples of successful individuals around the world who have ethnic roots in Fukuoka prefecture. Along with Senate Majority Leader and U.S. Ambassador Mike Mansfield, Katayama was one of the contributors to the 1994 book Japan: A Living Portrait.
About the U.S.-Japan Council (USJC)
The U.S.-Japan Council develops and connects global leaders to create a stronger U.S.-Japan relationship. It is an organization whose members believe people-to-people relationships are a powerful way to bring together leaders in the U.S. and Japan to address and create solutions to mutual concerns. The Council is a 501(c) 3 nonprofit educational organization that was founded in 2008 and is headquartered in Washington, DC with staff in California, Hawaii and Tokyo. In 2012, the U.S.-Japan Council (Japan) was created and in 2013, it became a Public Interest Corporation (koeki zaidan hojin). The U.S.-Japan Council (Japan) maintains an office in Tokyo, Japan.
CONTACT
Washington, DC Headquarters
Alison Aadland
Communications Manager (Team Lead)
[email protected]
202-223-6843
Japan Office
Junko Tsuda
Executive Director of U.S.-Japan Council (Japan)
[email protected]
+81-3-4510-3401