USJC members recently spoke at an event hosted by the Japan Society of Northern California in San Francisco. This event, called "When Women Lead: Female Career Empowerment in Japan," featured Member of the USJC Board of Councilors Susie Roos and Council Leader Suzanne Basalla, as well as Ms. Sakie Fukushima (wife of Member of the USJC Board of Councilors Glen Fukushima). Many thanks to Associate Saki Takasu (who knows the speakers as the former Director of Development at USJC) for providing the following recap and photos!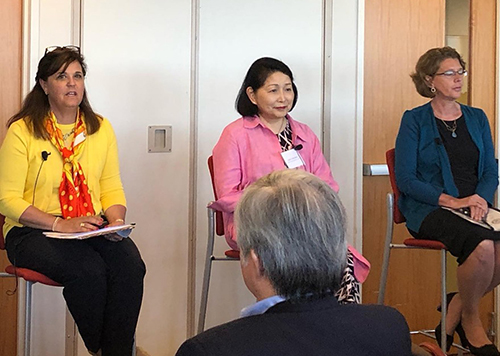 So much power, grace and intelligence in one room. It was a pleasure to hear Susie Roos, Sakie Fukushima, and Suzanne Basalla speak about their very unique and impressive career paths.
Susie – an accomplished employment lawyer with over a decade of partnership, mother of two amazing children, and an important voice for women's empowerment in Japan (during her time in Tokyo, as her husband worked as the U.S. Ambassador in Tokyo). Now embarking on a new adventure as CAO of a late stage-focused VC, Geodesic, working with her husband.
Sakie-san – an impressive woman who began a career teaching Japanese to Americans, and found her way to a teaching job at Harvard and eventually a Stanford MBA. Then went on to partnership and board positions at BCG, Korn Ferry, Sony, Bridgestone, Kao, Mitsubishi, Ajinomoto, Benesse, among others. Now running her advisory business across the Pacific at G&S Global Advisors.
Suzanne – an accomplished U.S. Naval officer (one of the first women to work on battleships), Olmsted Scholar turned White House staff and Pentagon Japan Desk Head, and senior advisor to Ambassador John Roos (during the pivotal moment in 2011), and COO of the U.S.-Japan Council. Now, the Chief of Staff at Toyota Research Institute.
Susie is passionate and a fighter. Sakie-san is quiet but carries gravitas in her words and actions. Suzanne draws her strength from her sense of humor and comfort in building friendships among traditional and masculine organizations. It goes to show that you can have so many different paths to success, and there's no typecasts to what a strong female leader should look like, sound like, or behave.
It was a truly impressive, inspirational and nostalgic evening. I am grateful to have worked closely with Suzanne and Susie, and so glad that I got to know Sakie-san's story better.