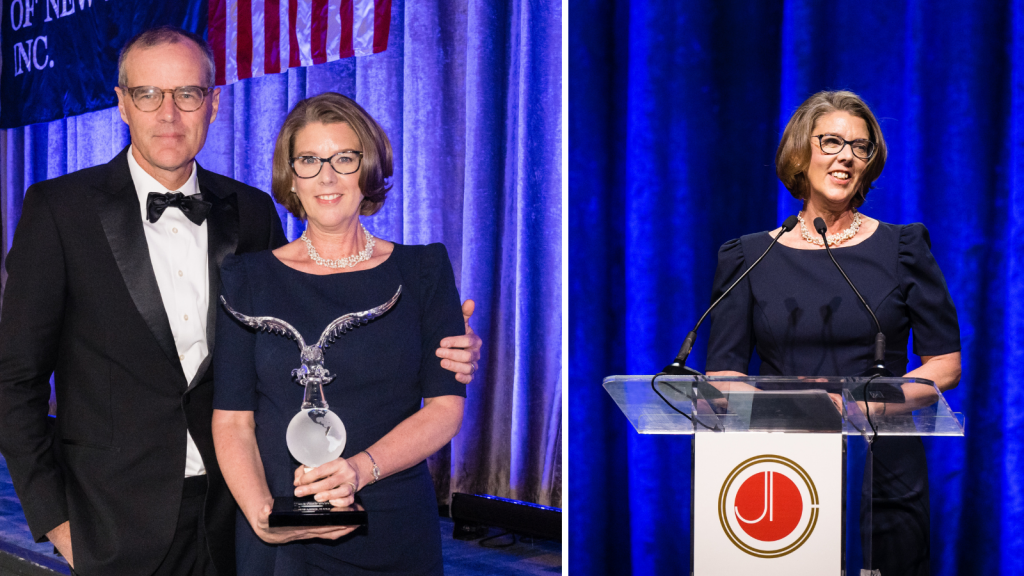 Pictured above (left): Suzanne and John Basalla (left); Suzanne at the podium (right), photo credit: Andrew Levine Photography
President and CEO of the U.S.-Japan Council Suzanne Basalla was awarded the Eagle on the World Award by the Japanese Chamber of Commerce and Industry of New York (JCCI) on November 7, 2022 in New York. The Eagle on the World Award recognizes those who have spent their lives improving the bilateral relationship between the United States and Japan.
The Eagle on the World Award represents "a validation of not only my efforts, but the vital link between interpersonal relations and larger geopolitical ones in the U.S.-Japan alliance," Suzanne stated.
In her acceptance speech, Suzanne also recognized the legacy of past Eagle on the World Awardees who shaped the U.S.-Japan Council and its TOMODACHI Initiative, including Irene Hirano Inouye, Daniel K. Inouye, Norman Mineta and John Roos.
"As a career Japan Hand, I believe there is nothing more important than strengthening the Alliance, and no more effective means to that end than through people-to-people connections," she stated. "To me, the course of my career has always seemed to have a certain momentum and logical trajectory, propelled by a sense of purpose and service to the alliance, along with my enormous respect for the people, history and culture of Japan and of the Japanese American community."
Suzanne received this honor alongside Syukuro Manabe, recipient of the 2021 Nobel Prize in Physics. JCCI also honored the late Norman Mineta, former U.S. Secretary of Transportation and former U.S. Secretary of Commerce and USJC Vice Chair of the Board of Councilors, and Shinzo Abe, former Prime Minister of Japan, with Commemorative Awards.
To learn more about the event, click here.