This week, we once again pause to reflect on the tragic triple disaster of the Great East Japan Earthquake. When we gathered community partners last year for the 10-year commemoration, I worried that some would see the milestone as closing of a chapter in U.S.-Japan relations.
That's why I am so heartened by U.S. Ambassador to Japan Rahm Emanuel's trip today to Tohoku. Ambassador Emanuel and his wife, Amy Rule, met community leaders, witnessed recovery firsthand, and spent quality time with TOMODACHI program alumni who could share their memories and their paths to become community leaders through their TOMODACHI experiences.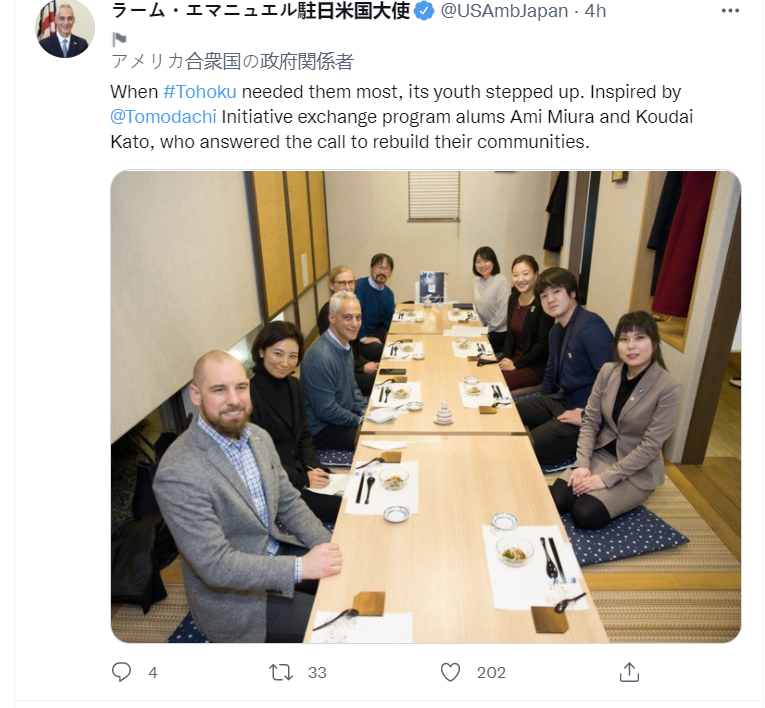 Meanwhile, TOMODACHI programs have started to increase in-person activities. This week, 11 TOMODACHI Sumitomo Corporation Scholars met in New York City. Hosted by Council Leader Jewelle Yamada and her Sumitomo colleagues, these Japanese college students who are studying in far flung places like Mississippi, Florida, and Wisconsin on scholarships funded by Sumitomo Corporation, gathered for leadership training. I thoroughly enjoyed my chance alongside EVP Fred Katayama to meet them and answer their questions about women's leadership, nuclear deterrence, and trade policies. What a bright group! I also shared with them how my own personal and professional journey has been shaped in large part by the events of 3.11.
Also this week, USJC Board of Councilors member Ken Inouye shared impressive life lessons about public service, identity, and social justice handed down from his father, Senator Daniel K. Inouye, with Howard University students and George Washington University alumni from the TOMODACHI Kakehashi Inouye Scholars program. This long-standing Ministry of Foreign Affairs program provides diverse next generation leaders in both countries opportunities to visit each other's countries and also to learn about the life and legacy of Senator Inouye. The Howard University students haven't had a chance to visit Japan as a cohort yet, but their interest and affection for Japan was clear.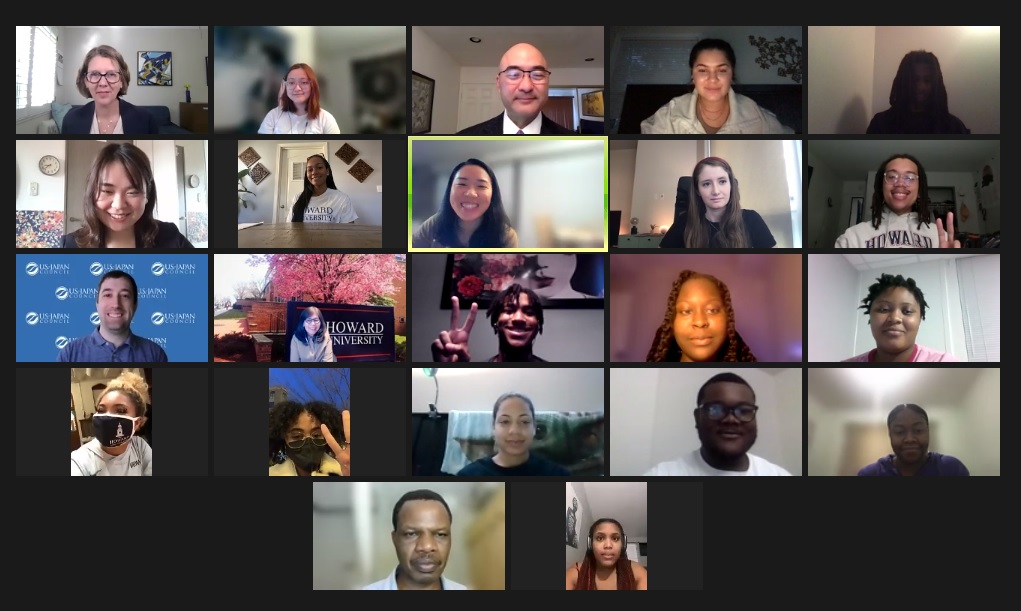 In addition to the continuing TOMODACHI programs in their virtual and hybrid formats, we are preparing a new strategic TOMODACHI program that will launch this summer. Watch this space for more details.
What a relief to see the Government of Japan finally ease restrictions for international students (and others) entering Japan. This is an important step to resume the essential people-to-people connections that keep the U.S.-Japan relationship strong.
For those of you considering your long-awaited return to Japan, please plan to join USJC for our in-person Annual Conference in Tokyo at the end of October. You'll receive the Save the Date very soon. You won't want to miss this one, and we can't wait to see you all again in Japan.