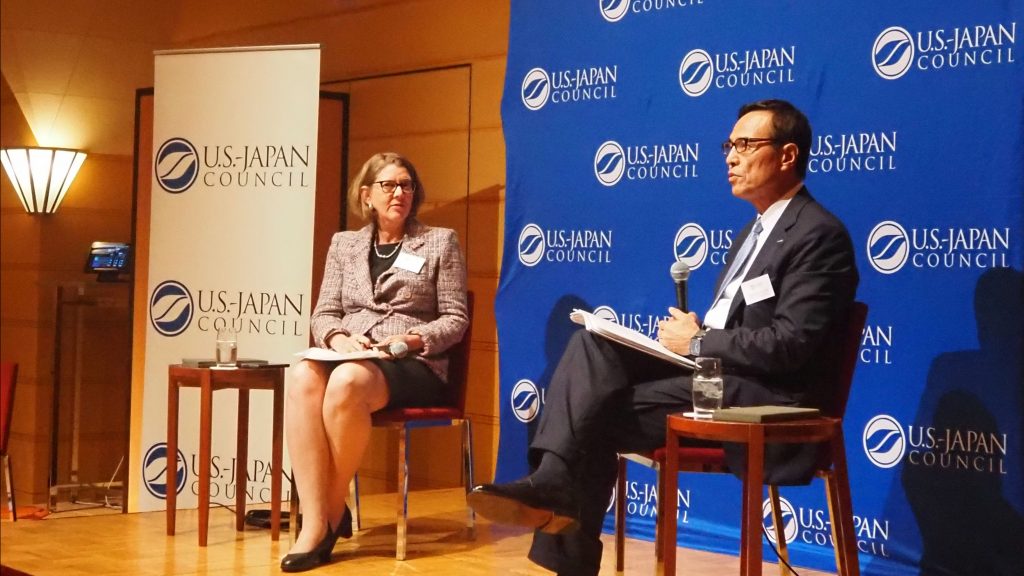 On May 24, the U.S.-Japan Council Board of Councilors' gathering was held at the Tokyo American Club under the leadership of Chair of the USJC Board of Councilors Ernest Higa (HIGA Industries Co., Ltd.). Twenty USJC Board of Councilors Members from both the United States and Japan participated in the event.
Mr. Higa delivered welcome remarks and introduced the featured speaker for the fireside chat, Vice Chair of the USJC Board of Councilors Takeshi Niinami (Suntory Holdings Limited). USJC President & CEO Suzanne Basalla joined Mr. Niinami as the moderator.
During the fireside chat, Mr. Niinami elaborated on some of the highlights of the eight focus areas he presented in his inaugural speech as Chairman of Keizai Doyukai. He stressed the importance of mobility of labor, talent development and wage increases as essential for the growth of the Japanese economy.
Furthermore, Mr. Niinami emphasized the important role Keizai Doyukai could play in supporting startups by connecting with large corporations and universities to foster innovation. He shared Suntory's commitment to sustainability through continued investment in new technology such as recycling plastic bottles.
The event continued with a networking reception, and board members enjoyed meaningful in-person conversations.