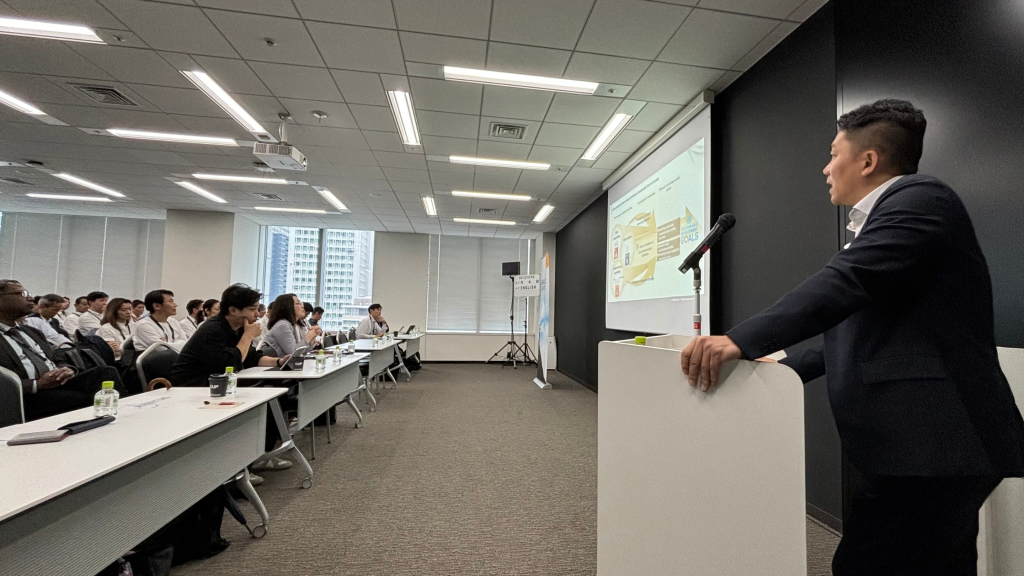 On October 4 (Japan), the U.S.-Japan Council hosted 150 sustainability leaders at fabbit in Tokyo for the "Energy Transformation Speaker Series," alongside co-hosts Mitsubishi Corporation, Geodesic Capital and ABeam Consulting. The event brought together Japanese leaders in decarbonization (GX) and North American climate tech startups to discuss the theme of energy transformation, facilitating an afternoon of presentations followed by a networking reception in the evening.
USJC Japan Board Member Steve Sakanashi (ABeam Consulting, ELP '15) gave opening remarks about USJC'S commitment to strengthening U.S.-Japan collaboration around the fight against climate change and spearheading sustainable business practices, most notably through the Climate and Sustainability Initiative supported by Amazon, the initiative's Founding Strategic Partner. Then, 8 startup executives presented on their climate technologies, including Brimstone, a carbon-negative concrete manufacturer, and ClimateAI, a climate prediction platform, which co-presented with Suntory, a Japanese customer using the technology to create sustainable supply chains.
Akiko Nakarai (AEON Corporation) shared about how AEON, Japan's largest retailer and consumer of roughly 1% of Japan's energy supply, is leading with initiatives that mobilize the group's large network of stores, suppliers and customers to collectively reduce carbon emissions while also generating renewable energy. As an example, AEON plans to switch all large shopping centers to 100% renewable energy by 2030, generating solar energy from its existing retail facilities, procuring renewable energy from local communities through a "Town Power Plant" model that converts abandoned land into solar farms and collecting small-batch energy through the "V2 AEON MALL" (Vehicle to AEON Mall) program, which invites customers to contribute their home's solar energy via their electric vehicles when parked at malls.
Ichiro Miyoshi (Marunouchi Innovation Partners) shared about Marunouchi Innovation Partners' recently launched Climate Tech Growth Fund which will deploy up to $1 billion towards startups dedicated to decarbonization through the development of climate tech. Mr. Miyoshi noted that there is a lack of funding in the commercialization and scaling phases of climate tech startup growth, inhibiting the full development of new critical decarbonization technologies. He explained how the fund, which focuses on this middle stage, utilizes the Mitsubishi group's global network and diverse capabilities to accelerate the growth of portfolio companies such as Amogy Inc., the fund's first investment which provides emissions free fuel to the maritime industry through ammonia-based technology.
Keiji Horie (ABeam Consulting) shared about how ABeam Consulting works with leading Japanese corporations to co-create sustainable futures that benefit diverse stakeholders, notably through ABeam's Digital ESG Platform which aggregates organizational data, analyzes the impact of ESG activities and enables corporations to make public reports that quantify the resulting financial value creation. Mr. Horie explained how the "Yanagi Model," derived from the work of ABeam's Executive Advisor Dr. Ryohei Yanagi, has been one of the top ESG trends among Japanese CFOs, which has been led by the public use of the Yanagi Model in the investor reports of industry giants such as Eisai, NEC, KDDI, Nissin Foods, Asahi Group and Komatsu.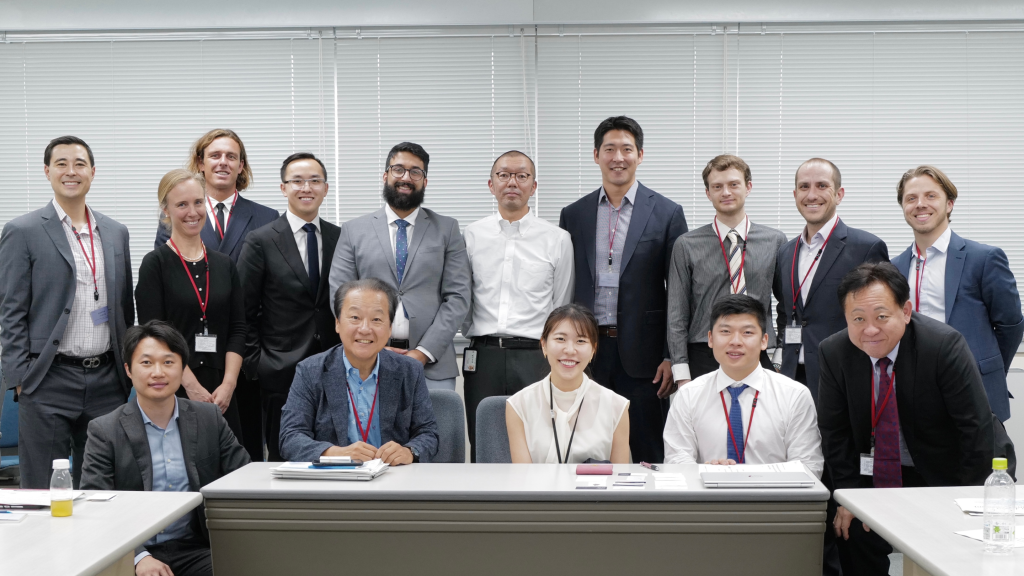 In addition to the public event, USJC hosted a roundtable discussion between the visiting startup delegation and the Ministry of Economy, Trade and Industry (METI), discussing potential U.S.-Japan collaborations around Green Transformation (GX). Mitsuhiro Nishida (METI) and Chika Minami (METI) shared about the Japanese government's 20 trillion yen investment into decarbonization technologies and how foreign startups could collaborate with Japanese corporations to be part of the country's transformation.
Thank you to USJC Japan Board Member Steve Sakanashi (ABeam Consulting) for the above content and photos!