USJC New Year's Reception in New York
On January 22, USJC welcomed more than 70 members and supporters to a New Year reception at the Nippon Club in New York. Despite Winter Storm Jonas' impending arrival, there was a great turnout for this lively, successful event!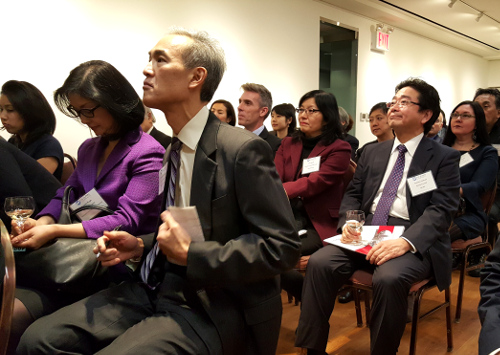 Vice-Chair Gary Moriwaki opened the program, which featured a presentation by Paul Yonamine, former Member of the Board of Directors and newly appointed Chair of the Board of Councilors. Mr. Yonamine is the Country General Manager and President of IBM Japan. He gave a well-received talk, which included his family background, including the contributions of his parents Wally and Jane Yonamine as Japanese Americans living in Japan. He encouraged young Japanese Americans to explore their family roots. Mr. Yonamine also discussed IBM Japan, and a new venture in collaboration with Japan Post and Apple to use IBM's Watson technology to better connect the elderly in Japan with their family members and healthcare providers.
During the reception, several attendees exchanged stories about the 2015 Annual Conference held in Tokyo this past November, and discussed ongoing preparations for the 2016 Annual Conference in Silicon Valley.
USJC President Irene Hirano Inouye and Chairman Dennis Teranishi thanked outgoing Members of the Board of Directors Frederick Katayama and Moni Miyashita, who completed six-plus years of Board service. Mr. Katayama served as Chair of the Communications Committee, and Ms. Miyashita served as Vice-Chair of the Program Development Committee.
Newly elected Board of Directors Member Tomoko Kizawa from Chicago was introduced, and Yosuke Honjo was also acknowledged as a new Board Member. Ambassador Reiichiro Takahashi, Consul General of Japan in New York, also attended along with several USJC Corporate Partners.
Recent Events
2016 JALD Orientation – Los Angeles
From January 29 to 30, members of the 2016 Japanese American Leadership Delegation (JALD) gathered in Los Angeles for a two-day orientation. The meetings were held at the Japanese American National Museum (JANM) in Little Tokyo and were facilitated by USJC President Irene Hirano Inouye and Senior Vice President Kaz Maniwa, along with Consul Kazutoshi Hayashi of the Consulate General of Japan in Los Angeles.
At the start of the orientation, 2002 JALD alum Mitch Maki led the group on an in-depth tour of the JANM exhibition, Common Ground, the Heart of Community. Hideki Hara spoke on behalf of the Japan Foundation and Consul General Harry H. Horinouchi provided a briefing on U.S.-Japan Relations. Professor Michael Thies from UCLA's Political Science department lectured on political issues and the government in Japan. Several USJC members also participated in the orientation: Yuko Kaifu spoke about current social issues and Japanese business etiquette, and JALD alumni Debra Nakatomi and Stan Koyanagi spoke about the program's impact on their lives and engagement with USJC. Ms. Nakatomi and Mr. Koyanagi also answered delegates' questions on what to expect during the trip to Japan.
Consul General Horinouchi hosted the delegates, along with 20 local program alumni, for a lovely gathering at his residence on the evening of January 29. As they have done for several years, the Japanese Business Association (JBA) of Southern California held a casual dinner for their members and the group at the Miyako Hotel to conclude the orientation the following evening. As always, we thank the Consulate, JBA and the Miyako Hotel for their gracious hospitality.
The 2016 delegation comprises ten leaders in business, government, judicial, law enforcement, legal and technology sectors from California, Colorado, Guam, Hawaii, Massachusetts, New York, Oregon, Washington state and Washington DC, who are active in their communities, engaged in U.S.-Japan relations and committed to furthering relationships between Japanese Americans and Japan.
The group will travel to Tokyo and Kobe from March 5 to 12, where they will meet with top business and government officials and participate in a symposium co-sponsored by the Japan Foundation Center for Global Partnership.
More information and delegate biographies can be found here. See more photos from the orientation here.
Announcements
New Address for Washington, DC Headquarters

The USJC DC Headquarters has moved into a new suite this week (it is housed in the same office building, and the street address remains the same). Please see the below updated address.
1819 L Street, NW
Suite 800
Washington, DC 20036
In Memoriam
We were saddened to learn last week of the passing of Dr. Paul Terasaki, Member of the USJC Board of Councilors. Dr. Terasaki was one of USJC's co-founders and earliest benefactors, and continued to give the Council generous support over the years. USJC celebrated his remarkable life at the 2014 Annual Conference in Honolulu, presenting him with a Lifetime Achievement Award for his contributions to U.S.-Japan relations. His son Keith is a Council Member/Leader, and his nephew Fred Katayama (who emceed the above award ceremony) was another co-founding Board Member. USJC extends our deepest condolences to his family. He will be greatly missed.
Member News
Kathy Matsui Honored in Silicon Valley
On January 29, Keizai Silicon Valley–a U.S.-Japan Business Forum focused on Silicon Valley–honored Kathy Matsui, Member of the USJC(J) Board of Councilors, with an Economic Innovation Award. Ms. Matsui was honored with her father, Mr. Andy Matsui, "the Orchid King" who in turn received the Keizai Silicon Valley Lifetime Achievement Award for his work in the flower industry. The awards were presented as part of Keizai Silicon Valley's Shinnenkai, and was followed by a dialog between the father and daughter about entrepreneurship, Japanese values and more.

Judy Sakaki to Become President of Sonoma State University

Council Member/Leader (and JALD alumni) Dr. Judy Sakaki was just appointed to be the President of Sonoma State University in California! She will assume her role on July 1. See the press release here and her media interview here.
Donna Cole, Janelle Sasaki to Each Share Their Expertise at Events
Member of the Board of Directors Donna Cole will speak at a Brookings Institution event in Washington, DC next week, focusing on Womenomics (see the "Upcoming Events" section below). Council Member/Leader Janelle Sasaki will speak at the Annual Conference of The Forum on Workplace Inclusion (to be held in Minneapolis in March) on Global Diversity & Inclusion issues.
Upcoming Events
February 8 – Brookings: Womenomics 2.0 (Washington, DC)

Come hear Ms. Donna Cole, Member of the USJC Board of Directors, speak about the future of Womenonmics! She will speak at the Brookings Institution on a panel discussing the current status of female participation in the workforce, and how to further promote its growth and expansion.
To learn more about the event and womenomics, please visit the event page.
If you are in the DC area and would like to attend, please register here.
If you are not in the DC area, but would like attend virtually, please register for the live webcast.
The conversation will also be live on Twitter during the event, using #Womenomics.

February 27, March 2 & March 3 – Persona Non-Grata (Washington, DC & Bethesda, MD)
USJC is proud to promote the showing of Persona Non-Grata, which celebrates the life of Japanese Diplomat Chiune Sugihara and his efforts to aid the escape of more than 6,000 Jewish refugees from World War II Europe. The film screening is part of the Washington Jewish Film Festival (WJFF), "one of the largest and most respected Jewish film festivals in North America" that occurs annually. This year, WJFF is running from February 24 to March 6.
The film will be screened three times during the festival.
Saturday, February 27, 1:30 pm – DCJCC
Wednesday, March 2, 8:45 pm – Bethesda Row Cinema
Thursday, March 3, 8:45 pm – West End Cinema
If you wish to attend, please purchase tickets here.
Ongoing – "Allegiance" The Musical (New York, NY) – Final Call! Closing on February 14
"An important show with a phenomenal cast, it deserves to be seen!" – Entertainment Weekly
When USJC Board of Councilors Member George Takei first envisioned the idea of a Japanese American themed musical back in 2008, he never knew if it would ever come to fruition. Seven years later, Allegiance is on Broadway and is loved by those who see it!
The musical is "inspired by true events"– and follows the story of the Kimuras, a Japanese American family dealing with a post-Pearl Harbor America. Allegiance touches on many aspects of the Japanese American condition during World War II– from fighting for the United States military, to protesting the internment, to keeping the family united in uncertain times.
Starring George Takei himself (known for his role in the original Star Trek series) and Lea Salonga (known for her performances both on Broadway and in Disney movies), this powerful performance should not be missed!
To learn more about the musical or to purchase tickets, please visit its website. The musical only runs through February 14th, so make sure to reserve your tickets now!
Ongoing – Out of the Desert: Resilience and Memory in Japanese American Internment (New Haven, CT)
After more than a year of curatorial work, the exhibition "Out of the Desert: Resilience and Memory in Japanese American Internment" is now open at Yale University's Sterling Memorial Library. This is Yale Library's inaugural exhibition to draw from multiple archives across the university. It is also the first-ever exhibit centered on Asian American history.
The work features a digital touchscreen exhibit that is live at outofthedesert.yale.edu. Visitors to the website can scroll through exhibit materials, including a copy of the 1943-1944 Manzanar High School Yearbook, engineering maps of Poston, correspondence between internees and Quaker activists, and handmade Junior Red Cross scrapbooks. The exhibition will run through February 26, 2016.
Opportunities
EXECUTIVE DIRECTOR – U.S.-JAPAN COUNCIL (JAPAN)
USJC seeks a talented, dynamic individual for a newly-created position of Executive Director, U.S.-Japan Council (Japan). The Executive Director will provide leadership and oversight of the Council's general programs and activities and of the TOMODACHI Initiative. This will include responsibility for the implementation of program goals and objectives, providing leadership and oversight of program development and management, fundraising, communications and operations. The Executive Director will be based in Tokyo and manage the staff in Japan and will work closely with the U.S.-Japan Council (U.S.) staff in the United States.

For the full description, please visit the job posting on our website.
EXECUTIVE DIRECTOR – SILICON VALLEY-JAPAN PLATFORM (SILICON VALLEY)
USJC is seeking a full-time Executive Director for the Council's newest initiative, the Silicon Valley – Japan Platform (SVJP). The Executive Director position will have primary responsibility for administrative and operational support to USJC's Silicon Valley Project, including: office management; executive and organizational support for the Executive Director, Chairman and Executive Committee, SVJP; and general administrative support duties. Travel, especially between Japan and Silicon Valley, is expected.

For the full description, please visit the job posting on our website.
EXTERNAL RELATIONS DIRECTOR (WASHINGTON, DC)
The position will have primary responsibility for engagement of the approximately 400 Council Leaders/Members who comprise the membership of the organization, the majority of whom are Japanese American and all of whom are leaders committed to U.S.-Japan relations. Council Leaders/Members live and work across the United States and in Japan, represent different generations, and come from diverse professional backgrounds. Additionally, this position will be responsible for engagement and outreach of Corporate Partners, as well as leaders of other organizations with aligned mission and purpose. The position will develop outreach and engagement strategies, plan and implement regional educational programs and networking, and amplify the impact of the organization through the activities of its Council Leaders/Members. The position requires an individual who is flexible, experienced, diplomatic, able to multi-task and prioritize, well-organized, able to plan and meet deadlines, an excellent communicator in writing and verbally, and is comfortable working independently and as part of a team. Frequent short-duration travel throughout the United States and occasionally to Japan is anticipated.
For the full description, please visit the job posting on our website.

TOMODACHI INITIATIVE PROGRAM MANAGER (TOKYO)
Working under the Executive Director of U.S.-Japan Council (Japan), the Program Manager is responsible for helping to find, select, develop, manage, monitor and evaluate TOMODACHI programs, including managing relationships with implementing organizations. The Program Manager will work with individuals from the U.S.-Japan Council, the U.S. Embassy and other key TOMODACHI team members in the implementation of this mission.

For more information and to apply, click here.