TOMODACHI NGO Leadership Program Dinner
On June 25, USJC hosted a dinner in Washington, DC to celebrate the 10-person delegation of the 2015 TOMODACHI NGO Leadership Program supported by J.P. Morgan. Guests who attended the dinner included representatives from the Embassy of Japan, the U.S. Department of State, local USJC members, and notable NGO leaders. Attendees heard from the Japanese delegation about their work in disaster relief and international humanitarian aid.
Distinguished guests gave remarks about their impression of the program and how they foresaw the future dynamics of the U.S.-Japan NGO network. Randy Martin of Mercy Corps–which implements this program–spoke about his first assignment to Japan after the March 11 disaster and how he received remarkable on-the-ground support in Tohoku from Japanese NGOs. "When you approach disaster regions, you usually need to be very hands-on," Mr. Martin said. "We didn't have to do that in Japan. There were many NGOs we could work with. Through this process, I gained an enormous respect for Japanese civil society." Mr. Joe Young, Director of the Office of Japan Affairs at the U.S. State Department, said that the U.S.-Japan relationship is now more crucial than ever, and that this program is building on the existing framework of U.S.-Japan bilateral ties through the lens of humanitarian aid.
Many of the Japanese delegates have worked with emergency disaster relief efforts abroad, but recognize the lack of a concrete foundation in Japan. Nobuhisa Iida, delegation leader and Secretary General of Japan Platform, pointed this out as an area of improvement. "Today, Japan Platform has 47 NGOs operating in Southeast Asia, Africa, and Japan," Mr. Iida said. "But, as you know, the NGO presence in Japan is not so big. We would like to come up with many more projects in this area."
One of the key points in speeches by delegates was a newfound appreciation for the role of cross-cultural differences in NGO development, and a sense of urgency to apply this new understanding to their work in Japan. "Advocacy and program implementing are categorized as separate entities in the Japanese NGO world," Atsushi Suhara, program manager at the Adventist Development and Relief Agency Japan (ADRA Japan), said. "American NGOs manage to do advocacy and program implementing simultaneously. Healthy communication between the government and NGOs is necessary." Mariko Poorman of Peace Winds Japan stated, "It is so important to take this experience back to Japan to strengthen NGO capacity and understand that NGO systems in Japan can work."
The dinner concluded with remarks by President Irene Hirano Inouye, more networking among USJC members and delegates, and a group photo.
This weeklong TOMODACHI program, now in its third year, ran from June 21 to 28 and gave participants the opportunity to engage in the annual InterAction Forum. Delegates represented organizations such as the Association for Aid and Relief, Japan (AAR Japan); Japan Platform; and Peace Winds Japan.
See more photos from the event here.
Recent Events
USJC Members Welcome Keidanren Delegation – Houston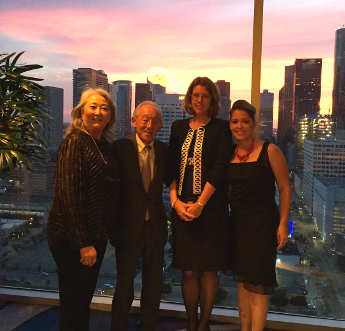 On June 28, one of three Keidanren delegations started their historic U.S. visit in Houston, Texas, enjoying a warm welcome hosted by USJC​ ​Board Member Donna Cole, Council Member Glen Gondo, and Consul General Takaoka.​ ​Ms. Cole and Mr. Gondo​​ were joined by local USJC Members Ayako Kameda and Ginger Vaughn, as well as USJC Executive Vice President & COO Suzanne Basalla, who traveled from Washington,​ ​DC for the event.
The delegation was led by Hiromichi Iwasa, Chairman of the Board of Councillors of Keidanren, and was joined by Member of the USJC Board of Councilors Masami Iijima (who is a Vice Chair of Keidanren) and approximately two dozen senior Japanese business leaders. Houston was their first stop in a six-day barnstorm of Texas, Tennessee and California.

Ms. Cole and Mr. Gondo convened Houston's leadership, including Mayor Anise Parker, Congressman Al Green, State Legislator Gene Wu, President of the Greater Houston Partnership Bob Harvey, leaders of the Houston Japan Business Association, Japan America Society, and more to offer words of welcome and a dinner that included fine sushi provided by​ ​Mr. Gondo.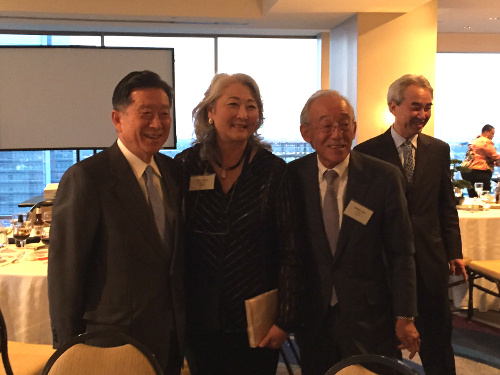 This was the second time for Houston and Keidanren to celebrate their connections in the past year. In October of last year, Keidanren hosted a luncheon for Mayor Parker and her Houston delegation, a connection forged through​ ​USJC's networking activities. Donna Cole said, "It was my and Glen's great honor to host the dinner with CG Takaoka for the Keidanren as members of the U.S.-Japan Council. We wanted to return the hospitality and say thank you!"
TOMODACHI News
Host Families Needed!

Host families are needed for a TOMODACHI program in the San Francisco/Bay area! The TOMODACHI Summer 2015 SoftBank Leadership Program is looking for families to host a student (or two) overnight during a weekend of the program. The students will be staying on the campus of the University of California for the majority of the program, which runs from July 21 to August 12. One of the weekends during the program will include a homestay visit for the students.
For more information, please view the Homestay FAQ.
To apply, please fill out the application form.
Questions or completed applications may be sent to On-site Coordinator David Beiser.
TOMODACHI Emerging Leaders Program News
The following is part of a year-long series of articles by the 2014 class of the TOMODACHI Emerging Leaders Program.
Reflection from Mana Nakagawa (ELP 2014)
When I first joined the 2014 class of the TOMODACHI Emerging Leaders Program (ELP), I was struck by the diversity of expertise that my classmates brought to the table. From non-profits to law, to the restaurant industry and beyond, I was intrigued by the unique stories that each of my classmates embodied. But more than that, I was inspired by the common heritage, values and passions we shared towards improving U.S.-Japan relations through our various endeavors.
When I first met my ELP class, I was still a graduate student, striving to find my way and identity as a Japanese American academic. A few weeks ago, I finally completed my Ph.D. in International Comparative Education at Stanford University.
My dissertation takes on a historical and international analysis of women faculty in elite universities around the world. While important progress has been made, women still have a very long way to go in obtaining equal status inside academic walls, especially in the higher ranks of faculty and in the STEM fields. Meanwhile, women students have surpassed men in obtaining college degrees in the vast majority of countries. This means that while women are increasingly making up the consumer base of higher education as students, women remain underrepresented as the creators and disseminators of knowledge as faculty. Japan has a particularly meager representation of women faculty inside its elite universities. While the United States looks better, most countries are not even close to reaching 50 percent women.
Why did I choose such a depressing topic? While it's true that these trends are not encouraging, I see great opportunity in these findings, especially in Japan and the United States. While comparing international education systems has often turned into global competitions and rankings, there is tremendous opportunity to share best practices when countries and societies collaborate to face a common problem. At the USJC Annual Conference in Hawaii last October, I was heartened by the Diversity and Inclusion panel that brought together Japanese and American perspectives on increasing women in the workplace. Japanese and U.S. companies are pioneering the field of advancing gender equality in the workplace, and tackling challenges of work-life balance across industries. Only through learning new perspectives and connecting with worlds outside of our own can we strive towards new forms of social progress.
With graduate school behind me, I am now the Women's Diversity Program Manager at Facebook. Filling a new role in the company, I am tasked with increasing the engagement, retention and promotion of women in technology across the company's global offices, while striving to make broader impact in diversifying the tech industry at large. I am excited to work at a company whose mission is to give people the power to share and make the world more open and connected, a mission that so clearly aligns with USJC.
On the same Northern California soil that my ancestors were detained in internment camps less than 80 years ago, I am honored to be the first woman in my family to attend college and graduate school, and to be working in a role focused on making our society a more equal place. Of course, the entire USJC community is doing invaluable work in diversity and inclusion, simply by being Japanese American pioneers in their respective industries. I am grateful to both my ELP classmates for continuing to inspire me, and to USJC for embracing me in this important community that keeps me grounded and committed to doing good as a Japanese American.
Applications Open for 2015
Applications are now open for the 2015 TOMODACHI Emerging Leaders Program! The opportunity includes a leadership orientation and attendance to the USJC Annual Conference in Tokyo, Japan. Please visit the program webpage to see more information, including selection criteria. The application deadline is Sunday, July 12.
Announcements
Staffing Update: Welcome CFO and Director of Finance and Administration Tess Esposito
We are pleased to welcome Ms. Tess Esposito as the new Chief Financial Officer and Director of Finance and Administration at USJC. She joined the Washington, DC office on July 1. Her bio is as follows:
Tess Esposito is the Chief Financial Officer and Director of Finance and Administration, working out of the Washington, DC office. She is responsible for oversight of all finance, accounting, grants management, budgeting and reporting activities for the U.S.-Japan Council (U.S.) and U.S.-Japan Council (Japan). Ms. Esposito has more than 20 years of nonprofit and for-profit experience in accounting, finance and administration, with decision-making responsibilities involving financial management, automated systems, budgeting and cost control, investments, computer technology, grants management, and personnel and facilities management. Her previous posts include: Chief Financial Officer for the Fair Labor Association; Chief Financial Officer for the American Association of University Professors and Society of Industrial and Office Realtors; and Vice President for Finance and Administration at the National Environmental Education and Training Foundation. She received her bachelor's degree in accounting from the University of the East in the Philippines and her MBA in International Management from the American Graduate School of International Management (Thunderbird) in Arizona. She also received a certificate in the Japan Management Program from the Japan-America Institute of Management Science in Hawaii and Japan.
Introducing the USJC Instagram!
The USJC Instagram account has launched! The account will feature event photos, USJC news, and images submitted by you. To view and follow the USJC account, please visit @usjapancouncil on Instagram. To share your images with us, mention @usjapancouncil or #USJC via Instagram or Twitter and include a caption. Submissions by email can be directed to Gabrielle Tremo, Digital Communications Specialist, at [email protected].
Member News
Paul Watanabe honored by AAPIP

Council Member Paul Watanabe has been honored by the Asian Americans/Pacific Islanders in Philanthropy (AAPIP) as one of 25 "Leaders in Action," diverse leaders throughout the country who "reflect the important work that each of us can do to make a collective impact on philanthropic giving." Click here for more information.
Dr. Watanabe was also recently appointed as a Member of the President's Advisory Commission on Asian Americans and Pacific Islanders. Also part of this prestigious commission is Council Member Bill Imada.
Upcoming Events
July 18-19 – Japan Day Chicago 2015 (Chicago)
Date & Time: Saturday, July 18, 2015; 12:00 p.m. – 8:00 p.m.; Sunday, July 19, 2015; 12:00 p.m. – 5:00 p.m.
Venue: Arlington Park / Arlington International Racecourse (2200 W Euclid Ave, Arlington Heights, IL 60005)
This event, sponsored in part by USJC, is the largest Japan showcase in the Midwest. The weekend-long event will consist of various "J-Taste," "J-Tradition" and "J-Entertainment" interactive showcases of Japanese culture.
Exhibitions include karate, judo and Shinkendo demonstrations, as well as Taiko drum and Okinawa dance performances. Several food businesses specializing in ramen and other authentic Japanese cuisines will also have booths at Japan Day. To purchase tickets and for more information, please click here.
Opportunities
Administrative Assistant/Office Manager – Washington, DC
The Administrative Assistant/Office Manager will have primary responsibility for office administrative operations in the Washington, D.C. headquarters' office including office management, executive and organizational support for the President, Board of Directors and Board of Councilors and general administrative support duties. The position requires an individual who is flexible, able to multi-task and prioritize, takes initiative, well- organized, able to plan and meet deadlines and is comfortable working independently and as part of a team.
Click here to see the PDF version of this job description.
A listing of qualifications and responsibilities is available on the USJC website here.
External Communications Specialist – TOMODACHI Initiative (Tokyo)
Working under the direction of the Executive Director of the TOMODACHI Initiative in Japan, the External Communications Specialist will assist in developing and implementing a comprehensive strategic marketing strategy, and will play a critical role in creating a strategic social media plan that promotes the brand and impact of the TOMODACHI Initiative among a diverse audience, including senior corporate executives, government leaders, recipients of support, other donors and the press. The External Communications Specialist will interact closely with donors and corporate executives to market programs, while working closely with teams from the U.S.-Japan Council in the United States and Japan, and the U.S. Embassy in Tokyo in the implementation of this mission. This position is offered for a one-year contract, with an option for renewal each year.
Click here to see the PDF version of this job description. Click here to see the PDF version of this job description in Japanese. Please note that it is important for the External Communications Specialist to be a native Japanese speaker.
A listing of qualifications and responsibilities is available on the USJC website here.