On August 31 (U.S.) and September 1 (Japan), the U.S.-Japan Council (USJC) hosted the first 2021 Bilateral Boardroom, "U.S.-Japan Leadership in Addressing the Climate Crisis," featuring U.S. Special Presidential Envoy for Climate, John Kerry, and Japan's Minister of the Environment, KOIZUMI Shinjiro. Suzanne Basalla, USJC President and CEO, moderated the dialogue between the two world leaders focusing on various insights around individual and joint efforts at combating climate change. The discussion was recorded on August 24, one week prior to Secretary Kerry's planned visit to Tokyo.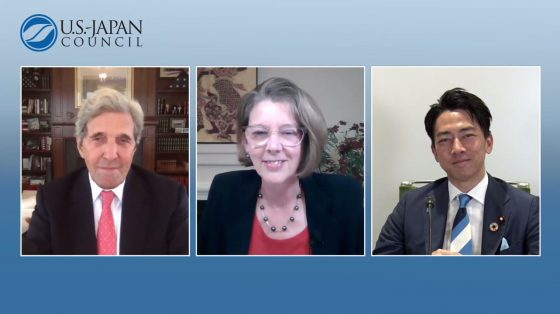 The conversation began with Secretary Kerry and Minister Koizumi explaining what is at stake for our planet, referencing the Intergovernmental Panel on Climate Change (IPCC) reporting a "code red for humanity." Minister Koizumi expressed that the probability of extreme weather events can be reduced by 30% by suppressing the temperature rise to 1.5 °C, which he believes should be every country's goal. Secretary Kerry reminded viewers that the IPCC report reiterated data already known to the public, but believes it serves as a reminder that the climate crisis is existential. He praised the relationship between the United States and Japan, and stated he is hopeful that the two countries will be able to serve as world leaders in addressing the climate crisis. Similarly to Minister Koizumi, he emphasized that other countries must join the United States and Japan in adopting a plan for the next ten years to keep the temperature from increasing and to achieve net zero emissions by 2050.
"I am honored to work together with Secretary Kerry in this tightly-bound U.S.-Japan partnership, and close communication to take action against climate change across the Indo-Pacific as a whole, with a shared sense of urgency on this issue," said Minister Koizumi. He went on to say, "Today's dialogue between myself and Secretary Kerry is an opportunity created by the U.S.-Japan Council and is a symbol of a new era for our alliance, as seen in our historic new climate partnership."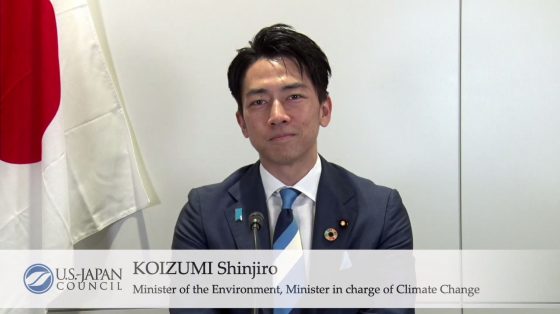 The two then presented key messages to each other and each country. Minister Koizumi stated that he is thankful to be able to work closely with Secretary Kerry because the United States and Japan are both democracies with shared mutual values, highly technologically advanced, and form the most important alliance in the world. Secretary Kerry highlighted that it takes leadership and global efforts to bring more G20 countries to the same table and he praised Japan for its impressive acts of leadership in addressing the climate crisis. Minister Koizumi added that working with G20 countries in Naples indicated an improvement from working only with G7 countries and that settling the negotiation on Article 6 of the Paris Agreement will be the key in order for COP26 to succeed. Both Secretary Kerry and Minister Koizumi extended gratitude towards USJC for providing a platform to discuss the climate partnership
In addressing China, both Secretary Kerry and Minister Koizumi expressed their interest in working with its leadership. Secretary Kerry reiterated that, in collaborating with China, there must be a focus on science-based facts and encouraged China to take bigger steps to address the climate crisis, pointing to China's ability as the world's top producer of renewable energy. Then the discussion turned inward towards domestic policy, as Minister Koizumi declared that Japan is prioritizing a 46% reduction of greenhouse gas emissions by 2030, and reaching carbon neutrality by 2050. Secretary Kerry stated the United States needs to work regionally around renewable energy, suggesting the sharing of renewable resources with Canada and Mexico. Minister Koizumi explained that as renewable energy usage increases, the costs spent to retrieve resources from other countries decrease, improving Japan's self-reliance in the future. Secretary Kerry explained that renewables would lead to better health, improved national security and economic growth, and he emphasized that the transition is an investment in our future.
To close the discussion, the two shared ways we can advance the agenda. Minister Koizumi commented that providing opportunities for world leaders to convene and share insights with younger generations is beneficial. Secretary Kerry agreed that involving the younger generation is crucial, and highlighted the importance of involving the business community in climate conversations as well.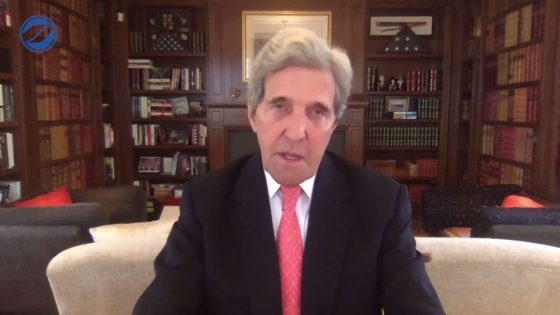 "I want to thank the U.S.-Japan Council for having this opportunity to talk," said Secretary Kerry. "It comes at a moment that the United States-Japan relationship really is strong, and it's very important to be strong. We are doing so many things: collaborating in many areas, from regional security to international political crises, the global economic and finance matters, and on and on. There's just a huge amount we can and must do together."
USJC believes that climate change is a key issue of our time. We were honored to provide opportunities to foster a stronger bilateral relationship through this dialogue. Click here to read key takeaways of the event from Yasuo Tanabe, Senior Advisor, U.S.-Japan Council; Councilor, The Institute of Energy Economics, Japan; Managing Director, EU-Japan Centre for Industrial Cooperation.
Click here to watch the recording.