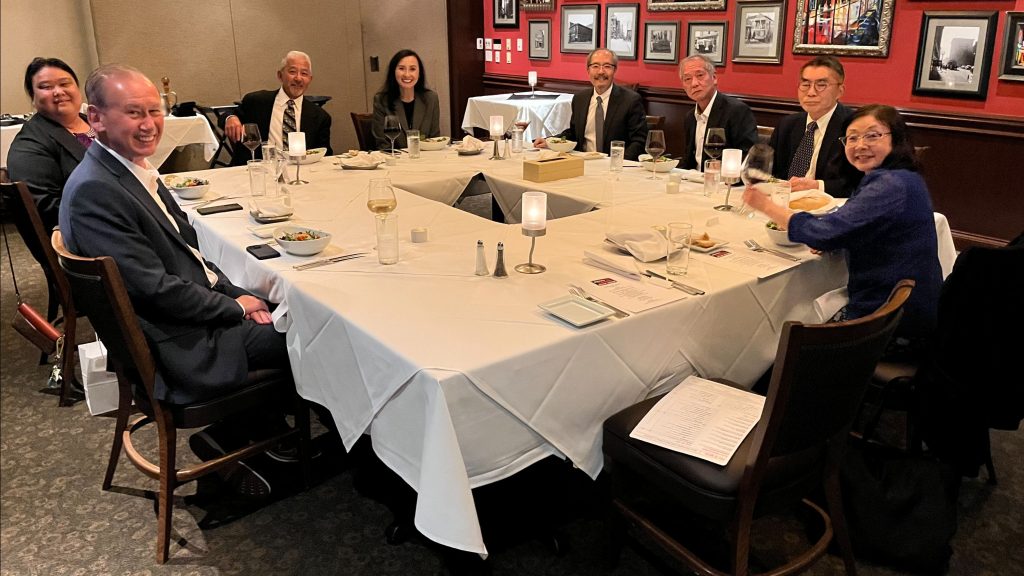 The U.S.-Japan Council's Portland region hosted a dinner honoring the arrivals of the new Consul General of the Consulate General of Portland, YOSHIOKA Yuzo, and the new executive director of the Japanese American Museum of Oregon, USJC Associate Hanako Wakatsuki-Chong. The festive occasion was punctuated by remarks from Mr. Yoshioka about the important role Japanese Americans play within U.S.-Japan relations and how warmly he has been welcomed to his new post by Portlanders. Chris of Portland has become the official clubhouse for USJC Portland and the restaurant's general manager presented the Consul General with a special sake.
Ms. Wakatsuki-Chong shared her ambitions for the museum with the group of USJC members and previewed the upcoming Annual Dinner. She also gave each member a free museum pass. So all in all, a very nice evening for the members-only attendees.
CEO of SEH America, the largest Japanese-owned company in Oregon and Washington, Tatsuo Ito-san also visited attendees during the event. Ito-san donated the funds to build the beautiful cherry tree park in Vancouver, Washington.
Thank you to Council Leader Verne Naito (Naito Corporation, JALD '13) for the above content and photo!