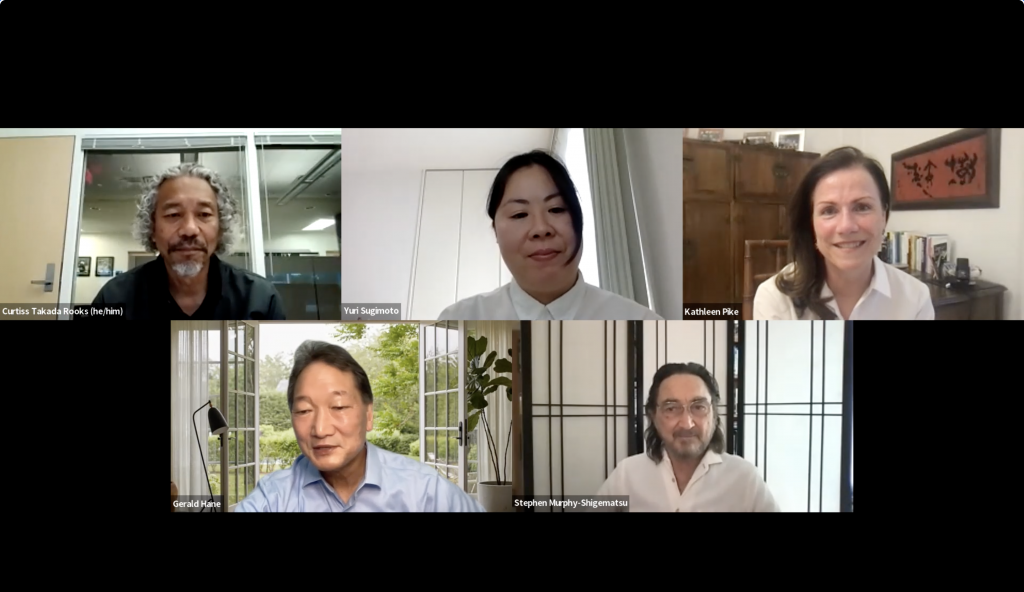 On May 26, USJC Mental Wellness Affinity Group (MWAG), led by USJC Council Leader and Senior Research Fellow at the Health and Global Policy Institute Dr. Gerald Hane, hosted its first event to commemorate Mental Health Awareness Month with an exploration of key issues related to mental health in both the United States. and Japan; more than 120 individuals participated in the event.
The discussion began with USJC Council Leader and Director of Columbia-WHO Center for Global Mental Health at Columbia University Department of Psychiatry and New York State Psychiatric Institute, Dr. Kathleen Pike who shared her insights from the research and clinical communities, including the discussion around mental health, the impact of the pandemic on youth, and strategies for leadership at workplace. She recognized that data from both the U.S. and Japan indicate that youth were at the highest risk during the pandemic; additionally, she offered strategies that leaders can use to cope with mental health stressors in the workplace, such as offering workshops where employees can share their experiences and build networks of support.
Head of Heartfulness Lab and Consulting Professor at Stanford University, Dr. Stephen Murphy-Shigematsu added to Dr. Pike's comments by sharing his journey searching for mental wellness in both Japanese and American cultures as the child of a Japanese mother and Irish-American father. Dr. Murphy-Shigematsu shared that he began teaching heartfulness, a way of learning how we can live from our hearts instead of our minds after he witnessed his American and Japanese students struggling with mental wellness. Dr. Murphy-Shigematsu emphasized that although we often teach youth that intelligence leads to success, it is also critical to impart different types of knowledge and wisdom to the next generation in order to enhance their mental wellness and encourage them to find meaning and purpose in life.
Global Communications Officer at the Public Relations Division at Kyoto University and 2021 TOMODACHI Story Jam for Youth and Disabilities participant Ms. Yuri Sugimoto, shared her experience as a person living with Bipolar disorder. She recalled that as a student in Japan, she struggled with a lack of resources and was hesitant to seek help from others because of the stigma of mental illness. She credited her experiences at Harvard Medical School's Mental Health For All Lab, a mental health study group she co-founded, and TOMODACHI, for encouraging her to see mental health issues from different perspectives and making her feel more comfortable with her mental illness.
The event concluded with a discussion led by Dr. Curtiss Takada Rooks (JALD '04), a current Member of the USJC Board of Directors and Associate Dean of Bellarmine College of Liberal Arts at Loyola Marymount University. Dr. Takada Rooks pointed out the common themes discussed by all of the speakers and by extension, the questions each of them posed: how can we use cultural values and practices to address the issue of stigma and difficult intergenerational challenges?
The full recording of the event can be found here.
If you are interested in getting involved in the MWAG, please email [email protected].