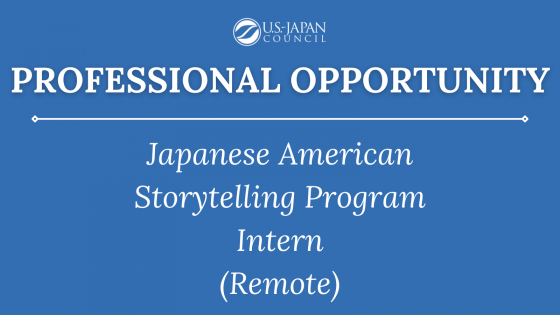 2021-2022 Program Year
The Japanese American Storytelling Program (JASP), a U.S.-Japan Council program, is seeking an Intern on a part-time basis.
The JASP Internship offers a distinctive opportunity for college students and graduate students who are especially interested in learning about the experiences of Japanese Americans (e.g., Nikkei, Sansei, Yonsei, etc.), Shin Issei (post-war Japanese immigrants to the U.S., including "kikoku shijo"), Shin Nisei (children of Shin Issei born in the U.S.) and multi-racial Nikkei ("Hapa" Nikkei), including those living in Japan and in the United States. 
Responsibilities
The Intern's duties relate to the management and supervision of presentations given by USJC member speakers (both American and Japanese) to students at Japanese universities, both in Tokyo and other parts of Japan. Duties consist primarily of:
Program task organization and coordination
Speaker communications
Follow up editing and summarizing of video recorded presentations. (In principle, all presentations are given virtually through Zoom.)
Through extensive exposure to the speakers' presentations, Interns will have an opportunity to learn about effective storytelling techniques, as well as positive messages for students such as the importance of diversity, inclusion, empathy and tolerance, journeys in search of identity and belonging, following your passions and expanding your horizons, and resilience and overcoming challenges, all from a Nikkei perspective.
Interns will interact primarily with USJC members who are the Program leaders (in English) and Program speakers (based in Japan and the U.S.). Duties can be performed remotely, preferably during Japan business hours. Due to the remote nature of the Internship, very significant reliance will be placed on prompt email correspondence.
The Internship is unpaid.
Qualifications
We seek an Intern who:
Can prioritize and manage numerous simultaneous tasks, while exercising good judgment
Can work accurately and productively with high attention to detail
Can communicate smoothly and diplomatically with 25+ USJC member speakers
Is based in Japan since most program activities occur during Japan Standard Time (applicants in Hawaii and California can, however, be considered if they can work in the evening HST and PST)
Commits to at least 6-8 hours per week for a minimum of 8 months including two academic semesters; i.e., Spring (April-July) and Autumn (September-December)
Can join periodic intern meetings (via Zoom)
Has bilingual proficiency in spoken and written English and Japanese (primary Internship language is English, but Japanese proficiency needed, e.g., to read and understand student/professor feedback written in Japanese)
Is fluent with Zoom functions, Google Drive, Google Slides/Powerpoint
To Apply:
Please send your cover letter and resume (in English) to [email protected]
This position is available from July 15th 2021.