Unlocking Japan's Renewable Energy Future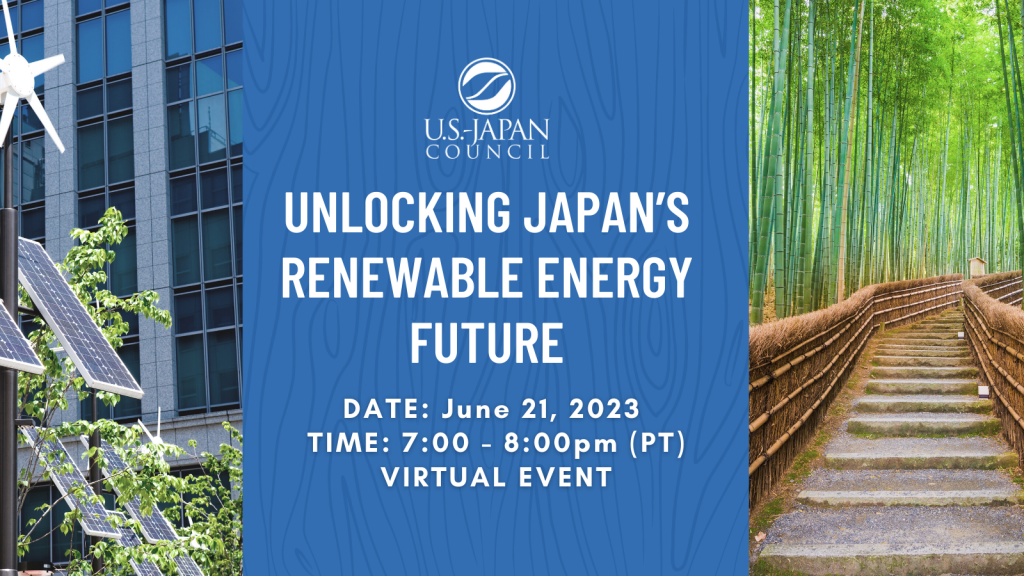 Date: June 21, 2023 (U.S.) / June 22, 2023 (Japan)
Time: 7:00pm – 8:00pm PT / 11:00am – 12:00pm JT
Location: Virtual
Registration: Register here
English and Japanese language interpretation will be provided
Join this exceptional opportunity to learn about Japan's renewable energy progress. Special opening remarks will be provided by the Honorable KOIKE Yuriko, Governor of Tokyo, followed by an esteemed panel discussion of experts that includes Naoaki "Nick" Eguchi (Baker McKenzie, Tokyo), Ken Haig (Amazon Web Services) and Yusuke Matsuo (Institute for Global Environmental Strategies). The panel will be moderated by Aya Kameda (Shell).
This webinar will provide participants with an updated understanding of the various renewable energy initiatives in place across government and the private sector to promote the adoption of renewable energy in Japan and shed light on what else can be done towards this end. It will also explore the potential roles of multi-sector stakeholders in helping Japan achieve greater adoption of renewable energy.
This event is part of the USJC Climate and Sustainability Initiative, supported by the initiative's Founding Strategic Partner, Amazon.

Speakers
Opening Remarks: Governor KOIKE Yuriko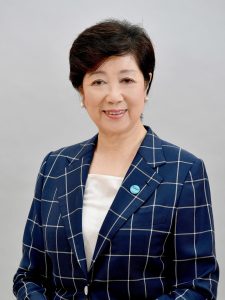 KOIKE Yuriko has been the Governor of Tokyo since July 2016. In July 2020, she was re-elected to her second term of office.
Prior to being elected to the post, she was active in national politics. She was a member of the House of Councillors and the House of Representatives for a total of 24 years from 1992, during which she held major posts including Minister of the Environment, Minister of State for Okinawa and Northern Territories Affairs, Special Advisor to the Prime Minister for National Security Affairs, Minister of Defense, and Director of the Committee on Budget of the House of Representatives. As the first woman to serve as the Minister of Defense and the Governor of Tokyo, she is paving the way for women to be more active in society.
With a BA in Sociology from Cairo University, she is fluent in English and Arabic, and was a prominent news anchor before entering politics.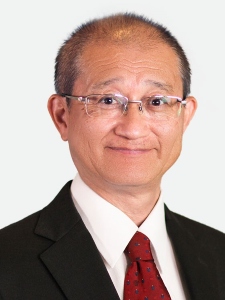 Naoaki "Nick" Eguchi is a partner in the Finance & Projects Group and co-head of the Firm's Renewable and Clean Energy Group in Tokyo. His practice area is renewable energy, infrastructure (such as airports) and project finance.
Nick has advised projects of 1 GW offshore wind (including 220 MW Hibiki Port offshore wind and 16.8 MW Goto Islands floating offshore wind),3,000 MW solar, 300 MW onshore wind, 500 MW biomass, 15 MW geothermal, 50 MW grid side battery in Japan.
Nick has been ranked a Band 1 Lawyer in Chambers Asia Pacific for Projects & Energy from 2019 to 2023. He has advised many foreign companies investing in Japan including many renewable energy companies in recent years.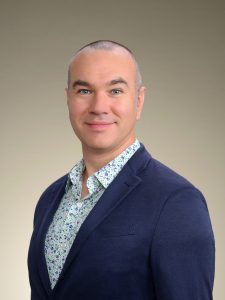 Ken Haig (Ph.D.) is Head of Energy and Environmental Policy for Amazon Web Services (AWS) in the Asia-Pacific region and Japan. Before joining AWS, Dr. Haig helped launch the APAC business for Opower, a startup that pioneered the blending of behavioral science and data science to promote large-scale energy management programs (acquired by Oracle in 2016), and prior to this was a U.S.-based academic teaching/researching comparative politics and public policy at U.C. Berkeley, Harvard University, and Bard College.
Dr. Haig holds a B.A. from Harvard University, and a Masters and Ph.D. in Political Science from the University of California, Berkeley.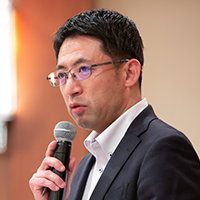 Yusuke Matsuo​ ​leads the work​ ​at IGES​ ​to support corporations and policy actions with his expertise on climate change and business actions. He is also the director of the secretariat of Japan Climate Leaders' Partnership (JCLP), an independent business coalition for which IGES provides the secretariat role.​ He has been leading the team to support the business group​ ​which ​convenes more than 190 companies from across various sectors​ ​in Japan to jointly drive corporate ambition for the transition to​ ​a net zero​ economy.​ Previously, he was a senior analyst at the Good Bankers Co., Ltd, an investment advisory firm, and has worked at Sanwa Bank (currently MUFG Bank). He had received​ the Kaya Award from the Japan Society of Energy and Resources in 2008 and awards from the Ministry of Environment in Japan in 2007 and 2010 on his climate ​and energy ​policy proposals.
Mr. Matsuo is also a member and judge for the RE100 readership award, visiting lecturer at Kobe University, and a climate-related committee member at local governments and other climate related councils. He has a MSc in Environmental Management and Policy from the International Institute for Industrial Environmental Economics (IIIEE), Lund University.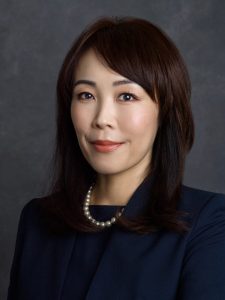 A versatile and strategic leader with over 18 years of experience in the energy industry, Ayako (Aya) Kameda is Board Member of USJC -Japan, and is also the Representative Director for one of Shell's assets. Prior to her current role, she was the Shell Shareholder Representative and Directors of four joint ventures in Brunei, overseeing Shell's gas value chain business. She was also the Business Advisor to Shell's Executive Vice President of Upstream Americas Exploration. Ms. Kameda has differentiated Shell as a company leading in diversity and inclusiveness; for instance, as the President of Shell's Asian Employee Network Group (2010-2011), she led 1000 constituents and spoke at various communities, media engagements, and D&I conferences. Her current passion is to bring women from Asia and the U.S. together for leadership in sustainability.
Following this webinar will be a private after-session discussion for select invitees only.