Strategic and Solution-Focused Dialogues Convene Government, NPO and Industry Leaders of Japan and the United States in Washington, DC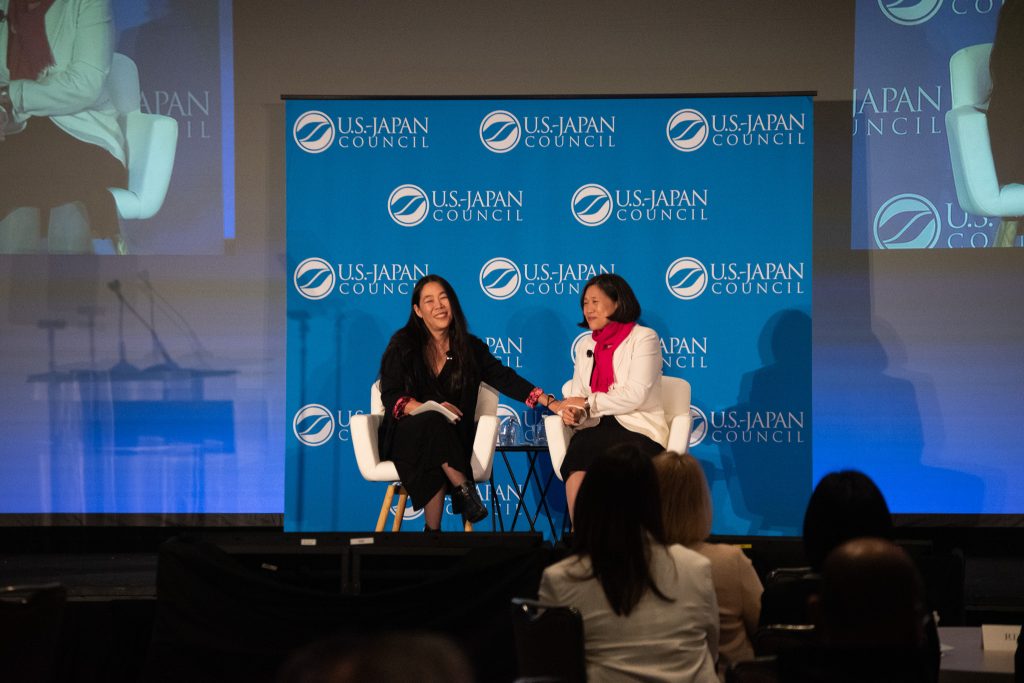 FOR IMMEDIATE RELEASE
November 17, 2023
WASHINGTON, DC – The U.S.-Japan Council and the U.S.-Japan Council (Japan) gathered nearly 600 individuals for its twelfth Annual Conference from November 8-9. The event's programming centered on avenues of potential U.S.-Japan cooperation reflecting the January 2023 Biden-Kishida joint statement emphasizing the need to address critical issues in the Indo-Pacific region. Leaders across industries, backgrounds and generations instigated discussions on key issues and ways the bilateral partnership can be strengthened and leveraged for a better future.
Climate change was a prominent theme. The Conference hosted its second annual "Climate and Sustainability Roundtable," bringing together government leaders to candidly discuss strategies to reduce carbon emissions. Panelists in the "Climate Tech & Innovation Showcase" shared their cutting-edge approaches to green and clean technologies. "Building Climate-Resilient & Sustainable Health Systems through U.S.-Japan Leadership" explored the ramifications of climate change on human health and emphasized the need to establish environmentally and politically sustainable health systems. "Climate and Clean Energy Programs – Opportunities and Benefits" featured a special conversation with John Podesta (Senior Advisor to the President for Clean Energy Innovation and Implementation, The White House), moderated by Christine Harada (The White House), alongside presentations by SHIKATA Noriyuki (Cabinet Secretary for Public Affairs, Prime Minister's Office of Japan) and Ashleigh de la Torre (Vice President, Public Policy, Amazon).
The Washington, DC location enabled an opportunity to call upon government leaders to share strategies and initiatives. Ambassador TOMITA Koji, in his last public appearance in his role as Japan's envoy to the United States of America, offered special remarks on the value of the U.S.-Japan relationship. During a fireside chat with Erika Moritsugu (The White House), United States Trade Representative Ambassador Katherine Tai reflected on the importance of the U.S.-Japan trade relationship and contributions the Asian American, Native Hawaiian, and Pacific Islander (AANHPI) community has made to the broader U.S.-Japan alliance. "Subnational Diplomacy and Leadership" featured a special conversation between Seattle Mayor Bruce Harrell and Hiroshima Governor YUZAKI Hidehiko. Other sessions examined policymaking, upcoming political elections in both countries and the U.S.-Japan geostrategic alliance.
The Conference explored the role of business in U.S.-Japan relations. A plenary titled "Global Business and Innovation" featured speakers including Carmine Di Sibio, Global Chairman & CEO, EY and Takayuki Morita, President and CEO (Representative Director), NEC Corporation. "Japanese Entrepreneurs Thriving in the USA: Building Success on New Shores" spotlighted Japanese nationals who brought innovative ideas to the United States. A breakout session emphasized the role of small and medium-sized enterprises (SMEs) in economic exchange between Japan and the United States.
Programming also delved into the critical need for diverse voices in the U.S.-Japan relationship and the unique role that Japanese Americans can play in strengthening bilateral bonds. Anti-Asian discrimination was scrutinized in panels including "Why is the Japanese American Incarceration Story Important to the Japanese?" and "Leadership Addressing Anti-Asian Hate," which included Cynthia Choi (Co-Founder, Stop AAPI Hate.) Speakers representing four Japanese American-focused community organizations shared their efforts to advance inclusivity initiatives in "Sustaining Japanese American Non Profit Organizations for the Future." Panels also celebrated Japanese culture in the United States. "Art as Currency: Japanese Culture in Contemporary America" showcased the work of artists in preserving, sustaining and evolving Japanese arts and culture.
For a full list of speakers and events, please visit our website here. Plenary sessions will be available shortly on our YouTube channel.
About the U.S.-Japan Council (USJC)
The U.S.-Japan Council develops and connects global leaders to create a stronger U.S.-Japan relationship. Its members believe people-to-people relationships are a powerful way to bring together leaders in the United States and Japan to address and create solutions to mutual concerns. The Council is a 501(c) 3 nonprofit educational organization that was founded by a group of Japanese American leaders in 2008 and is headquartered in Washington, DC with staff in California, Hawaii and Tokyo. In 2012, the U.S.-Japan Council (Japan) was created and in 2013, it became a Public Interest Corporation (koeki zaidan hojin). The U.S.-Japan Council (Japan) maintains an office in Tokyo, Japan.
Contact
Alison Aadland
Senior Communications Manager
[email protected]
+1-202-223-6843