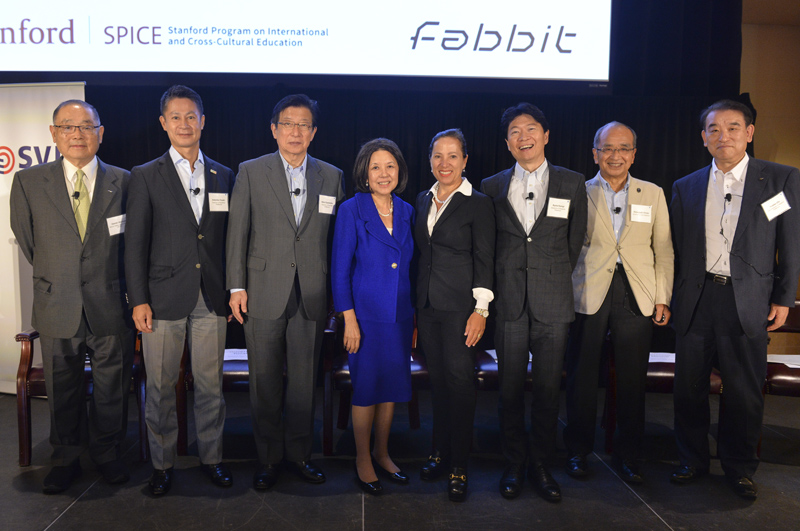 Palo Alto, CA – Over 200 leaders convened at the California-Japan Governors' Symposium, held at Stanford University on August 26. This symposium, co-hosted by the U.S.-Japan Council (USJC) and the Silicon Valley Japan Platform (SVJP), brought together governors from five prefectures to discuss ways to strengthen economic cooperation between Silicon Valley and Japan.
Representing California was keynote speaker Ambassador Eleni Kounalakis, Lieutenant Governor of the State of California. "We are extremely proud of and grateful for our close relations with Japan," she said, noting statistics that include the following: California is the #1 state in exports ($13 billion) to and imports ($33.5 billion) from Japan; Japanese investments in California translate to 85,000 jobs in more than 2,500 firms; and over 5,000 Japanese students, or nearly one-third of all Japanese students in America, are studying in California.
Governor Katsusada Hirose (Oita Prefecture), Governor Ryuta Ibaragi (Okayama Prefecture), Dr. Heita Kawakatsu (Governor of Shizuoka Prefecture), Vice Governor Yutaka Ota (Nagano Prefecture) and Governor Hidehiko Yuzaki (Hiroshima Prefecture) spoke at a panel discussion highlighting the various challenges their prefectures face, from an aging, shrinking population to disaster preparation and response. Moderator Dr. Daniel Okimoto, Co-Chair of SVJP, highlighted how Silicon Valley's technology offers solutions to many of those issues.
Governors Hirose, Ibaragi and Yuzaki also spoke on a panel themed on education. Joined by Rie Kijima and Mariko Yoshihara Yang, Co-Founders of SKY Labo—a nonprofit organization that encourages STEAM (science, technology, engineering, arts and math) education for young women—as well as Dr. Gary Mukai, Director of the Stanford Program on International and Cross-Cultural Education (SPICE), the panel discussed how to build confidence and global citizenship in youth.
Governor Kawakatsu and Vice Governor Ota spoke on a panel themed on healthcare. Alongside Dr. Caleb Bell, Cofounder & CEO, G4S Capital and Ikigai Accelerator; Dr. Devang Thakor, Founder and President, Anioplex, LLC; and Dr. Phillip C. Yang, Associate Professor, Stanford University School of Medicine, the speakers discussed the application of AI and machine learning to healthcare in their respective fields or regions.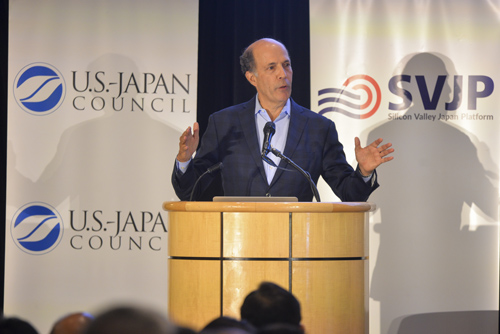 Ambassador John Roos, Partner at Geodesic Capital and Former U.S. Ambassador to Japan, was another featured speaker. He noted the "incredible firepower" at the symposium, which connected California, the fifth largest economy in the world, with five prefectures that represent 9% of Japan's GDP.
The following day, business delegations from the prefectures showcased their products and services at a private event.
The California-Japan Governors' Symposium was part of USJC and SVJP's Governors' Circle initiative, and followed the success of the Governors' Meeting in Silicon Valley in July 2014. For more information, please click here.
About the U.S.-Japan Council (USJC)
The U.S.-Japan Council is a nonprofit educational organization fully dedicated to strengthening ties between the United States and Japan in a global context. By promoting people-to-people relationships through its innovative programs in networking and leadership, the Council serves as a catalyst to inspire and engage Japanese and Americans of all generations. The Council was founded in 2008 and is headquartered in Washington, DC with staff in California, Hawaii and Tokyo. In 2012, the U.S.-Japan Council (Japan) was created to support the administration of the TOMODACHI Initiative, and in 2013, it became a Public Interest Corporation (Koeki Zaidan Hojin). The U.S.-Japan Council (Japan) maintains an office in Tokyo, Japan. 
About the Silicon Valley Japan Platform
The Silicon Valley Japan Platform (SVJP) is an initiative of the U.S.-Japan Council and the Japan-based Asia Pacific Initiative (API). SVJP emerged out of the success of the Governors' Meeting in Silicon Valley organized by USJC in 2014, and a subsequent visit by Prime Minister Shinzo Abe to Silicon Valley in 2015. SVJP aims to connect the technological dynamism of Silicon Valley with the current and future needs of economic revitalization in Japan, through a variety of programs that create communities of leaders in innovation, from Silicon Valley and Japan.