FOR IMMEDIATE RELEASE
WASHINGTON DC – U.S.-Japan Council (USJC) President Irene Hirano Inouye, who had announced her decision to retire later this year, died on April 7, following an extended illness. She was married to the late U.S. Senator Daniel K. Inouye of Hawaii.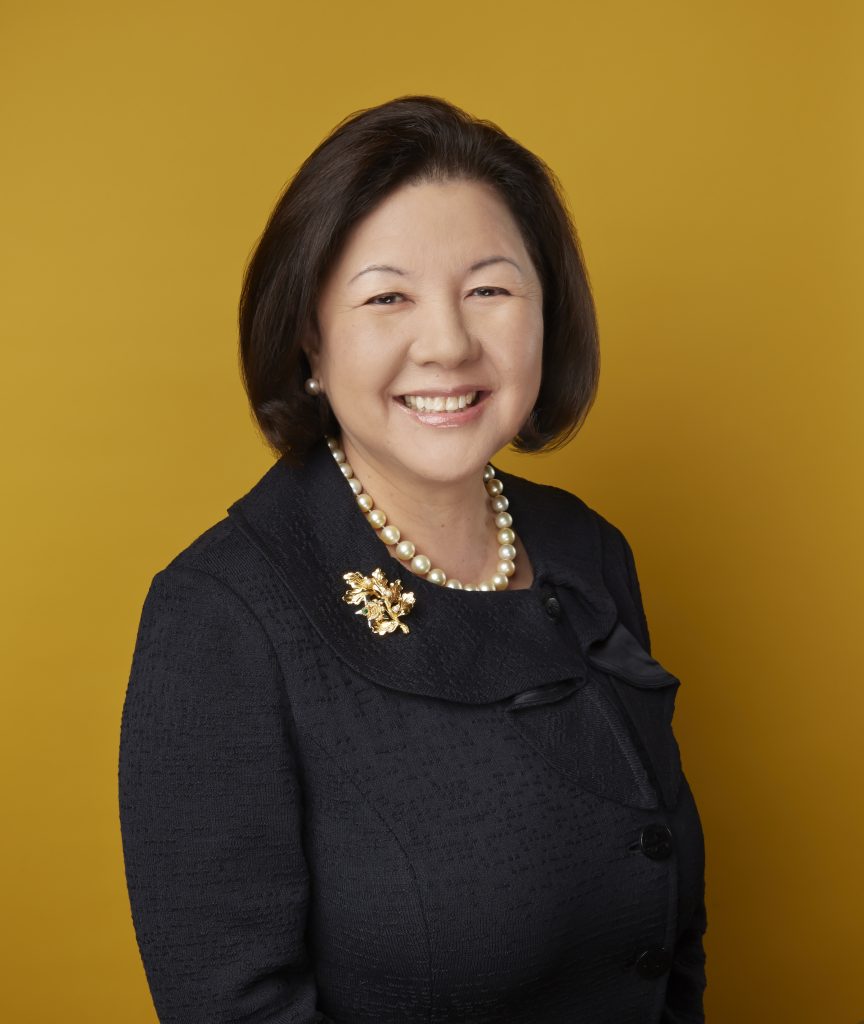 President Hirano Inouye had been with USJC since its inception in 2008 and was advising the USJC Board of Directors in its search for a chief executive officer to succeed her. Headquartered in Washington, DC, with staff in California, Hawaii and Japan, USJC's mission is to develop and connect diverse leaders to strengthen the U.S.-Japan relationship. The organization has almost 700 members in the U.S. and Japan.
In January, President Hirano Inouye had informed the organization of her decision to retire: "Coupled with some personal considerations, I believe it is the right time to begin this change, which will better position us in this new decade to address a host of emerging and evolving opportunities."
Board Chair Phyllis Campbell said of President Hirano Inouye, "Irene was a singular figure in U.S.-Japan relations, respected by leaders on both sides of the Pacific as she carried out the mission of USJC. Since the founding of the Council, she infused the organization with her wisdom and entrepreneurial spirit, kept her pulse on every aspect of USJC while keeping her eye on the strategic vision, and managed to approach every challenge with fearlessness and determination."
Until a new CEO is named, President Hirano Inouye's responsibilities at USJC will be supported in the interim by USJC Chief Operating Officer Terri Swetnam and Executive Vice President Laura Winthrop Abbot.
During her tenure, President Hirano Inouye led the growth of USJC and said she was proudest of these major accomplishments:
Created an organization that has brought together Japanese American leaders working with Japanese and other American leaders committed to strong U.S.-Japan relations through people-to-people connections at the regional, national and international levels.
Built the TOMODACHI Initiative, in partnership with the public and private sectors, to invest in the next generation of young Japanese and American leaders.
Increased the awareness of the important role that Japanese Americans and other diverse Americans can play in U.S.-Japan relations. Programs such as the Asian American Leadership Delegation Program have been an important part of USJC programming.
Established a permanent $10 million endowment to support scholarships for young Japanese and Americans to study abroad through the generosity of The Toshizo Watanabe Foundation.
Through the Emerging Leaders Program, engaged and invested in younger Japanese American leaders who are playing important roles in USJC and in their communities.
In addition to her leadership of USJC, President Hirano Inouye served as President and founding CEO of the Japanese American National Museum for twenty years. Her professional and community activities also included serving as Chair and Trustee, Ford Foundation; Chair and Trustee, Kresge Foundation; Chair, Smithsonian Institution Asian Pacific American Center;  Chair of the Advisory Board, Terasaki Center for Japanese Studies, University of California at Los Angeles; Trustee, Washington Center; Trustee, Independent Sector, and member, American Academy of Arts and Sciences; member of the Advisory Board, Center on Philanthropy & Public Policy, Price School of Public Policy, University of Southern California; Chair, Board of Directors of the American Association of Museums; Board Member, National Trust for Historic Preservation; Member, National Board Smithsonian Institution; member, Toyota Corporation's Diversity Advisory Board; member, Business Advisory Board of Sodexo Corporation; President's Committee on the Arts and Humanities by Presidential appointment; and Chair, California Commission on the Status of Women.