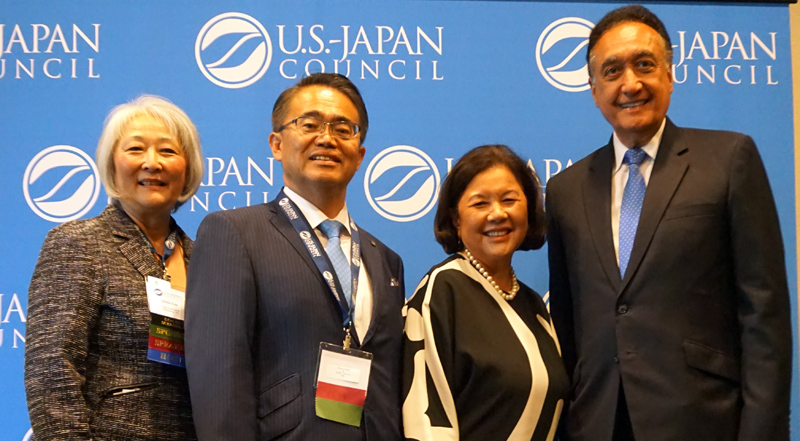 HOUSTON, TX – From May 7 to 9, more than 400 leaders from throughout the United States and Japan convened in Houston for the Japan-Texas Economic Summit (JTES). The U.S.-Japan Council (USJC), a nonprofit educational organization striving to strengthen U.S.-Japan relations, hosted the Summit in collaboration with close to 50 cities and organizations. Issues discussed during the Summit included ongoing trade and investment; opportunities for further collaboration; sister city ties; and people-to-people exchanges.
The Summit featured keynote addresses from Bruce Culpepper (President, Shell Oil Company), Shigeru Hayakawa (Vice Chairman of the Board of Directors, Toyota Motor Corporation and Vice Chair, Keidanren), Shigeki Maeda (Executive Vice President, Japan External Trade Organization (JETRO)), Hideaki Ohmura (Governor, Aichi Prefecture, Japan) and Secretary Rolando Pablos (Texas Secretary of State). They shared how the approximately 400 Japanese companies in Texas are creating 50,000 jobs; how Texas is the top state whose market Japanese companies think will continue to expand; and how Japanese companies in Texas and vice versa leads to exchange programs between American and Japanese students and professionals.
Secretary Pablos said that he is "honored that Texas is home to one of the first U.S.-Japan Council regional summits, which underscores the importance of Japan's partnership with the Lone Star State, as well as the enormous potential for growth we see today and in the years ahead."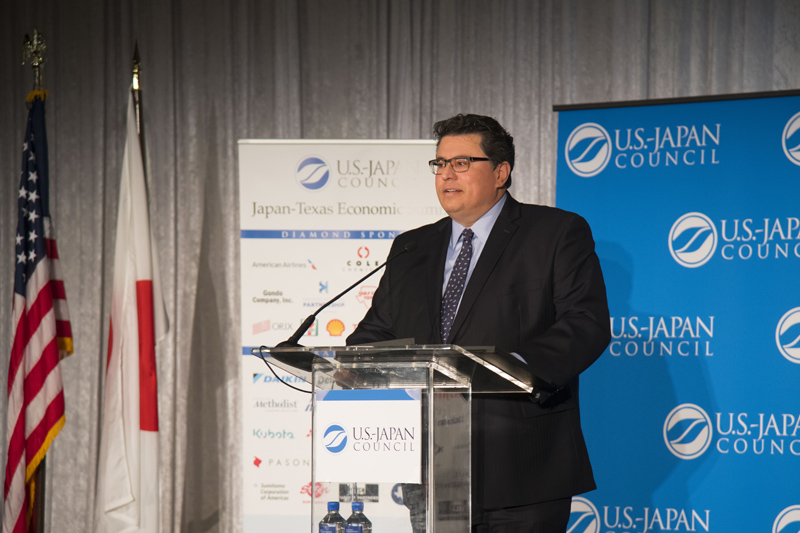 Other speakers included Mitsuru Claire Chino (President & CEO, ITOCHU International Inc.); Henry Cisneros (Founder & Chairman, CityView, Former HUD Secretary and Former Mayor of San Antonio, TX); U.S. Ambassador to Japan William Hagerty, who spoke in a video message; Ambassador Tom Schieffer (Former U.S. Ambassador to Japan, and President and CEO of Envoy International); and Japanese Ambassador Shinsuke J. Sugiyama, who traveled from Washington, DC.
Panel discussions explored the many aspects of Texas-Japan relations, including security and defense; energy; healthcare; workforce development; technological innovation; food and beverage; and people-to-people exchanges, including USJC's Japanese American Leadership Delegation Program and TOMODACHI Initiative (a public-private partnership with the U.S. Embassy, with support from the Government of Japan). Business professionals from diverse industries also gave short presentations about the latest developments in Texas and how they strengthen the bonds between the United States and Japan.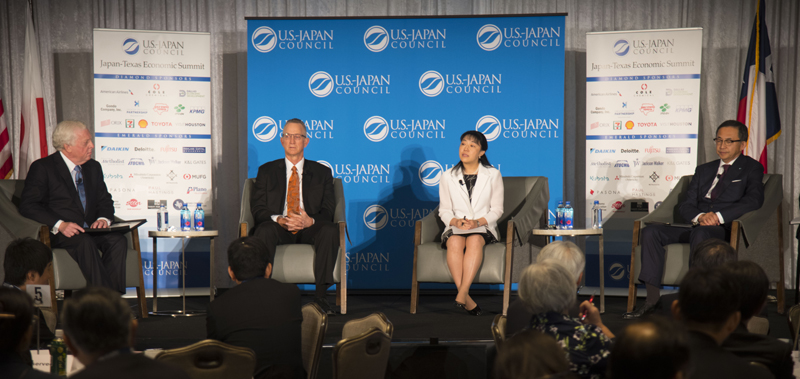 The summit also included a unique session of 15 speakers, each representing various regions across Texas, as well as sister cities in Japan. Mayors and other officials shared the strengths of their cities, which included metropolises like Dallas and Houston, cities with close Japanese ties like Plano (which recently welcomed Toyota Motor North America's new headquarters), cities with distinct characteristics like El Paso (which borders Mexico and boasts a large bilingual, bicultural workforce), and Japanese locales Kumamoto City (sister city to San Antonio), Chiba City (sister city to Houston) and Oita City (sister city to Austin). Following the session, many of the regions further presented their charms with booths, regional delicacies and music.
This was USJC's second regional summit, following the Japan-Hawaii Economic Summit held in Kona in 2017.
For a full schedule of the Summit and bios of the speakers, please see the print program here.
Please click here to see more photos.
About the U.S.-Japan Council (USJC)
The U.S.-Japan Council is a Japanese American-led organization fully dedicated to strengthening ties between the United States and Japan in a global context. By promoting people-to-people relationships through its innovative programs in networking and leadership, the Council serves as a catalyst to inspire and engage Japanese and Americans of all generations. The Council was founded in 2008 and is headquartered in Washington, DC with staff in California, Hawaii and Tokyo. In 2012, the U.S.-Japan Council (Japan) was created to support the administration of the TOMODACHI Initiative, and in 2013, it became a Public Interest Corporation (Koeki Zaidan Hojin). The U.S.-Japan Council (Japan) maintains an office in Tokyo, Japan. http://www.usjapancouncil.org/