2007 Japanese American Leadership Delegation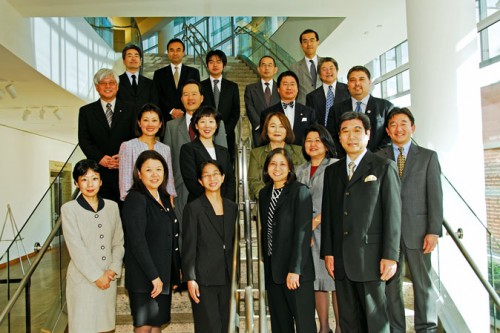 The seventh Japanese American Leadership Delegation traveled to Japan on March 2nd –11th, 2007. The Delegation visited Tokyo, Kyoto and Hiroshima. Highlights of the trip included meetings with high level leaders of Japan including government officials, parliamentarians and business executives. Three members of the Delegation participated in a presentation at a public symposium in Hiroshima.
The 2007 Delegates represented eleven cities from throughout the United States including Chicago, Denver, Freeport, Honolulu, Los Angeles, New York City, Portland, Rockville, Sacramento, Salinas and Seattle. The delegation represented diverse professions including business, education, government, health, law, media and transportation.
Symposium
The 2007 symposium, "Japanese Americans at a Crossroad: Connecting Past, Present and Future," was sponsored by the Japan Foundation Center for Global Partnership and the Japanese American National Museum and coordinated by Dr. Hiromichi Yamashiro of Hiroshima University and Irene Hirano Inouye. It featured delegates Donna Shimoda Hollingshead, Sandra Tanamachi and Harold Taniguchi as panelists.Click here to download the symposium report.
2007 Delegates
Susan Eichor, Hawaii
Donna Shimoda Hollingshead, Maryland
Brian Matsumoto, Colorado
Brennon Morioka, Hawaii
Albert Muratsuchi, Southern California
Eric Y. Nishizawa, Southern California
Larry Oda, Northern California
Miyoko Sawamura, Northern California
Michelle Sugahiro, Oregon
Robert Takagi, Illinois
Sandra Tanamachi, Texas
Harold Taniguchi, Washington
Donna Tsufura, New York